Shot down over occupied Holland, the crew of a Wellington bomber must navigate their way to safety through enemy territory in the Second World War classic, One of Our Aircraft is Missing, written, produced and directed by Michael Powell and Emeric Pressburger (The Red Shoes, A Matter of Life and Death). An early success for the directing duo, this Oscar-nominated* drama stars a medley of British acting icons, including Eric Portman, Bernard Miles and Googie Withers, appearing in one of her first major film roles.
Released by the BFI in a Limited Edition Blu-ray on 27 September, a raft of extras includes a newly recorded audio commentary and four archival films from the 1940s.
With contributions behind the camera from David Lean, Ronald Neame and Guy Green, this tense and suspenseful drama is a true landmark of British cinema ripe for rediscovery.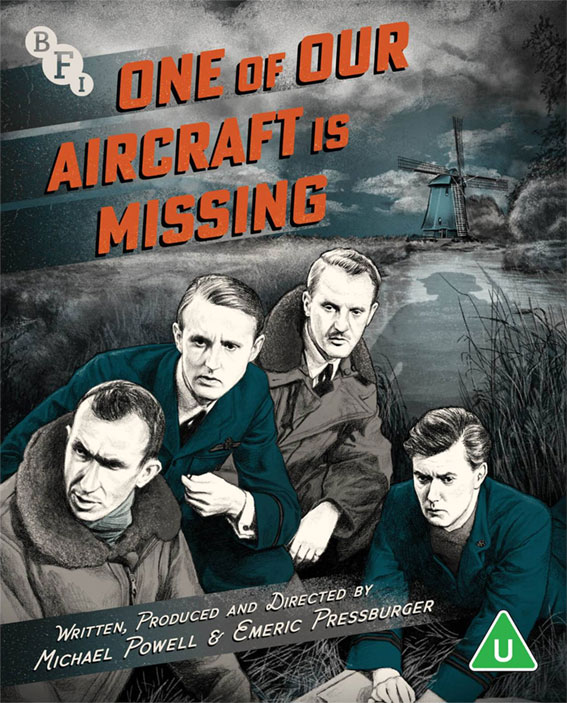 One of Our Aircraft is Missing will be released on Limited Edition Blu-ray by the BFI on 27 September 2021 at the RRP of £22.99.
BLU-RAY CONTENTS:
Presented in High Definition

Newly recorded audio commentary by film scholar Ian Christie

An Airman's Letter to His Mother 

(1941, 5 mins): Michael Powell's powerful propaganda short, narrated by John Gielgud

The Volunteer 

(1944, 44 mins): an entertaining look at the Fleet Air Arm, directed by Powell & Pressburger and starring Ralph Richardson

Target for Tonight 

(1941, 50 mins): Harry Watt's acclaimed documentary reconstruction of a Wellington bomber's mission over Germany

The Biter Bit 

(1943, 14 mins): A propaganda short detailing the destructive force of wartime aerial bombardment, produced by Alexander Korda and narrated by Ralph Richardson

Image gallery

Includes reproduction of the original storybook based on the film by Emeric Pressburger

Reversible sleeve featuring original and newly commissioned artwork by Jennifer Dionisio

***First pressing only*** Illustrated booklet with essays by Ian Christine and Sarah Street, an excerpt from A Life in Movies: An Autobiography by Michael Powell, a selection of original film reviews, notes on the special features and full credits
*1942 Special Effects (nominated) – Photographic Effects by Ronald Neame; Sound Effects by CC Stevens. Writing (Original Screenplay, nominated) – Michael Powell, Emeric Pressburger