Eureka Entertainment today announced three Blu-ray titles for release in October and November, two of them new to the Eureka catalogue and one Standard Edition reissue. In October, we have director Piotr Domalewski's bittersweet coming-of-age drama, I Never Cry [Jak najdalej stad] on the Montage Pictures label. This will be followed in November by Sergio Corbucci's Italian western masterpiece, The Great Silence [Il Grande Silenzio], which will be released as part of the Masters of Cinema series. Also in November from Masters of Cinema, Ishirō Honda's stunningly inventive monster adventure-fantasy, Mothra, is to be re-iussued.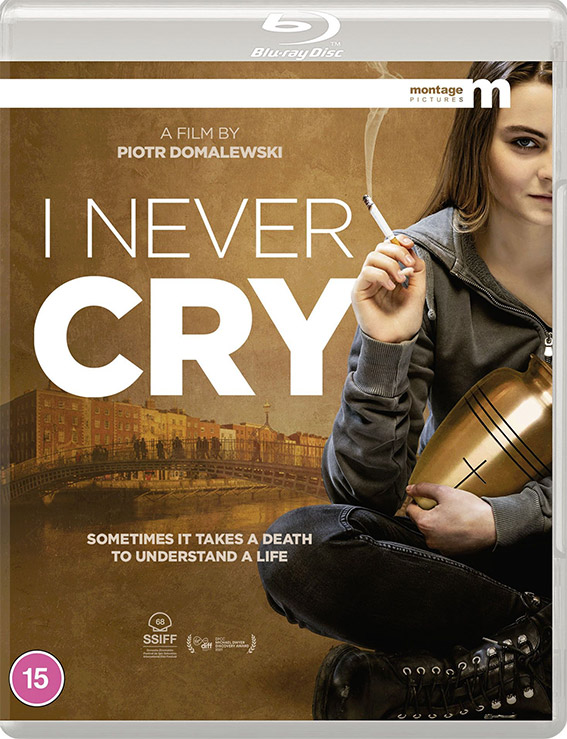 I NEVER CRY [JAK NAJDALEJ STAD] (Poland/Ireland 2020)
Blu-ray | 11 October 2021 | £11.99
Seventeen-year-old Ola (Zofia Stafiej) travels to Ireland to bring her father's body back to Poland after he died working on a construction site. But never mind her dad, Ola wants to know if he saved money for the car he had promised. In a foreign country all by herself, Ola will have the trip of her lifetime, a journey into the unknown, on which she will try to reconnect with her estranged father. In Ireland, she will come to know a different world and meet people who will change her approach to life.
From director Piotr Domalewski (winner of numerous festival awards for his short films, as well as his 2017 feature debut, Silent Night [Cicha noc]), I Never Cry is a touching comedy about a rebellious teenage girl with a grudge against her father, who was only ever present in her life through regular money transfers. It is also a piercing, realistic look at the difficulties faced by families separated by emigration, told against the backdrop of the life of Polish workers abroad.
BLU-RAY FEATURES:
1080p presentation on Blu-ray
DTS-HD MA 5.1 audio
Optional English subtitles
A Limited collector's booklet featuring an essay on the film by film critic Anna Smith [Initial Print Run]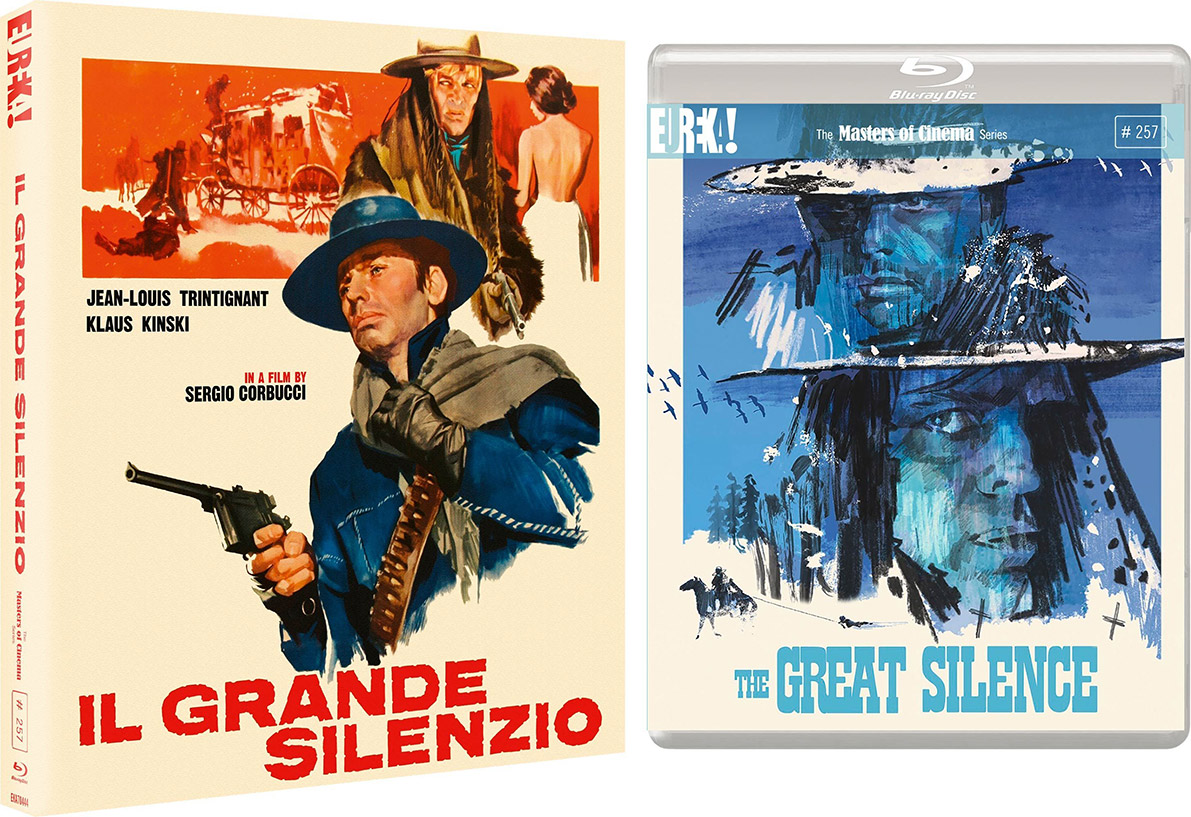 THE GREAT SILENCE [IL GRANDESILENZIO] (Italy/France 1968)
Limited Edition Blu-ray | 22 November 2021 | £20.99
On an unforgiving, snow-swept frontier, a group of bloodthirsty bounty hunters, led by the vicious Loco (Klaus Kinski) prey on a band of persecuted outlaws who have taken to the hills. Only a mute gunslinger named Silence (Jean-Louis Trintignant) stands between the innocent refugees and the corrupt killers. But, in this harsh, brutal world, the lines between right and wrong are not always clear, and good does not always triumph.
Featuring superb photography and a haunting score from maestro Ennio Morricone, director Sergio Corbucci's bleak, brilliant and violent vision of an immoral, honour-less West, is widely considered to be among the best and most influential Westerns ever made. The Masters of Cinema Series presents Sergio Corbucci's masterpiece, The Great Silence, on Blu-ray for the first time in the UK from a 4K restoration. 
LIMITED EDITION BLU-RAY FEATURES:
Limited edition of 3000 units
Limited Edition O-Card slipcase
Limited Edition reversible poster featuring the film's original artwork
Limited Edition set of 4 facsimile lobby cards
1080p presentation on Blu-ray from a 4K restoration undertaken and completed for the 50th anniversary of the film's original release
English and Italian audio options
Optional English Subtitles
Brand new audio commentary by Western expert Howard Hughes
Brand new audio commentary by filmmaker Mike Siegel
Brand new interview with Austin Fisher, author of Radical Frontiers in the Spaghetti Western: Politics, Violence and Popular Italian Cinema
Cox on Corbucci – filmmaker Alex Cox talks about Sergio Corbucci [15 mins]
Audio commentary by director and Spaghetti Western aficionado Alex Cox, recorded live at the Hollywood Theatre, Portland in 2021
Western, Italian Style – 1968 documentary [38 mins]
Two Alternate Endings (both fully restored in 4K), with optional audio commentaries
Trailers
Stills Galleries
A collector's booklet featuring new writing by Western expert Howard Hughes
All Extras Subject to Change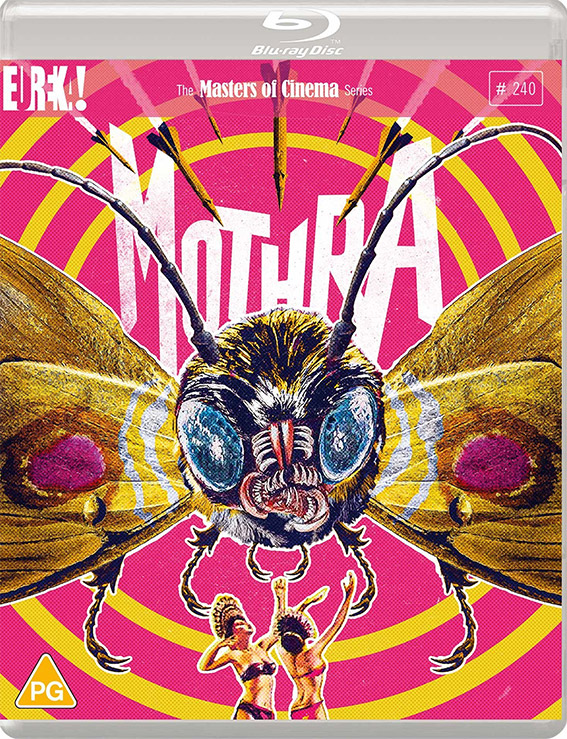 MOTHRA [MOSURA] (Japan 1961)
Standard Edition Blu-ray | 15 November 2021 £15.99
One of the most iconic Japanese kaiju, Mothra has appeared in over a dozen feature films. Presented here is her debut, a gloriously vibrant piece of filmmaking that forever changed how kaiju eiga would be produced in Japan.
Following reports of human life on Infant Island, the supposedly deserted site of atomic bomb tests, an international expedition to the heavily-radiated island discovers a native tribe and tiny twin female fairies called "Shobijin" who guard a sacred egg. The overzealous expedition leader kidnaps the Shobijin to exhibit in a Tokyo stage show but soon they summon their protector, hatching the egg and releasing a giant caterpillar. When Mothra arrives in Japan and transforms into her final form, the nation and its people face their destruction.
Psychedelically colourful, with an intelligent, benevolent protector as its lead kaiju, Mothra was radically different to every other monster movie that had come before it, and it remains a classic of the genre to this day.
BLU-RAY FEATURES:
Includes both Japanese and English versions
Original audio presentations
English subtitles (Japanese version) and English SDH (English version)
Audio commentary with film historian and writer David Kalat
Audio commentary with authors and Japanese sci-fi historians Steve Ryfle and Ed Godziszewski
Kim Newman on 'Mothra' – an interview with film critic and author Kim Newman on the history and legacy of Mothra
Stills Galleries featuring rare archival stills and ephemera
Trailers
A collector's booklet featuring an essay by Japanese cinema expert Jasper Sharp (Midnight Eye) and an extract from Steve Ryfle and Ed Godziszewski's Ishirō Honda biography