On 22 November, Indicator presents a six-disc, ten-film limited edition Blu-ray box set dedicated to the truly one-of-a-kind Mae West.
Already a major star when she went to Hollywood in the early 1930s, having sensationalised Broadway, West found herself in a unique position of power and control. She would, as legend has it, pick her co-stars (including a young Cary Grant), receive screenwriter credits, and bait audiences and censors alike as the pre-Code era gave way to a more sanitised form of American filmmaking.
Encompassing all of her classic studio pictures, from her supporting turn in Night After Night through to the musical extravangaza of The Heat's On, Mae West in Hollywood, 1932-1943 presents all ten films from the finest available materials, with an extensive array of new and archival extra features, in a numbered, limited edition with a perfect-bound 120-page book.
The set includes an exclusive double-sided poster only available with direct orders from this website (poster features original designs for She Done Him Wrong and I'm No Angel). While stocks last.
The films are:
NIGHT AFTER NIGHT (Archie Mayo, 1932)
SHE DONE HIM WRONG (Lowell Sherman, 1933)
I'M NO ANGEL (Wesley Ruggles, 1933)
BELLE OF THE NINETIES (Leo McCarey, 1934)
GOIN' TO TOWN (Alexander Hall, 1935)
KLONDIKE ANNIE (Raoul Walsh, 1936)
GO WEST YOUNG MAN (Henry Hathaway, 1936)
EVERY DAY'S A HOLIDAY (A Edward Sutherland, 1937)
MY LITTLE CHICKADEE (Edward F Cline, 1940)
THE HEAT'S ON (Gregory Ratoff, 1943)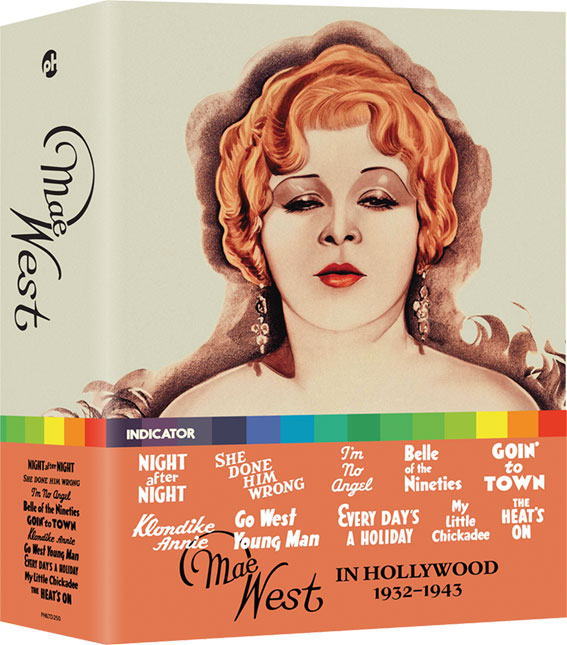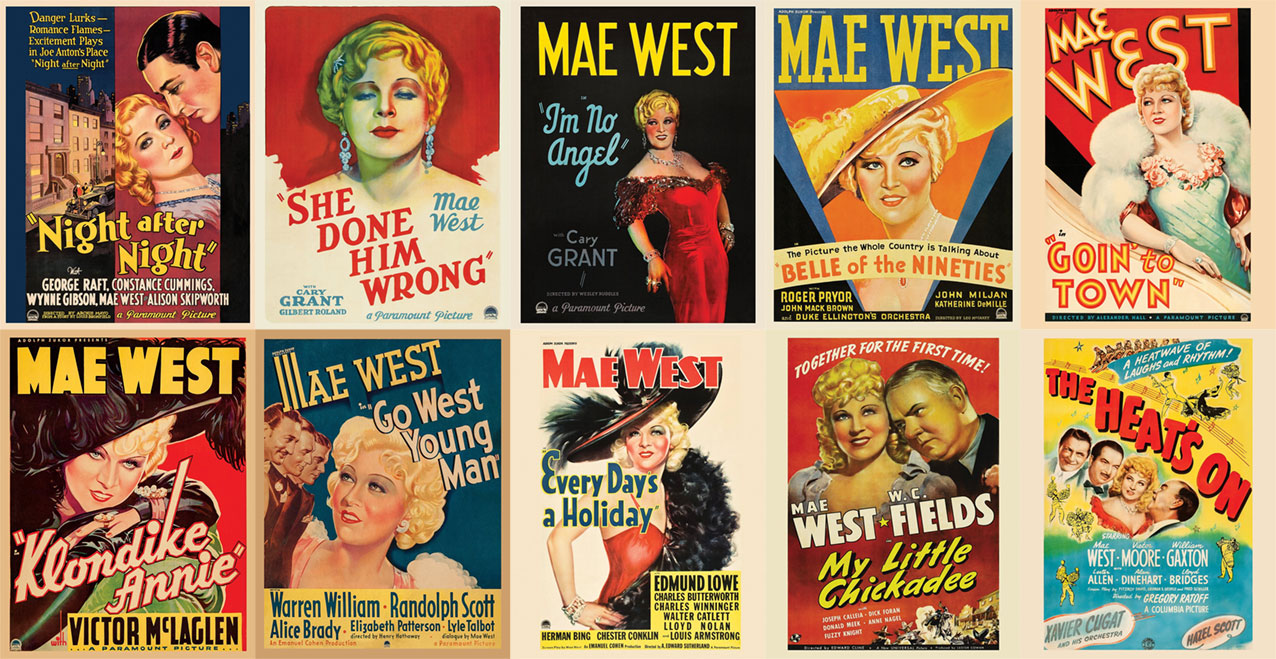 Mae West in Hollywood, 1932-1943 will be released as a six-disc, ten-film Blu-ray box set by Indicator on 22 November 2021 at the RRP of £59.99.
INDICATOR LIMITED EDITION BLU-RAY BOX SET FEATURES:
4K restoration of I'm No Angel
2021 restorations of Belle of the Nineties, Go West Young Man and Every Day's a Holiday from 4K scans
2018 restorations of Goin' to Town and My Little Chickadee from 4K scans
2017 restoration of She Done Him Wrong from a 4K scan
High Definition remasters of Night After Night, Klondike Annie and The Heat's On
Original mono soundtracks
Audio commentary on She Done Him Wrong by critic and film historian Pamela Hutchinson (2021)
Audio commentary on I'm No Angel by critic and writer Farran Smith Nehme (2021)
Audio commentary on Klondike Annie by academic and curator Eloise Ross (2021)
Audio commentary on Go West Young Man by writer and film historian Nora Fiore (2021)
Mae West at UCLA (1971): archival audio recording of the great performer in conversation at the University of California, Los Angeles
Introduction to My Little Chickadee by Harriet Fields, granddaughter of W C Fields (2021)
Lucy Bolton on Mae West (2021): the writer and academic discusses the irrepressible stardom of West
Christina Newland on Mae West (2021): the writer and critic looks at West's glamour and attitudes to sex
Two Super 8 versions of I'm No Angel: a pair of original cut-down home-cinema presentations, each consisting of unique scenes
Super 8 version of The Heat's On
Original theatrical trailers
New and improved subtitles for the deaf and hard-of-hearing
Limited edition exclusive 120-page book with a new essay by Iris Veysey, archival articles, a critical archive, and film credits
World and UK premieres on Blu-ray
Limited edition of 6,000 numbered units
MORE TO BE ANNOUNCED!