In urgent need of an escapist afternoon of no-nonsense nostalgic fun? Look no further! You've hit the motherlode with this deluxe duvet-ready binge-watch assortment of mini-masterpieces from the Children's Film Foundation – Britain's best-loved makers of quality children's cinema for kids young and old, from the baggy trousered 1950s to the elastane-clad 1980s.
Whatever kind of retrovision sugar-kick you're craving, you'll find a sweet spot here, lavishly ladled into Children's Film Foundation Bumper Box Vol 3, a 3-DVD set released in August, serving up nine lovingly crafted full-fat vintage film delicacies with a side order of awesome extras. So go tell your 'smart home' to put a sock in it, fetch some tins of Panda Pops and take time out for a riotous old-school gogglebox bonanza!
As always the films feature a plethora of familiar faces, including George Cole, Melvyn Hayes, John Moulder-Brown, Ronnie Barker, Sheila Reid, Brenda Fricker and the one and only Phil Collins!
Disc 1
Catch some rays in Gibraltar with George 'Minder' Cole while you consider The Clue of the Missing Ape, head off hop-picking alongside Melvyn 'Summer Holiday' Hayes for an Adventure in the Hopfields and make an absolute ass of yourself in the idyllic Irish countryside astride Tim Driscoll's Donkey!
Disc 2
Ride on the footplate there and back again with Ronnie 'Porridge' Barker and Jon 'Dr Who' Pertwee in Runaway Railway, remember there's no jacket required for tousle-haired junior cattleman Phil 'Sussudio' Collins as he herds Calamity the Cow, and get shaken, not stirred, as Judy 'Keeping Up Appearances' Cornwell stars in Swinging Sixties junior spy caper Cry Wolf!
Disc 3
Copy, copy, good buddy! Watch out for smokeys, bears and bandits as you join the convoy British-style in Big Wheels and Sailor, run from the rozzers with David 'Blake's Seven' Jackson as he blags a Breakout and go caving in Ye Olde England: it's Exploits at West Poley, starring Brenda 'My Left Foot' Fricker!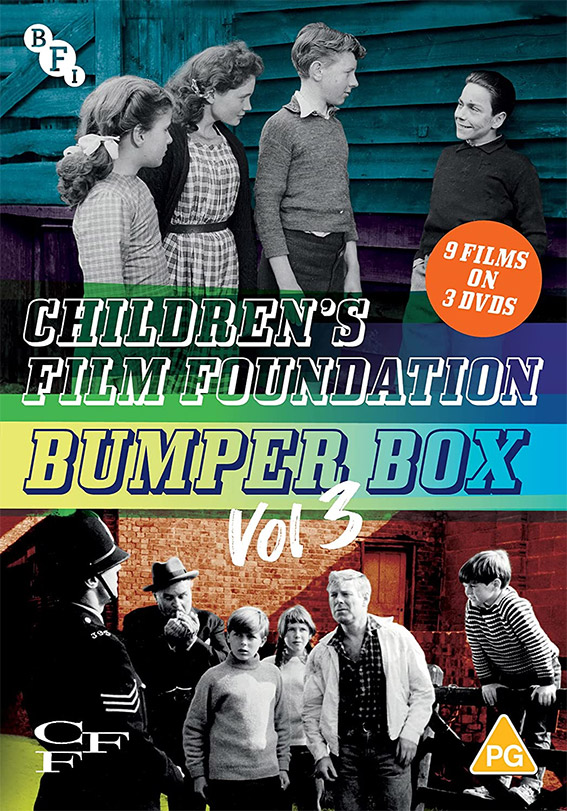 Children's Film Foundation Bumper Box Set Vol 3 will be released as a 3-disc DVD collection by the BFI on 23 August 2021 at the RRP of £29.99.
SPECIAL FEATURES:
Our Magazine No 2

 (1952, 10 mins): newsreel aimed at youngsters

Carry On laughing with Brit-comedy legend Peter Butterworth in three rare slapstick comedy shorts: Watch Out (1953, 18 mins), That's an Order (1954, 18 mins) and Playground Express (1954, 16 mins)

Before Its Time: The Battle of Billy's Pond

 (2021, 13 mins): in this 

new mini-doc, CFF alumnus Harley Cokeliss revisits his eco-aware film for the Foundation from 1976 (

featured on the first Bumper Box)