MUBI, the global distributor and curated film streaming service, is pleased to announce that Kelly Reichardt's critically acclaimed First Cow will be available on Blu-ray and DVD from 9 August 2021.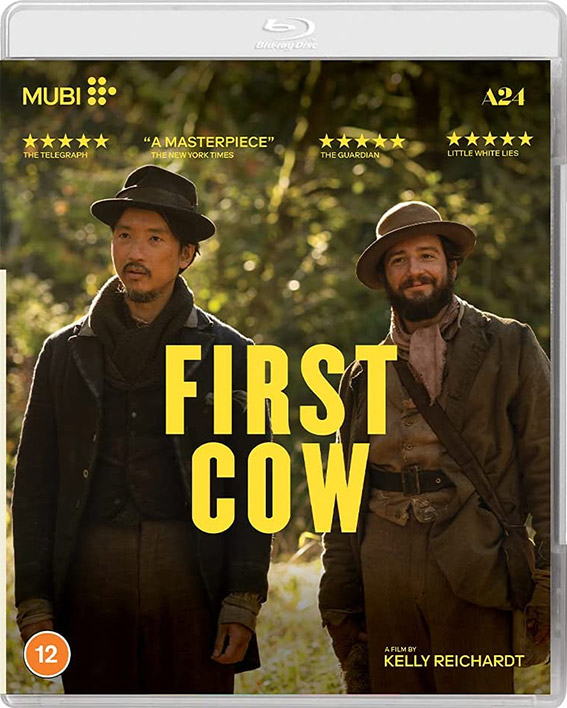 Award-winning director Kelly Reichardt (Meek's Cutoff, Wendy and Lucy) returns with the eagerly awaited First Cow, a gripping and glorious story of friendship and petty crime in the Old West.
A taciturn loner and skilled cook (John Magaro) has traveled west and joined a group of fur trappers in Oregon Territory, though he only finds true connection with a Chinese immigrant (Orion Lee) also seeking his fortune. Soon the two collaborate on a successful but precarious cake-making business, the longevity of which is reliant upon the clandestine participation of a wealthy landowner's prized milking cow – the very first, and only, in the territory.
With this simple premise, Reichardt paints an authentic portrait of harsh frontier life in the early nineteenth century, depicting the immense, unsettling quietude of rural America and interrogating the very foundations on which the country was built. 
Following its premiere at the Telluride Film Festival, First Cow screened at the Locarno Film Festival, the New York Film Festival, and competed for the Golden Bear award at the Berlin Film Festival. It won Best Film at the 2020 New York Film Critics Circle Awards, and last month was nominated for three Film Independent Spirit Awards including Best Feature and Best Director.
Combining sumptuous cinematography with a gently melancholic tale of pilfered dairy, sweet cakes and old-fashioned camaraderie, First Cow is the celebrated magnum opus of one of cinema's most vital independent filmmakers.
BLU-RAY AND DVD SPECIAL FEATURES: