Spies, stakeouts, corrupt cops, and crime syndicates. It can only mean that our Columbia Noir series is back for its latest instalment. Columbia Noir #4, released 20 September 2021, presents six world premieres on Blu-ray – Walk a Crooked Mile (Gordon Douglas, 1948), Walk East on Beacon! (Alfred Werker, 1952), Pushover (Richard Quine, 1954), A Bullet is Waiting (John Farrow, 1954), Chicago Syndicate (Fred F Sears, 1955) and The Brothers Rico (Phil Karlson, 1957) – as well as a wealth of bonus materials, including expert commentaries, critical appreciations, short films, a theme-sharing dose of the Three Stooges, and a 120-page book.
Featuring Kim Novak, Fred MacMurray, Jean Simmons, Rory Calhoun, Abbe Lane, Louis Hayward, and Richard Conte – not to mention gangsters, G-men, foreign spies, criminals on the run, and corrupt cops – Columbia Noir #4 continues the series in fine style.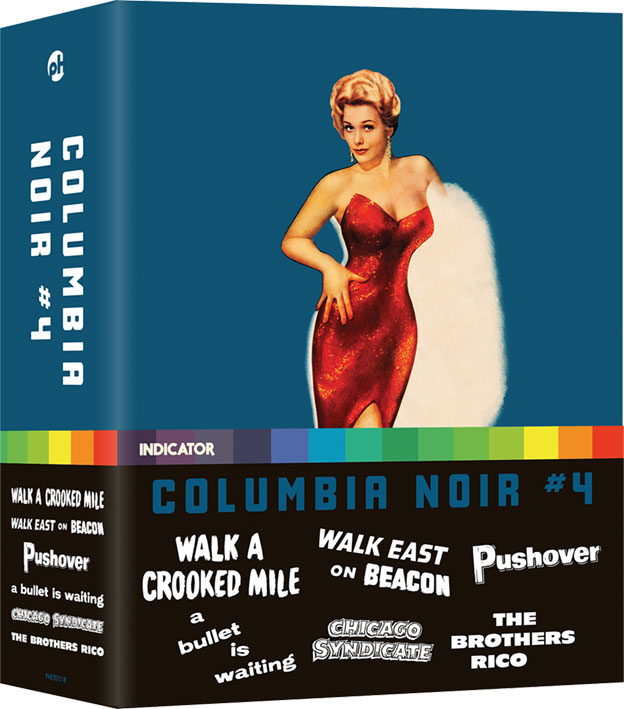 Comunbia Noir #4 will be released on UK Blu-ray as a six-disc Limited Edition box set on 20 September 2021, with an Indicator store price of £49.99.
INDICATOR LIMITED EDITION BLU-RAY BOX SET FEATURES:
High Definition remasters of all six films
Original mono soundtracks
Audio commentary on Walk East on Beacon! with In a Lonely Street author Frank Krutnik (2021)
Audio commentary on Pushover with film historians Alexandra Heller-Nicholas and Josh Nelson (2021)
Audio commentary on Chicago Syndicate with film historian Toby Roan (2021)
Audio commentary on The Brothers Rico with professor and film scholar Jason A Ney (2021)
Introduction to The Brothers Rico by Martin Scorsese (2010)
Glenn Kenny on Richard Quine (2021): the author and critic examines the eclectic career of the director of Pushover
Josephine Botting on Jean Simmons (2021): the film historian discusses the early American career of the British actor
G-Men Combat Saboteurs (1941) and G-Men at War (1942): two March of Time documentaries produced by Louis De Rochemont (Walk East on Beacon!), focusing on the FBI's efforts to apprehend spies and fifth columnists
Routine Job: A Story of Scotland Yard (1946): short film examining the day-to-day work of the Scotland Yard detective, much like the one in Walk a Crooked Mile
Policeman's Holiday (1949): short film in which an American detective comes to England to assist Scotland Yard, echoing but reversing the plot of Walk a Crooked Mile
Six comedy shorts starring the Three Stooges, each lampooning the tropes and themes of the films in this set: From Nurse to Worse (1940), The Yoke's on Me(1944), Dunked in the Deep (1949), Blunder Boys (1955), Commotion in the Ocean (1956), and A Merry Mix-Up (1957)
Original theatrical trailers
Image galleries: promotional and publicity materials
New and improved English subtitles for the deaf and hard-of-hearing
Limited edition exclusive 120-page book with new essays by Beth Ann Gallagher, Bob Herzberg, Sophie Monks Kaufman, Omar Ahmed, Jen Johans, and Monica Castillo, archival articles and interviews, and film credits
World premieres on Blu-ray
Limited edition box set of 6,000 numbered units
MORE EXTRAS TO BE ANNOUNCED
All extras subject to change