StudioCanal has announced the release of a brand-new restoration of a classic 1963 crime drama from director Michael Winner (Death Wish, Hannibal Brooks), West 11. Starring Alfred Lynch (The Hill, The Taming of the Shrew), Kathleen Breck (The Three Musketeers, The Prisoner), Eric Portman (A Canterbury Tale, The Whisperers) along with the inimitable Diana Dors (Yield to The Night, The Weak and the Wicked), this sympathetic study of rootless drifters filmed on location in Notting Hill will be available to own on DVD, Blu-Ray and Digital platforms in July.
Based on the novel The Furnished Room by Laura Del Rivo, this stunning new restoration comes complete with exclusive new extras material and is a welcome addition to the growing Vintage Classics collection.
Michael Winner's foray into British Social realism sees an authentic portrayal of the grittier, darker side of West London in the 60s. In Notting Hill's jazz club, coffee bar and bedsit land of the early 1960s, Joe Beckett (Alfred Lynch) is a young unemployed misfit and drifter whose life takes a turn for the worse when he encounters Richard Dyce (Eric Portman), an ex-army officer. Dyce persuades Beckett it will be in his interests to bump off Dyce's wealthy aunt for her money. Beckett travels to the old lady's house on the South coast, and prepares to murder her but loses his nerve and in a struggle, accidentally pushes her down a flight of stairs, killing her anyway. After a witness reports him, Beckett returns to his digs and finds the police waiting for him. Dyce denies all involvement and Beckett turns himself in.
Having begun his film career as an assistant director of BBC television programmes, cinema shorts and full-length "B" productions, West 11 was Michael Winner's first significant film as a director. Winner soon established a reputation as an efficient director of often violent action, thriller, and dark comedy films throughout the 1960s and 1970s and is remembered for both his collaborations with actors Charles Bronson and Oliver Reed as well as for being one of the most controversial British directors of recent times.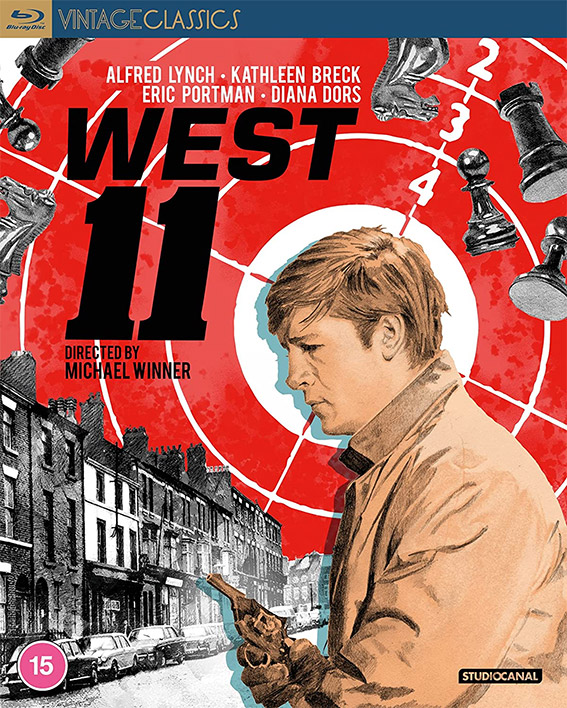 West 11 will be released on UK Blu-ray, DVD & Digital platforms on 5 July 2021 by StudioCanal at a yet-to-be confirmed RRP.
Blu-ray and DVD special features:
Interview with Film Historian Matthew Sweet – Matthew Sweet takes an insightful look at the history of the film and director Michael Winner's foray into British realism.
Original theatrical trailer