StudioCanal has announced the release of a brand-new restoration of the mystery thriller Murder by Decree, featuring the legendary characters created by Sir Arthur Conan Doyle, Sherlock Holmes and Dr. John Watson, embroiled in the investigation surrounding the real-life Whitechapel murders supposedly committed by the notorious, unidentified serial killer Jack the Ripper.
London 1889 - When Scotland Yard fails to stop the gruesome rampage of Jack the Ripper, Sherlock Holmes (Christopher Plummer) and his trusted associate Dr. Watson (James Mason) decide to investigate. Undeterred by the police withholding crucial information, the duo embark on a dangerous adventure through London's underworld, finding themselves at the door of psychic Robert Lees (Donald Sutherland) who helps to set them on the right path. But even if Holmes' remarkable powers of deduction can unmask the maniacal fiend, can he and Watson face the most shocking secret of all?
Directed by Bob Clark (Black Christmas), Murder by Decree features an all-star supporting cast, including John Gielgud as Prime Minister Lord Salisbury, Frank Finlay as Inspector Lestrade, David Hemmings as Inspector Foxborough, Susan Clark as Mary Kelly, Geneviève Bujold as Annie Crook, Anthony Quayle as Sir Charles Warren and Eastenders' June Brown as one of the Ripper's earliest victims Annie Chapman.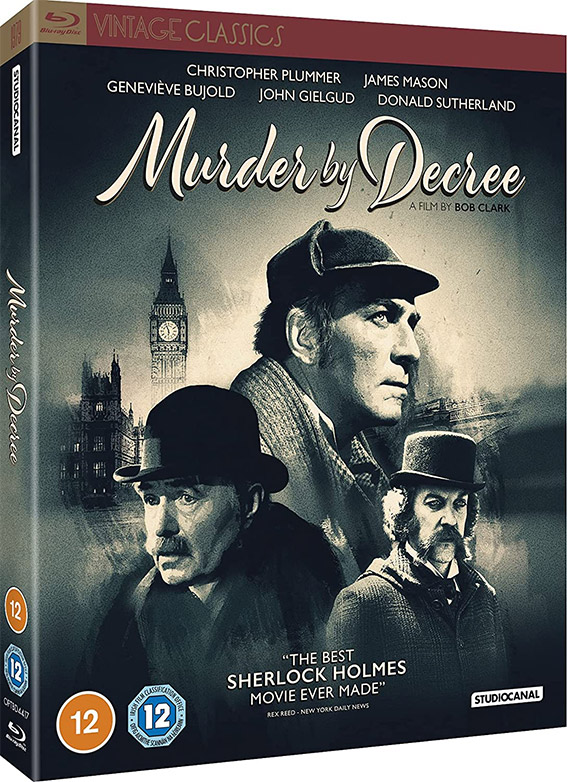 Murder by Decree will make its UK Blu-ray premiere on 28 June 2021, with simultaneous release on DVD and Digital platforms, all courtesy of StudioCanal as part of its Vintage Classics Collection. Retail prices of the discs have yet to be confirmed.
SPECIAL FEATURES:
New: Audio commentary with cretic and author Kim Newman and crime fiction historian Barry Forshaw
New: Interview with Kim Newman
Could only find a low resolution trailer for this one. StudioCanal need to update this.