Salaam Bombay! is the heartrending and impassioned debut fiction feature by director Mira Nair (Monsoon Wedding) and her frequent collaborator Sooni Taraporevala. With a cast of real-life street children, this celebration of the spirit of survival is an authentic and unflinching portrayal of India's impoverished underbelly. Oscar-nominated and critically lauded, it comes to Blu-ray for the first time. Extras include an audio commentary by Mira Nair and a newly recorded discussion with the cinematographer and her son who was one of the children in the film.
Banished from his home and abandoned by the traveling circus he sought refuge in, 11-year-old Krishna (Shafiq Syed) joins the swathes of dispossessed Mumbai street children struggling to survive. To earn the money he needs to get back into his mother's good graces and return home, Krishna finds work as a tea boy – a job that brings him into contact with an array of local characters, including prostitutes, pimps and drug-dealers.
Salaam Bombay! was the film in which the great Indian actor Irrfan Khan (1967–2020) made his debut screen appearance, in a small role, 'Scribe'. He went on to a film career spanning 30 years before his untimely death at just 53 and is known in the UK for his performances in films such as The Lunchbox, Life of Pi, Slumdog Millionaire and Jurassic World.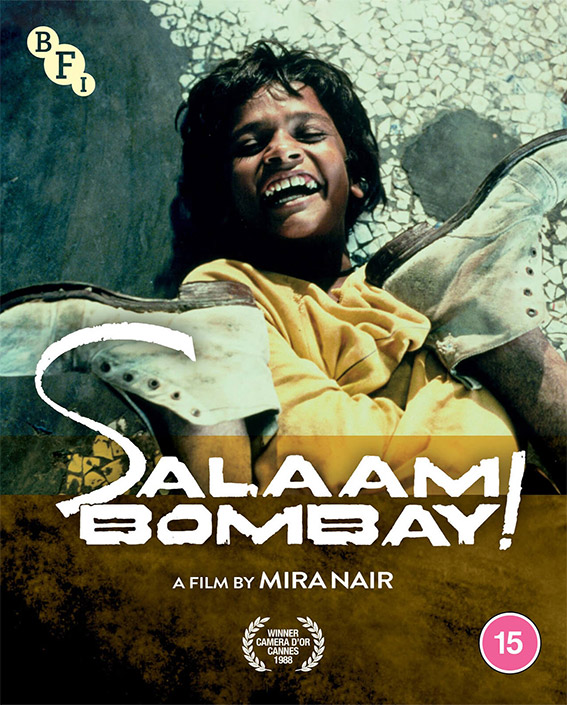 Salaam Bombay! will be released on Blu-ray and on iTunes and Amazon Prime by the BFI on 21 June 2021 at the RRP of £19.99 for the Blu-ray edition.
BLU-RAY SPECIAL FEATURES:
Audio commentary by Mira Nair (2013)
Sandi and Bernard Sissel in Conversation (2021, 51 mins): newly recorded discussion with the cinematographer and her son, one of the children from Salaam Bombay! 
India Cabaret (1985, 60 mins): Mira Nair's documentary about female strippers from a Bombay nightclub which provided the kernel of Salaam Bombay!
Archive shorts (1906-1936, 31 mins): three gems from the BFI National Archive reflecting themes and iconography found in Salaam Bombay!, featuring city life in La vie aux Indes / Indian Scenes, an early Dickens adaptation of Oliver Twist and a look at tea production in India and Sri Lanka in Gardens of the Orient 
Original theatrical trailer
First pressing only: illustrated booklet with a new essay by Manish Mathur and an archival essay from Sight & Sound by Alex Dudok de Wit; an introduction by Mira Nair to the Salaam Baalak Trust, a charity established specifically to provide support services for street and working children; a biography of Mira Nair by Ellen Cheshire; notes on the extras and full credits
Here's a clip: