One of the pinnacles of British silent cinema, Piccadilly is a sumptuous showbusiness melodrama seething with sexual and racial tension starring the Chinese American screen goddess Anna May Wong. Beautifully restored by the BFI National Archive, Piccadilly is accompanied by Neil Brand's evocative score, performed by some of the UK's leading jazz players. Released on Blu-ray for the first time on 21 June, numerous extras include a newly recorded video essay on the film by the BFI's silent film expert and a new in-depth video biography of Anna May Wong.
Anna May Wong stars as Shosho, a scullery maid in a fashionable London nightclub whose sensuous tabletop dance catches the eye of suave club owner Valentine Wilmot. She rises to become the toast of London and the object of Wilmot's erotic obsession – prompting the bitter jealousy of Mabel, his former lover and star dancer (played by Ziegfeld Follies star Gilda Gray).
This stylish evocation of Jazz Age London, directed by German émigré E A Dupont, boasts the dazzlingly fluid cinematography of Werner Brandes and atmospheric sets by Alfred Junge – ranging from the opulent West End nightclub to seedy Limehouse.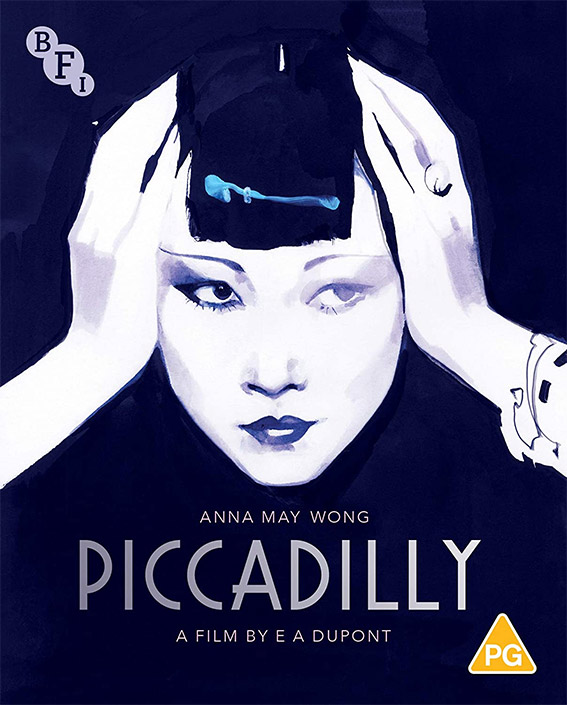 Piccadilly will be released on UK Blu-ray on 21 June 2021 by the BFI at the RRP of £19.99.
BLU-RAY FEATURES:
Presented in High Definition, featuring Neil Brand's jazz-influenced score
Prologue to Piccadilly (1929, 5 mins): sound prologue screened in US cinemas
Return to Piccadilly (2021, 17 mins): a newly recorded video essay on the film by the BFI's silent film expert Bryony Dixon
Talk of the Town (2021, 53 mins): a new, in-depth video biography of Anna May Wong by author and film critic Jasper Sharp
Scoring Piccadilly (2004, 20 mins): composer Neil Brand reflects on his approach to creating music for the film
Cosmopolitan London (1924, 10 mins): the cultural melting pot that was London in the 1920s is captured on camera in this fascinating period piece, with a score by John Sweeney
Image gallery

First pressing only – Illustrated booklet with essays by the BFI National Archive's silent film curator Bryony Dixon, writer, composer, musician and broadcaster Neil Brand, and Ian Christie, Anniversary Professor of film and media history at Birkbeck, University of London, notes on the special features and full credits
Here's a clip: