Chris Petit's 1979 cult classic, Radio On, is one of the most striking feature debuts in British cinema – a haunting blend of mystery story and existential road movie, crammed with eerie evocations of the English landscape. Stunningly photographed in monochrome by Wim Wenders' assistant cameraman Martin Schäfer, the film is driven by a soundtrack featuring David Bowie, Kraftwerk, Lene Lovich, Ian Dury, Wreckless Eric, Robert Fripp and Devo, and reveals an early screen performance by Sting.
Radio On is released on Blu-ray for the first time on 17 May, with lots of extras including a new audio interview with the director, who revisits key scenes, a new interview with film writer Jason Wood, Radio On (remix) – a digital video essay, and complementary films including Coping with Cupid (1991) by musician and author Viv Albertine.
As it follows a London DJ (David Beames) on the road to Bristol to investigate the death of his brother, Radio On offers a compelling, even mythic, vision of an England stalled between dashed hopes of cultural and social change and the imminent upheaval of Thatcherism.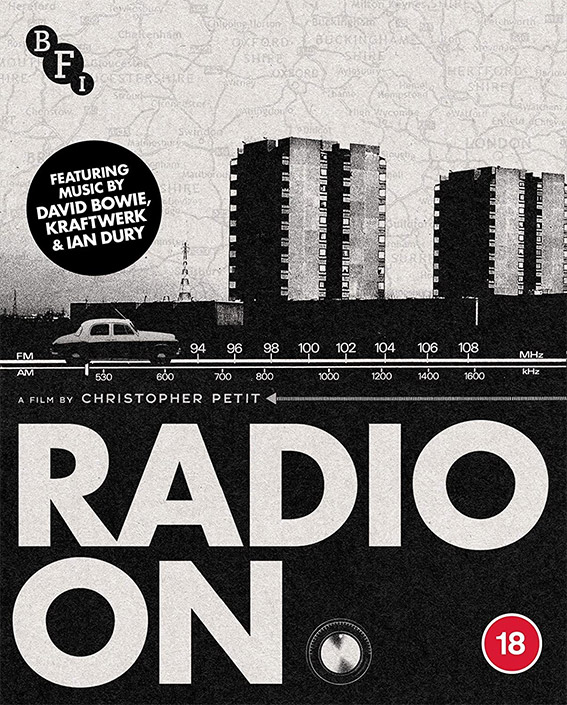 Radio On will be released on Blu-ray, iTunes and Amazon Prime by the BFI on 17 May 2021 at the RRP of £19.99.
BLU-RAY SPECIAL FEATURES:
Newly restored by the BFI from the original camera negative
Newly recorded audio interview in which director Chris Petit revisits key scenes in Radio On (2021, 52 mins)
New interview with film writer Jason Wood (2021, 54 mins)
Interview with Chris Petit and producer Keith Griffiths (2008, 42 mins)
Radio On (remix) (1998, 24 mins): a digital video essay with radical disruption of the original soundtrack by Wire's Bruce Gilbert
Coping With Cupid (1991, 18 mins): three blondes from another planet land on Earth to conduct research into romantic love in this short film directed by musician and author Viv Albertine
On the Road (1972 + 1975, 47 mins): a pair of public information films, with L For Logic providing a flashback to driving tests in the 1970s and The Motorway File, directed by Ferdinand Fairfax (Jeeves and Wooster, Danger UXB), on the dangers of motorway driving
Original trailer
Image gallery
Newly commissioned sleeve artwork by Matt Needle
Here's a short clip featuring Kraftwerk's Radioactivity: