County Lines powerful, critically acclaimed and multi-award nominated drama about a mother and her son who is groomed into a lethal nationwide drugs network – a 'county line' – is inspired by director Henry Blake's first-hand experience as a youth worker on the frontline of child exploitation and drug trafficking in the UK.
Released in cinemas and digitally last December, it now comes to Blu-ray/DVD (Dual Format Edition) from the BFI. An extensive range of extras includes a commentary by Henry Blake, his original 'proof of concept' short film County Lines, a Q&A with Henry Blake and actors Conrad Khan and Ashley Madekwe and more.
Fourteen-year-old Tyler (Conrad Khan) attends a pupil referral unit, where he is isolated and bullied. At home he must look after his younger sister Aliyah (Tabitha Milne-Price) while his mother, Toni (Ashley Madekwe), works nights. When the preoccupied and exhausted Toni loses her job, she thrusts the family into a desperate financial situation, leaving Tyler vulnerable to Simon (Harris Dickinson) a 'recruiter' who targets children to promote a drug-dealing enterprise out of the city.
Conrad Khan has been nominated for BAFTA's EE Rising Star Award and was previously nominated for Most Promising Newcomer at the BIFAs (British Independent Film Awards) and Young British/Irish Performer at the 41st London Critics' Circle Film Awards. Ashley Madekwe is nominated for BAFTA's Best Supporting Actress and was previously nominated for Best Supporting Actress at the BIFAs. Harris Dickinson was nominated for Best Supporting Actor at the BIFAs. County Lines was longlisted for BAFTA's Outstanding British Film. Director Henry Blake was nominated for Best Debut Director at the BIFAs and The Philip French Award for Breakthrough British/Irish Filmmaker at the 41st London Critics' Circle Film Awards.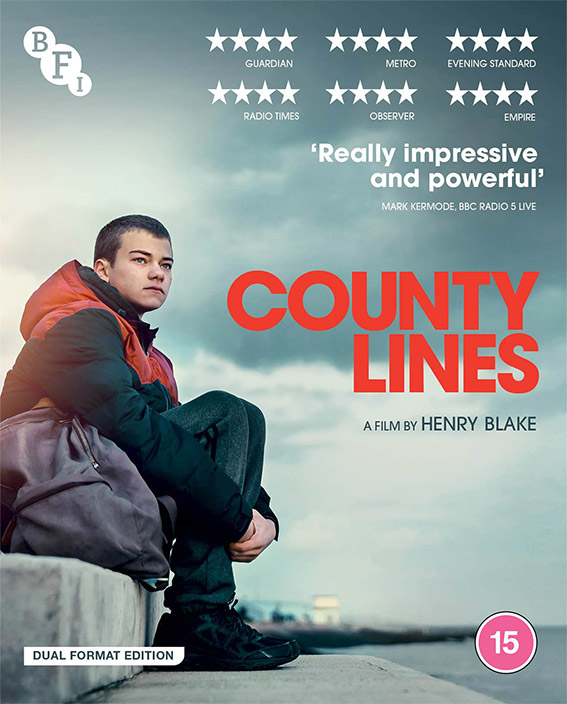 County Lines will be released in the UK as a Dual Format edition (Blu-ray & DVD) by the BFI on 19 April 2021 at the RRP of £19.99.
DUAL FORMAT SPECIAL FEATURES:
Feature commentary by writer-director Henry Blake (2020)
County Lines (short) (Henry Blake, 2017, 22 mins): a proof of concept film made before embarking on the feature version, includes director's commentary
County Lines Q&A (2020, 36 mins): Henry Blake and actors Conrad Khan and Ashley Madekwe talk to film critic Guy Lodge
Anatomy of a Scene (2020, 3 mins): Henry Blake and Conrad Khan discuss one of the key scenes from the film
Gus & Son (Henry Blake, 2017, 13 mins): tensions rise as a father and son take on one last job together
Children of the City (1944, 31 mins): a dramatised study of child delinquency in Scotland
DVD-ROM content: scripts for Gus & Son and County Lines (short)
Trailer
Behind the scenes stills gallery
FIRST PRESSING ONLY: Illustrated booklet with a director's statement, essays by Michael Hayden and Isabel Stevens, the Sight & Sound review by Trevor Johnston, full credits and notes on the special features