StudioCanal is (their words) glad all over to announce the upcoming release of Catch Us If You Can, starring The Dave Clark Five, available for the first time on Blu-ray and DVD, Digital in April.
Legendary British director John Boorman (Hope and Glory, Point Blank, Deliverance) made his directorial debut with this cult 1960s story in which Dave Clark stars along with The Dave Clark Five Band. The Five have been hired by a corporate advertising agency to appear in an ad campaign for "Meat For Go" fronted by the model Dinah (Barbara Ferris). During the filming of a TV commercial, stuntman Steve (Dave Clark) absconds in a stolen E-type Jaguar with the face of the campaign, Dinah. They make their way across a wintry southern England towards an island that Dinah plans to buy with the proceeds of her modelling. This act of rebellion is cynically exploited for publicity by the advertising executive behind the campaign, Leon Zissell (David de Keyser), who dispatches two of his henchmen to pursue the fleeing couple.
On their journey, Steve and Dinah encounter a group of hippies squatting in MOD-owned buildings on Salisbury Plain, an eccentric middle-aged married couple (Yootha Joyce and Robin Bailey) and Steve's boyhood hero, Louie (David Lodge). Memorable scenes were filmed at Smithfield Market in London, the Oasis Swimming Pool in London's Holborn, Syon House, the Roman Baths and Royal Crescent at Bath and Burgh Island off the coast of Devon.
Originally released in 1965, Catch Us If You Can followed the huge success of The Beatles' A Hard Day's Night but this film was far more than a commercial pop vehicle designed to cash-in on 60s youth culture. As well as an entertaining slice of 60s nostalgia,Catch Us If You Can contains many elements of arthouse sophistication amidst the musical and comic set pieces.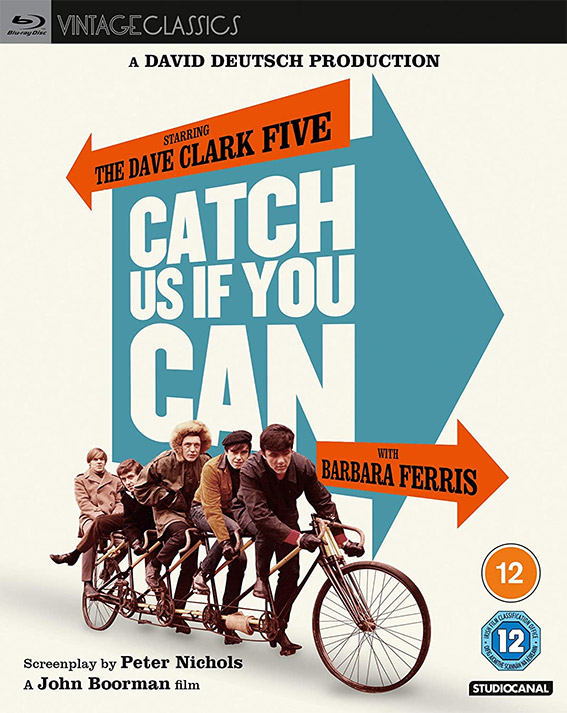 Catch Us If You Can will be released on UK Blu-ray, DVD and Digital platforms by StudioCanal as part of its Vintage Classics Collection on 5 April 2021 at a yet-to-be confirmed RRP.
BLUE-RAY & DVD SPECIAL FEATURES:
Interview with Journalist and Film Historian Matthew Sweet
Interview with Screenwriter Peter Nichols
Interview with Set Dresser Ian Whittaker

We don't have a trailer but some sould has uploaded the film's opening title sequence: