Eerie, atmospheric and poignant with the peculiar pain of growing up, the 1969 long-unavailable and much sought after coming-of-age thriller I Start Counting! boasts superb performances from its youthful leads, a sharp screenplay by Richard Harris (1960s TV series The Avengers), adapted from the haunting novel by Audrey Erskine Lindop, subtle camerawork from Alex Thomson (Excalibur) and an exceptional score by eccentric soundtrack maestro Basil Kirchin (The Abominable Dr. Phibes).
Now restored, this bona fide cult film classic is finally released to watch at home, stacked with extras including new interviews with Jenny Agutter and Richard Harris; an interview about ambient music pioneer Basil Kirchin with Trunk Records' Jonny Trunk, a video essay on the film, an audio commentary and complementary films from the BFI National Archive.
Growing up in a new-town tower block at the tail end of the 1960s isn't easy for awkward adolescent schoolgirl Wynne (Jenny Agutter, An American Werewolf in London). She has a bad case of puppy love for her much older foster brother, George (Bryan Marshall, The Long Good Friday). And to add to her anguish, might he even be the crazed killer of teenage girls known to prowl the woods nearby?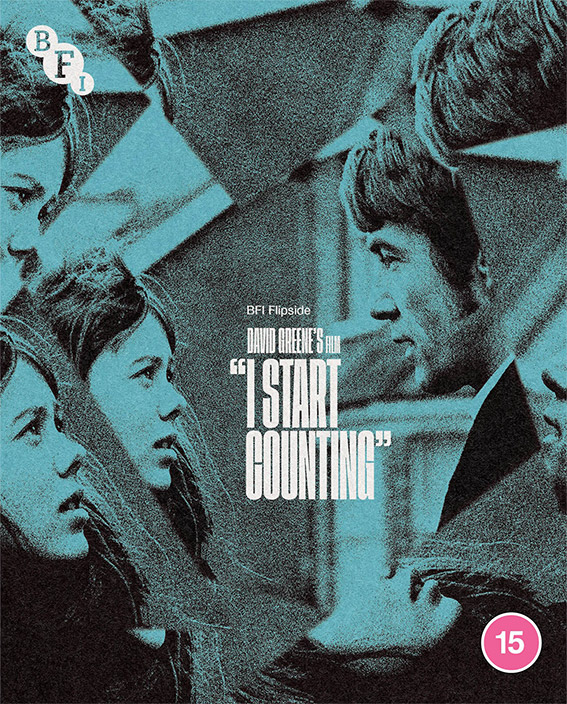 I Start Counting! will be release on UK Blu-ray by the BFI as part of its Flipside strand on 19 April 2021 at the RRP of £19.99.
BLU-RAY FEATURES:
Feature newly scanned and restored in 2K from the 35mm Interpositive
A Kickstart: Jenny Agutter Remembers I Start Counting! (2020, 20 mins): a new interview with the actress
An Apprentice With a Master's Ticket (2021, 40 mins): acclaimed screenwriter Richard Harris looks back over an eclectic career in television and film, ranging from The Avengers to A Touch of Frost
Worlds Within Worlds (2021, 33 mins): Jonny Trunk, founder of cult label Trunk Records, revisits the life and art of ambient music pioneer Basil Kirchin
I Start Building (1942-59, 25 mins): a selection of rare archive films recalling the 'New Town' dream
Danger on Dartmoor (1980, 57 mins): plucky kids face peril in this full-length Children's Film Foundation bonus feature, written by Audrey Erskine Lindop
Don't Be Like Brenda (1973, 8 mins): the perennial problem of teenage promiscuity is explored in this cautionary film designed for adolescent viewers
Loss of Innocence: a video essay on I Start Counting! by filmmaker Chris O'Neill
Audio commentary by film historian Samm Deighan
Theatrical trailer
Image gallery
Newly commissioned sleeve artwork by Matt Needle

FIRST PRESSING ONLY: Illustrated booklet with an essay by Dr. Josephine Botting, a curator at the BFI National Archive, and biographies of David Greene, Jenny Agutter and Clare Sutcliffe by Jon Dear