StudioCanal has announced a new addition to its Vintage Classics range of iconic British films in the shape of the 1961 crime drama, The Fightened City. Starring Sean Connery and Herbert Lom, The Frightened City has been newly restored and will be available for the first time on Blu-ray and on DVD and digital platforms in April.
A cool British noir set in 1960s gangland London, The Frightened City follows the story of a low-level criminal (Connery) who gets embroiled in a dangerous racketeering syndicate when he accepts a job from local mobster Harry Foulcher (Alfred Marks).
A year before he was thrust into stardom as James Bond in Dr. No, Sean Connery gave a spell-binding performance as the brooding, muscular Irish enforcer Paddy Damion with a streak of rakish charm, with electrifying support from Yvonne Romain as the beautiful gangster's moll Anya and from Herbert Lom as criminal mastermind Waldo Zhernikov.
Harry Foulcher is a night club impresario and one of many small-time mobsters running protection rackets across London's West End. Ruthless businessman Waldo Zhernikov (Herbert Lom) spies a lucrative opportunity and instructs Foulcher to get the biggest gang leaders to join forces but under his control. Paddy Damion, a 'climber' (cat burglar) by trade, is recruited as the tough but intelligent front man. He is reluctant at first but agrees so he can support his partner (Kenneth Griffith) who was injured on a job. He becomes a regular at Foulcher's club where he meets and seduces Anya, Zhornikov's mistress, much to his girlfriend Sadie's (Olive McFarland) distress and Wally's disgust. Meanwhile Zhornikov wants to raise the game but not all of the gang bosses agree to go along. The increased violence is alarming the press and public and with the determined and unorthodox Detective Inspector Sayers (John Gregson) on the case things begin to look shaky for his burgeoning criminal empire.
Directed by John Lemont (The Shakedown) The Frightened City, with its gritty depiction of the criminal underworld and the idea that police officers did not always operate on the right side of the law, marked a distinct shift in the way policing and crime was portrayed on screen. Shot in moody black and white by Desmond Dickinson and with nods to classic American and Italian crime thrillers, The Frightened City is a tense, stylish gem of 60s British cinema.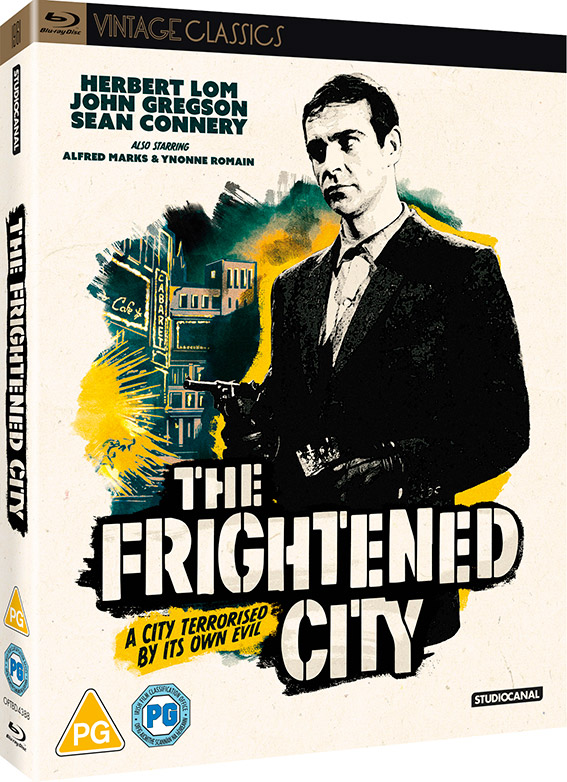 The Frightened City will be released in the UK on Blu-ray, DVD and Digital platforms on 12 April by StudioCanal at an as-yet unconfirmed RRP.
Special features:
Interview with Journalist and Film Historian Matthew Sweet