After the huge success of its lavish Limited Edition box sets released in Autumn 2020, the dead are preparing to walk the earth once more as Second Sight announces the release of the definitive restored versions of George A Romero's zombie classic Dawn Of The Dead in standard editions on 22 March 2021.
The standard editions of this beautifully restored, comprehensive edition of the seminal horror, feature three different versions of the film, along with a fourth disc of special features across two separate formats Dawn Of The Dead 4K UHD and Dawn Of The Dead Blu-ray. It also marks the first time the newly restored versions of the film are available on video on demand and as a digital release via all major platforms.
Acclaimed by fans and critics alike, these presentations offer completely restored versions of the film, each including the original theatrical cut, the extended "Cannes" cut and the Argento cut, making it the most comprehensive release ever of the film acknowledged to be one of the greatest horror movies of all time. Each version has a different commentary track, with the theatrical cut offering two.
The bonus disc of special features is packed with exclusive, new material as well as archive interviews, including the previously unreleased The Lost Romero Dawn Interview. Others include a tour of the shopping mall location, a look at its special effects and more. Please see list in full below.
The film originally arrived 10 years after the seminal Night of the Living Dead and ushered in a new era of zombie films. It showed Romero once again ahead of the curve, mixing biting political satire with state-of-the-art-gore for a genre defining masterpiece that packs as much of a punch today as it did 40 years ago.
With a zombie epidemic escalating, a small band of survivors seek refuge in that shrine to capitalism, the shopping mall. But the undead, still possessed by an instinctive desire to consume, have had the same idea...What follows is a nail-biting thrill-ride and fight to survive. Oh, and watch out for those helicopter blades!
"These transfers contain so much detail, it's as if the film could have been made yesterday. Truly an exceptional movie…a truly magnificent release, the word definitive has never been more appropriate. Wish I could give it more than five stars." – Horror Channel.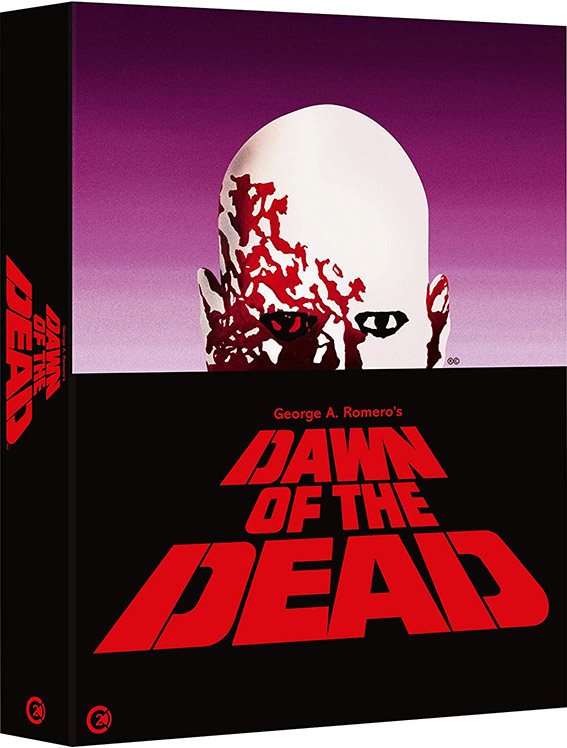 Dawn of the Dead will be released on Standard Edition Blu-ray and 4K UHD by Second Sight on 22 March 2021 at a yet-to-be confirmed RRP.
4K UHD EDITION FEATURES:
UHD DISC 1: THE THEATRICAL CUT (127 mins)
NEW 4K scan and restoration of the Original Camera Negative by Second Sight at Final Frame New York and London supervised and approved by DoP Michael Gornick
Presented in HDR10+
Audio: New restoration of the original OCN Optical presented in Mono 1.0, Stereo 2.0 and 5.1
Commentary by George A. Romero, Tom Savini, Christine Forrest
NEW commentary by Travis Crawford
NEW optional English subtitles for the hearing impaired
UHD DISC 2 – THE EXTENDED ('CANNES') CUT (137 mins)
Produced using 4K scan of the Theatrical Cut Original Camera Negative and 4K scan of the Extended Cut Colour Reversal Internegative
Presented in HDR10+
DTS-HD Master Audio 1.0 Mono
Commentary by Richard P. Rubinstein
NEW optional English subtitles for the hearing impaired
UHD DISC 3 – THE ARGENTO CUT (120 mins)
4K scan of the Interpositive by Michele De Angelis at Backlight Digital, Rome
Audio: DTS-HD Master Audio Mono 1.0 / Surround 5.1 / Stereo 2.0
Commentary by Ken Foree, Scott Reiniger, Gaylen Ross, David Emge
NEW optional English subtitles for the hearing impaired
BLU-RAY DISC 4: SPECIAL FEATURES
NEW Zombies and Bikers – With John Amplas, Roy Frumkes, Tom Savini, Christine Forrest, Tom Dubensky, Tony Buba, Taso Stavrakis and a whole host of zombies and bikers! (59 mins)
NEW Memories of Monroeville – A tour of the mall with Michael Gornick, Tom Savini, Tom Dubensky and Taso Stavrakis (34 mins)
NEW Raising the Dead: The Production Logistics with Michael Gornick, Christine Forrest, John Amplas, Tom Dubensky (23 mins)
NEW The FX of Dawn with Tom Savini (13 mins)
NEW Dummies! Dummies! – An interview with Richard France (12 mins)
NEW The Lost Romero Dawn Interview: previously unreleased archive interview (20 mins)
Super 8 Mall Footage by zombie extra Ralph Langer with option of archive commentary by Robert Langer and new commentary by Ralph Langer (13 mins)
Document of the Dead: The Original Cut (66 mins)
Document of the Dead: The Definitive Cut with optional commentary by Roy Frumkes (100 mins)
The Dead Will Walk – 2014 Documentary (80 mins)
Trailers, TV and Radio Spots (TBC)
BLU-RAY EDITION FEATURES:
UHD DISC 1: THE THEATRICAL CUT (127 mins)
NEW 4K scan and restoration of the Original Camera Negative by Second Sight at Final Frame New York and London supervised and approved by DoP Michael Gornick
Audio: New restoration of the original OCN Optical presented in Mono 1.0, Stereo 2.0 and 5.1
Commentary by George A. Romero, Tom Savini, Christine Forrest
NEW commentary by Travis Crawford
NEW optional English subtitles for the hearing impaired
UHD DISC 2 – THE EXTENDED ('CANNES') CUT (137 mins)
Produced using 4K scan of the Theatrical Cut Original Camera Negative and 4K scan of the Extended Cut Colour Reversal Internegative
DTS-HD Master Audio 1.0 Mono
Commentary by Richard P. Rubinstein
NEW optional English subtitles for the hearing impaired
UHD DISC 3 – THE ARGENTO CUT (120 mins)
4K scan of the Interpositive by Michele De Angelis at Backlight Digital, Rome
Audio: DTS-HD Master Audio Mono 1.0 / Surround 5.1 / Stereo 2.0
Commentary by Ken Foree, Scott Reiniger, Gaylen Ross, David Emge
NEW optional English subtitles for the hearing impaired
BLU-RAY DISC 4: SPECIAL FEATURES
NEW Zombies and Bikers – With John Amplas, Roy Frumkes, Tom Savini, Christine Forrest, Tom Dubensky, Tony Buba, Taso Stavrakis and a whole host of zombies and bikers! (59 mins)
NEW Memories of Monroeville – A tour of the mall with Michael Gornick, Tom Savini, Tom Dubensky and Taso Stavrakis (34 mins)
NEW Raising the Dead: The Production Logistics with Michael Gornick, Christine Forrest, John Amplas, Tom Dubensky (23 mins)
NEW The FX of Dawn with Tom Savini (13 mins)
NEW Dummies! Dummies! – An interview with Richard France (12 mins)
NEW The Lost Romero Dawn Interview: previously unreleased archive interview (20 mins)
Super 8 Mall Footage by zombie extra Ralph Langer with option of archive commentary by Robert Langer and new commentary by Ralph Langer (13 mins)
Document of the Dead: The Original Cut (66 mins)
Document of the Dead: The Definitive Cut with optional commentary by Roy Frumkes (100 mins)
The Dead Will Walk – 2014 Documentary (80 mins)
Trailers, TV and Radio Spots (TBC)