The BFI has announced the January Blu-ray release of the 1994 drama, Blue Sky. Tommy Lee Jones and Jessica Lange star in this thrilling whistle-blower drama from director Tony Richardson, which will be made available on Blu-ray for the first time in the UK.
Uprooting his family after being assigned to a remote testing facility in Alabama, nuclear engineer and dedicated military man Hank Marshall (Tommy Lee Jones, The Fugitive) is faced with a moral dilemma as an opponent of the weapons tests he's asked to complete. Adding to an already volatile situation is Hank's wife, Carly (Jessica Lange, in a performance that won her the Best Actress in a Leading Role Academy Award), whose erratic behaviour and flirtatious nature increase the strain on their relationship, bringing further unwanted attention.
With a supporting cast including Powers Boothe (Southern Comfort), Carrie Snodgress (Diary of a Mad Housewife) and Chris O'Donnell (Scent of a Woman), Blue Sky would be the last film directed by the great Tony Richardson (A Taste of Honey, Tom Jones, The Loneliness of the Long Distance Runner) and was released posthumously.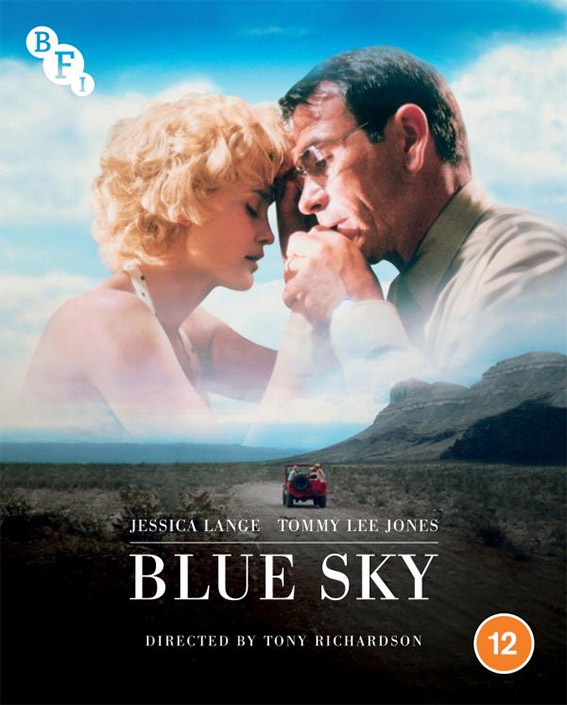 Blue Sky will be released on UK Blu-ray by the BFI on 18 January 2021 at the RRP of £19.99.
BLU-RAY SPECIAL FEATURES:
Newly recorded audio commentary by film critic Nick Pinkerton

Operation Hurricane 

(1952, 33 mins): after the first Soviet nuclear weapon was detonated in 1949, the British

accelerated their development of their own nuclear deterrent. This haunting film documents the first atomic bomb test on the Monte Bello Islands

Atoms at Work 

(1952, 11 mins): a fascinating behind-the-scenes look at the Harwell atomic research establishment and the potential benefits of radioactivity

Original theatrical trailer
Image gallery
First pressing only: illustrated booklet with a film essay by Jim Hemphill, biographies of Tommy Lee Jones and Jessica Lange by Ellen Cheshire and an essay on Tony Richardson's US period by Dr. Martin Hall
We don't have a trailer for the HD remaster, so forgive the quality of the copped and SD one below: