When elderly mother Edna (Robyn Nevin), inexplicably vanishes, her daughter Kay (Emily Mortimer) and granddaughter Sam (Bella Heathcote) rush to their family's decaying country home, finding clues of her increasing dementia scattered around the house in her absence. After Edna returns just as mysteriously as she disappeared, Kay's concern that her mother seems unwilling or unable to say where she's been clashes with Sam's unabashed enthusiasm to have her grandma back. As Edna's behaviour turns increasingly volatile, both begin to sense that an insidious presence in the house might be taking control of her…
Following its world premiere at the Sundance Film Festival, Relic screened to wide acclaim at BFI London Film Festival 2020. Directed by Natalie Erika James, the film features unforgettable performances from Emily Mortimer (Mary Poppins Returns, The Party, Shutter Island), Robyn Nevin (The Matrix, Top of the Lake), and Bella Heathcote (The Neon Demon, Dark Shadows).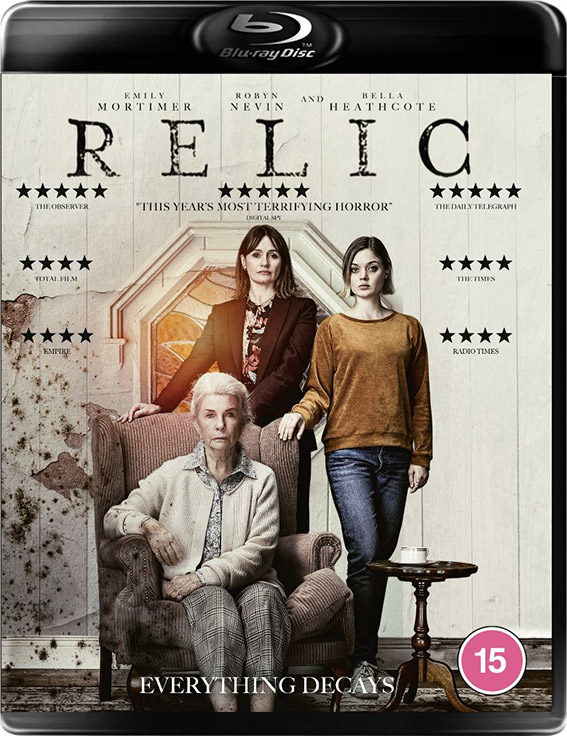 Relic will be released on Digital HD on 8 January 2020 and Blu-ray and DVD on 18 January 2020 by Signature Entertainment. Retail privces of each have yet to be confirmed.
Blu-ray and iTunes exclusive special features:
London Film Festival 2020 – Natalie Erika James Intro and Q&A Hosted by Michael Blyth
Interviews
Relic shoot timelapse
Behind the Scenes – "Lost" & "Stunts"
You can read our Liondon Film Festival review here.
And here's a trailer: