StudioCanal has unveiled the extended cut of Roger Corman's iconic horror film The Masque of the Red Death, stunningly restored in 4K by Martin Scorsese's Film Foundation and The Academy with funding from the Hobson/Lucas Family Foundation. Starring horror stalwart Vincent Price (The House on Haunted Hill, House of Wax, Edward Scissorhands) in one of the finest performances of his career, alongside a knockout supporting cast including Jane Asher (Alfie, Death at a Funeral), Hazel Court (The Premature Burial, The Raven), David Weston (Becket, The Red Baron) and Nigel Green (Jason and the Argonauts, Zulu) and based on the classic gothic fiction tale The Mask of the Red Death: A Fantasy by Edgar Allan Poe. The Masque of the Red Death is considered one of Roger Corman's most distinctive works and an all-time horror classic.
Vincent Price stars as evil Prince Prospero who sells his soul to the devil and then enjoys the latter's patronage by living the most decadent and lavish lifestyle he can manage. He derides even more pleasure from the perverse satisfaction he takes in seeing his impoverished subjects fall victim to a painful and devastating plague that is sweeping the land.
Unseen by audiences until it premiered at the 63rd BFI London Film Festival in 2019 to great applaud, the meticulous 4K restoration brings back to life the striking and bold cinematography from Nicolas Roeg. The amazing use of colours in The Masque of the Red Death was thought to influence his love of bold colours in his subsequent directing work (Don't Look Now being a prime example). The new version of the film reinstates a number of censored scenes which were cut from the original 1964 release.
The new DVD/ Blu-Ray includes both the restored extended cut and the theatrical cut, a 20-page booklet with a new essay from The Academy's film preservationist Tessa Idlewine and 4 art cards from the restoration. There is also a host of exciting special features including a brand new interview with Keith M. Johnston, a lecturer in Film and Television Studies at the University of East Anglia University which explores the fascinating topics of colour and censorship; abrand new commentary with film critic and author Kim Newman and filmmaker Sean Hogan; and a not-to-be-missed conversation between Roger Corman and film critic Kim Newman which was filmed in 2013 as part of the BFI's Gothic Season.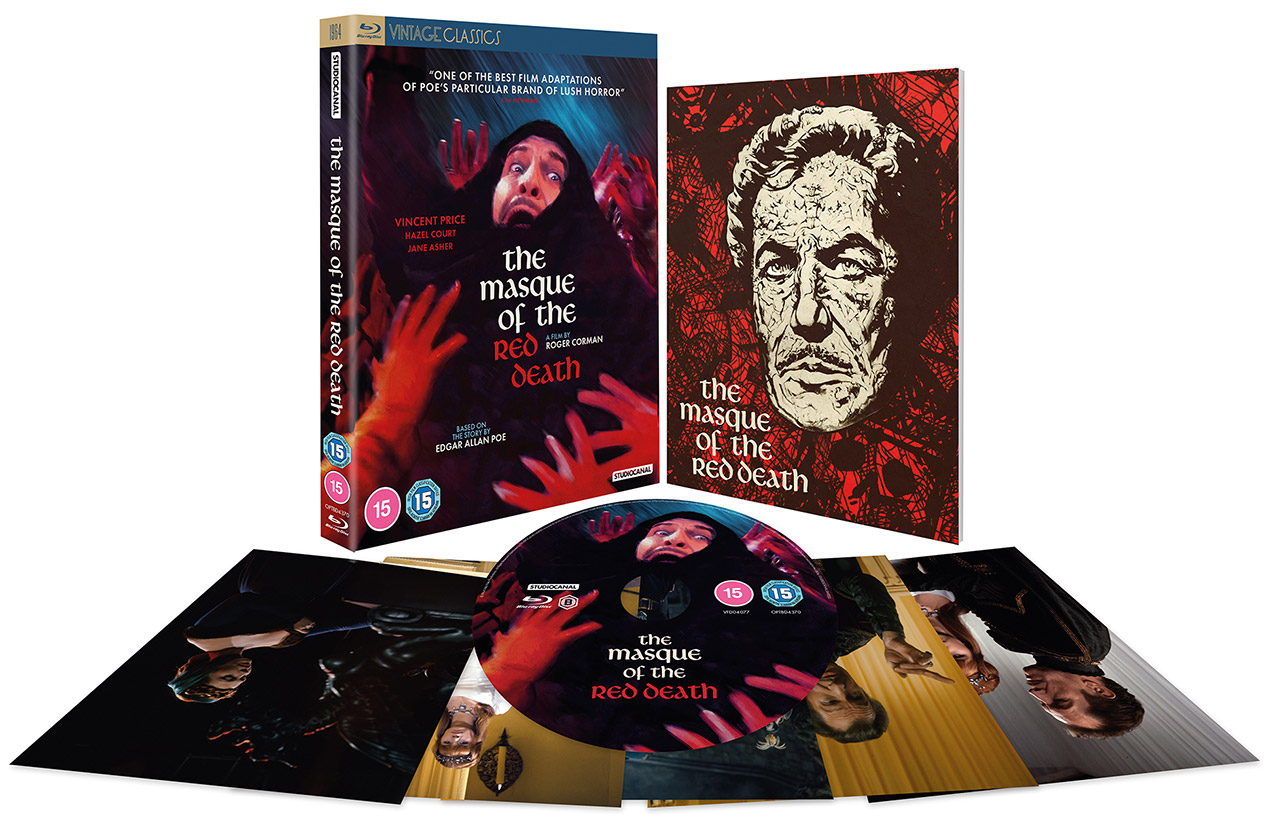 The Masque of the Red Death will be released on UK Blu-ray, DVD and Digital by StudioCanal as part of its Vintage Classics collection on 25 January 2021 at the RRP of £17.99 for the DVD and £22.99 for the Blu-ray.
BLU-RAY AND DVD SPECIAL FEATURES:
New: Colour and Censorship in The Masque of the Red Death: Interview with Professor Keith Johnston
New: Audio Commentary with Kim Newman and Sean Hogan
Roger Corman: In Conversation with Kim Newman at the BFI
Behind the scenes stills gallery
Booklet written film preservationist at The Academy Tessa Idlewine
Art cards