Young lives are changed for ever when a gunman opens fire in a Canadian engineering school, determined to kill as many women as possible. A dramatisation of the 1989 Montréal massacre, Polytechnique documents events through the eyes of two students and the perpetrator, and explores how the horrors of a single day leave a legacy far beyond the shooting itself.
Directed by Denis Villeneuve (Sicario, Arrival, Blade Runner 2049) and shot in stark black and white by Pierre Gill, the film is a profound achievement from one of contemporary cinema's most original filmmakers.
Polytechnique premiered at the 2009 Cannes Film Festival and subsequently received honours including nine Genie Awards (now known as the Canadian Screen Awards) including Best Motion Picture.
The film was shot consecutively in French and English, with the actors performing in both languages, resulting in two versions, both of which are presented here.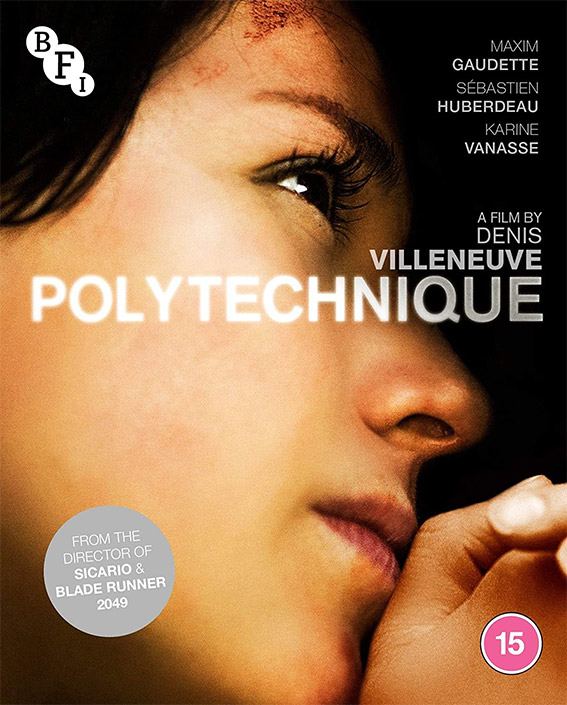 Polytechnique will be released on UK Blu-ray on 7 December 2020 by the BFI at the RRP of £19.99. A Digital release on iTunes and Amazon Prime will follow on 21 December 2020.
SPECIAL FEATURES:
Includes both English and French-language versions of the film
Polytechnique: Ce qu'il reste du 6 décembre (2019, 52 mins): made for the 30th anniversary of the Montréal massacre, Judith Plamondon's documentary gives voice to the survivors and witnesses of the tragedy and is narrated by Karine Vanasse, actor and co-producer of Polytechnique •
Trailer

***First pressing only*** Illustrated booklet with a Foreword by Denis Villeneuve, essays by Jessica Kiang, Karine Vanasse and Justine Smith, feature credits and credits for the documentary.