The BFI has announced the release of Short Sharp Shocks, a compelling new BFI Flipside collection that revisits the heyday of the supporting programme with a compendium of eerie and eccentric British short films presented for the first time in High Definition. Settle in for a strange cinematic journey through uncanny stories, twists in the tale, low-budget weirdness and oodles of atmosphere.
This carefully curated collection, the first of its kind anywhere, includes a plethora of sought-after titles, some newly remastered in HD for the very first time and showcases an eclectic range of delights spanning the 1940s to the 1980s. The films are:
LOCK YOUR DOOR Anthony Gilkison, 1949
Master storyteller Algernon Blackwood relates his own tale of an elderly spinster overcome by ghostly voices and a creeping sense of horror in a remote country cottage.
THE REFORMATION OF ST JULES Anthony Gilkison, 1949
There's something strange in the sky as sci-fi and religious revelation collide – and only legendary Weird Fiction writer Algernon Blackwood can suggest an explanation.
THE TELL-TALE HEART J B Williams, 1953
Stanley Baker gives a virtuoso performance by candlelight as Edgar Allan Poe recounting his classic tale of horror.
DEATH WAS A PASSENGER Theodore Zichy, 1958
A chance encounter with an enigmatic nun on a train evokes eerie, half-forgotten memories of a perilous wartime escape attempt in occupied France.
PORTRAIT OF A MATADOR Theodore Zichy, 1958
An artist becomes unhealthily obsessed with his painting of a dead bullfighter in this bizarre tale of romance, intrigue, insanity and auto-suggestion.
TWENTY-NINE Brian Cummins, 1969
Promiscuous young man Baird (Alexis Kanner, The Prisoner) wakes up in a strange flat, wearing clothes that don't fit, with a hangover and a half-remembered memory of a visit to a strip club. What happened last night?
THE SEX VICTIMS Derek Robbins, 1973
The bizarre sight of a naked woman on horseback leads an unwary truck driver into a supernatural spiral of pursuit and destruction in rural England.
THE LAKE Lindsey C Vickers, 1978
The tranquil stillness of a romantic picnic for young lovers Tony (Gene Foad) and Barbara (Julie Peasgood, House of the Long Shadows) is threatened by echoes of the horrific violence that happened nearby in this hauntingly evocative ghost story from Lindsey Vickers (The Appointment).
THE ERRAND Nigel Finch, 1980
A soldier at an elite military institution is sent on a strange and increasingly nightmarish mission in this full-on fever-dream thriller from long-time Pete Walker collaborator David McGillivray (House of Whipcord).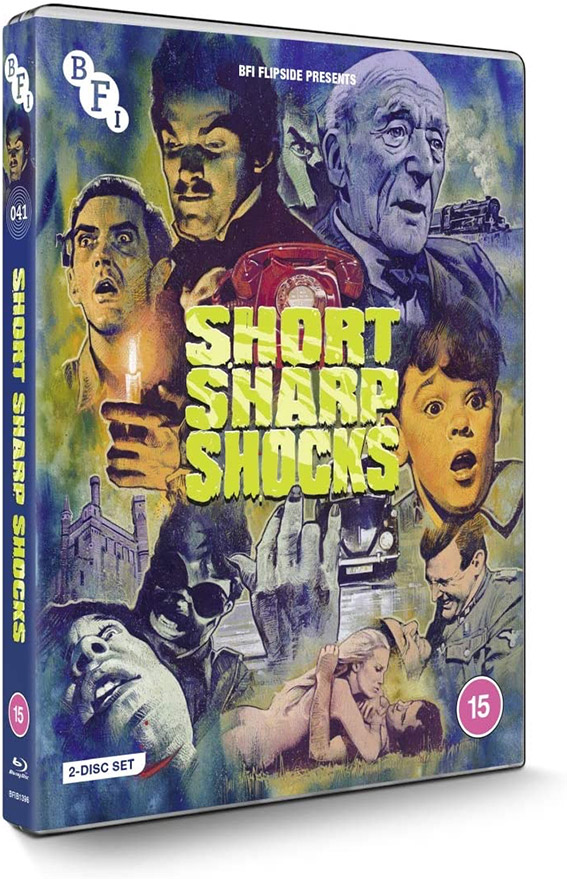 Short Sharp Shocks arrives on 2-disc Limited Edition Blu-ray on 23 November 2020 from BFI Flipside at the RRP of £24.99.
SPECIAL FEATURES:
Man With a Movie Camera 

(2020, 42 mins): interview with 

Twenty-Nine 

producer Peter Shillingford

A Crazy, Mixed-up Kid 

(2020, 43 mins): interview with David McGillivray, writer of 

The Errand

Telling Tales 

/

Arthur Dent and Adelphi: Films in the Family 

(2020, 37 mins): Kate Lees, of Adelphi Films, discusses the family business and the discovery of 1953 short 

The Tell-Tale Heart

, long believed lost

Almost Thirty 

(2020, 15 mins): interview with Renée Glynne, script supervisor on 

Twenty-Nine

Splashing Around 

(2020, 18 mins): interview with Julie Peasgood, star of 

The Lake 

and 

House of the Long Shadows

Image galleries for 

The Tell-Tale Heart

, 

The Lake 

and 

The Errand

Script galleries for 

The Lake 

and 

The Errand

Gallery of the original short story 

The Errand

Newly commissioned sleeve artwork by renowned illustrator Graham Humphreys
***First pressing only*** illustrated booklet with an essay by BFI video producer Vic Pratt and curator William Fowler, co-founders of the BFI Flipside strand and Josephine Botting, curator in the BFI National Archive; notes and credits on each film and notes on the special features
And here's an utterly excellent appetite whetter: