Arrow Video and Arrow Academy are to deliver a sackful of cineaste stocking fillers this Christmas, with the already detailed collection of three films from Japanese auteur Imamura Shohei, an extraordinary action horror that redefined the genre, and the definitive edition of a beloved horror comedy on Blu-ray and UHD, in a seriously impressive -looking box set. This is a tinsel wrapped lineup that includes an HD debut, alternative cuts, brand new audio commentaries, fascinating documentaries and featurettes, perfect bound books, posters and reproduction lobby cards, not to mention new sleeve artwork, and lavish packaging.
As well as Survivor Ballads: Three Films by Shohei Imamura on the Arrow Academy label (see news story here), Arrow Video will be releasing Japanese action-horror Versus on Blu-ray and a feature-packed UHD release of witty cult horror Tremors.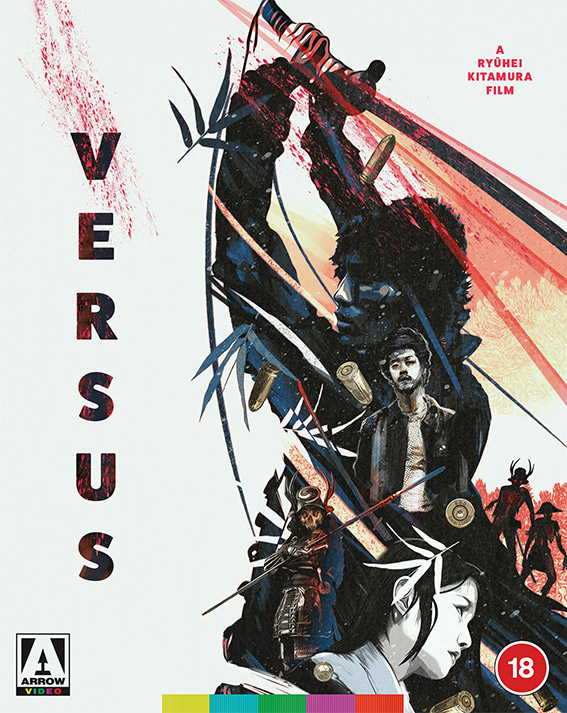 VERSUS (2000) | Blu-ray | 7 December 2020 | £24.99
A relentless one-of-a-kind sensory assault chock-full of hyper-kinetic fight scenes, gangster shootouts, sword-slashing violence and gory zombie horror, Versus was a key title amongst the barrage of innovative horror and action movies that appeared as if from nowhere from Japan at the turn of the millennium, leading to a new wave of appreciation for Asian extreme cinema.
A mysterious face-off in a wooded clearing between two escaped convicts and a carload of sharply dressed yakuza holding a beautiful woman captive ends in hails of bullets and showers of blood. The location for this violent encounter is the mythic Forest of Resurrection, the site of the 444th portal of the 666 hidden gates that link this earthly domain to the netherworld – and it didn't get this name for nothing. As one of the surviving prisoners escapes with the girl into the darkness of the forest, disgruntled gangsters soon become the least of their worries as an earlier battle between a lone warrior against hordes of zombie samurai is carried over from a millennium ago into the present day…
Versus caused a sensation both in Japan and internationally upon its release, launching the careers of director Ryûhei Kitamura (Godzilla Final Wars, Midnight Meat Train) and action star and fight choreographer Tak Sakaguchi (Battlefield Baseball, Yakuza Weapon). Arrow Video is proud to present this mythic cult title in both its original 2000 and expanded 2004 Ultimate Versus iterations, in a brand new, director-approved restoration.
SPECIAL EDITION CONTENTS:
Brand new 2K restoration from original film elements by Arrow Films, approved by director Ryûhei Kitamura
High Definition (1080p) Blu-ray presentations of both versions of the film: the original 2000 cut and 2004's Ultimate Versus, featuring over 10 minutes of new and revised footage
Reversible sleeve featuring original and newly commissioned artwork by Chris Malbon
DISC 1: VERSUS:
Original lossless Japanese 5.1 and 2.0 stereo audio and English 2.0 stereo audio
Optional English subtitles
Audio commentary by Kitamura and producer Keishiro Shin
Audio commentary by Kitamura and the cast and crew
New visual essay on the career of Kitamura by Japanese cinema expert Jasper Sharp
Behind Versus, a two-part behind-the-scenes documentaries exploring the film's production
First Contact: Versus Evolution, a featurette exploring the film's origins
Tak Sakaguchi's One-Man Journey, an archival featurette on the actor's visit to the 2001 Japan Film Festival in Hamburg
Film festival screening footage
Team Versus, a brief look inside the Napalm Films office
Deep in the Woods, an archival featurette featuring interviews with Kitamura, cast and crew
The Encounter, an archival interview with editor Shûichi Kakesu
Deleted scenes with audio commentary by Kitamura, cast and crew
Nervous and Nervous 2, two "side story" mini-movies featuring characters from the main feature
Featurette on the making of Nervous 2
Versus FF Version, a condensed, 20-minute recut of the film
Multiple trailers
Image gallery
DISC 2: ULTIMATE VERSUS:
Original lossless Japanese 6.1 and 2.0 stereo audio and English 6.1 and 2.0 stereo audio
Optional English subtitles
Audio commentary by Kitamura, cast and crew
Sakigake! Otoko versus Juku, a featurette on the newly shot material for Ultimate Versus
FIRST PRESSING ONLY:
Illustrated collector's booklet featuring new writing on the film and a reprinted interview with Kitamura by Tom Mes, and notes on the making of the film by Kitamura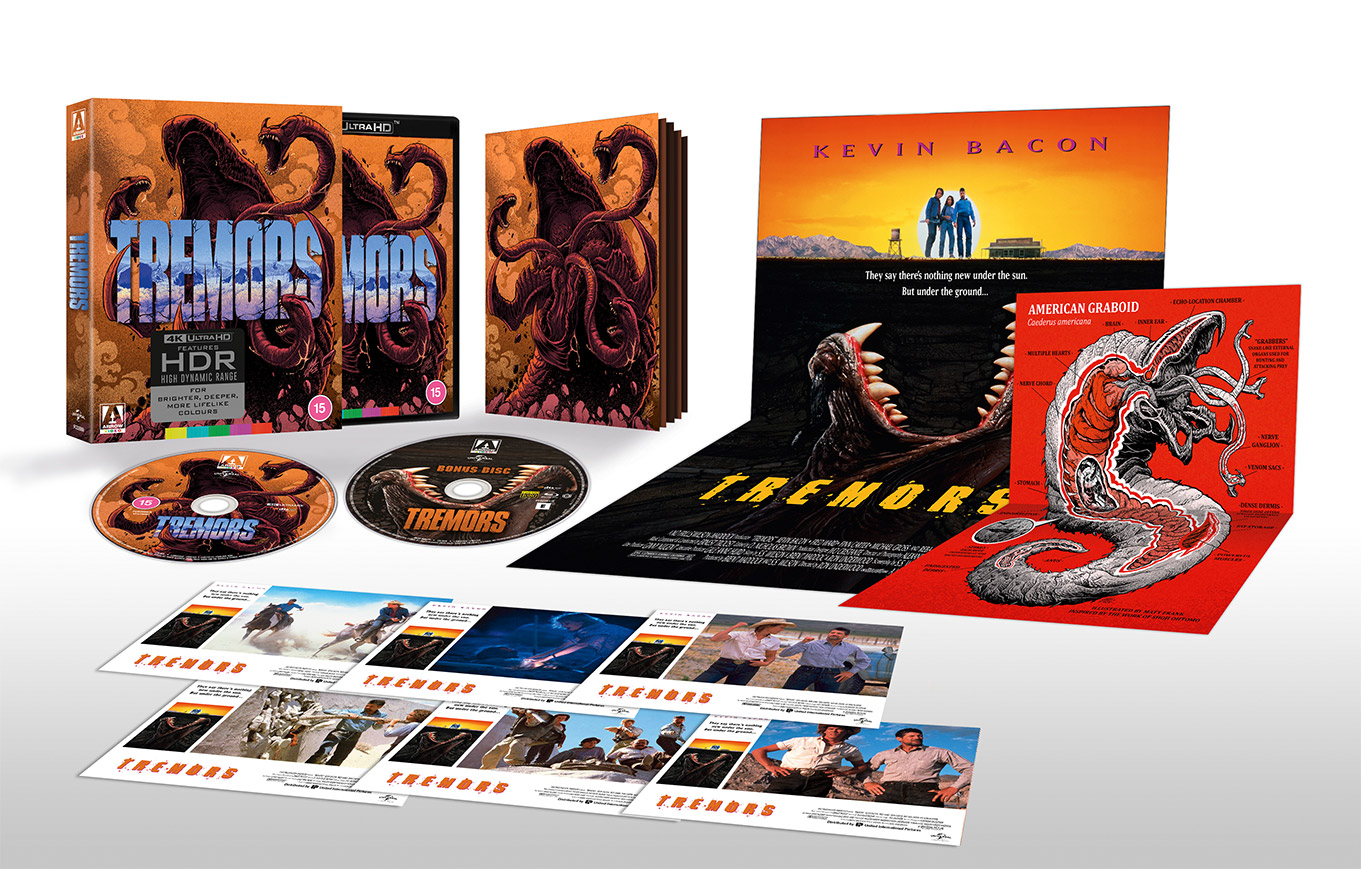 TREMORS (1990) | 4K UHD Blu-ray | 14 December 2020 | £34.99
A pulse-pounding love letter to 1950s creature features that delivers horror and humour in equal measure, Tremors is a bonafide cult classic that has grabbed audiences' affections ever since its release and spawned a successful franchise that continues to this day.
Good-ol'-boy handymen Val (Kevin Bacon) and Earl (Fred Ward) are sick of their dead-end jobs in one-horse desert town Perfection, Nevada (population: 14). Just as they're about to escape Perfection forever, however, things start to get really weird: half-eaten corpses litter the road out of town; the phone lines stop working; and a plucky young scientist shows evidence of unusually strong seismic activity in the area. Something is coming for the citizens of Perfection… and it's under the goddamn ground!
Bursting with indelible characters, quotable dialogue and jaw-dropping special effects, Tremors is back and bigger than ever in this 4K-restored and fully loaded collectors' edition.
4K ULTRA HD BLU-RAY SPECIAL EDITION CONTENTS:
New 4K restoration from the original negative by Arrow Films, approved by director Ron Underwood and director of photography Alexander Gruszynski
60-page perfect-bound book featuring new writing by Kim Newman and Jonathan Melville and selected archive materials
Large fold-out double-sided poster featuring original and newly commissioned artwork by Matt Frank
Small fold-out double-sided poster featuring new Graboid X-ray art by Matt Frank
Six double-sided, postcard-sized lobby card reproduction artcards
Limited Edition packaging with reversible sleeve featuring original and newly commissioned artwork by Matt Frank
DISC 1 – FEATURE & EXTRAS (4K UHD BLU-RAY):
4K (2160p) UHD Blu-ray presentation in Dolby Vision (HDR10 compatible)
Restored DTS-HD MA original theatrical 2.0 stereo, 4.0 surround, and remixed 5.1 surround audio options
Optional English subtitles for the deaf and hard of hearing
New audio commentary by director Ron Underwood and writers/producers Brent Maddock & S.S.Wilson
New audio commentary by Jonathan Melville, author of Seeking Perfection: The Unofficial Guide to Tremors
Making Perfection, a brand new documentary by Universal Pictures interviewing key cast and crew from the franchise (including Kevin Bacon, Michael Gross, Ariana Richards, Ron Underwood, Brent Maddock & S.S. Wilson, among many others) and revisiting the original locations
The Truth About Tremors, a newly filmed interview with co-producer Nancy Roberts on the film's rocky road to the screen
Bad Vibrations, a newly filmed interview with director of photography Alexander Gruszynski
Aftershocks and Other Rumblings, newly filmed on-set stories from associate producer Ellen Collett
Digging in the Dirt, a new featurette interviewing the crews behind the film's extensive visual effects
Music for Graboids, a new featurette on the film's music with composers Ernest Troost and Robert Folk
Pardon My French!, a newly assembled compilation of overdubs from the edited-for television version
The Making of Tremors, an archive documentary from 1995 by Laurent Bouzereau, interviewing the filmmakers and special effects teams
Creature Featurette, an archive compilation of on-set camcorder footage showing the making of the Graboids
Electronic press kit featurette and interviews with Kevin Bacon, Michael Gross and Reba McEntire
Deleted scenes, including the original opening scene
Theatrical trailers, TV and radio spots for the original film as well as trailers for the entire Tremors franchise
Comprehensive image galleries, including rare behind-the-scenes stills, storyboards and two different drafts of the screenplay
DISC 2 – INTERVIEWS & SHORT FILMS (BLU-RAY - LIMITED EDITION EXCLUSIVE):
Extended hour-long interviews from Making Perfection with Ron Underwood, Brent Maddock, S.S.Wilson, Nancy Roberts and creature designer Alec Gillis
Outtakes with optional introduction and commentary by S.S. Wilson
Three early short films by the makers of Tremors, remastered in high definition, including S.S.Wilson's stop-motion horror/comedy classic Recorded Live (1975)