The feature documentary You've Been Trumped Too, which Donald Trump attempted to suppress, will be released worldwide on demand from 18 August 2020 on iTunes, Amazon, GooglePlay, Journeyman VOD and Vimeo after being held back by legal threats for four years. Journeyman Pictures has aquired worldwide rights to You've Been Trumped Too and plans to reach as many viewers as possible ahead of Donald Trump's second bid for the White House in November.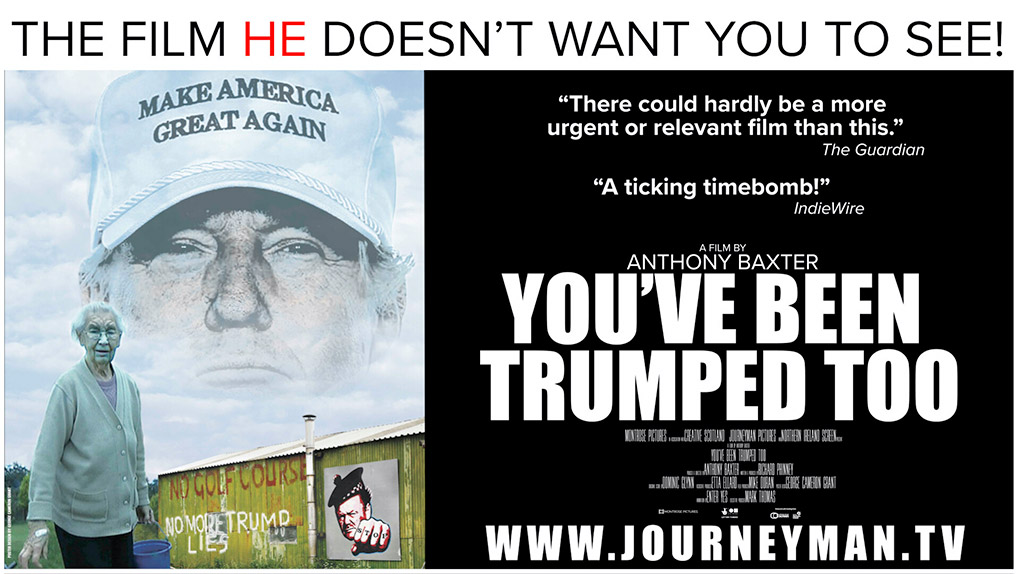 You've Been Trumped Too explores the deeply troubling confrontation between Mr Trump and Molly Forbes – a 96-year-old Scottish widow who the billionaire says reminds him of his own Scottish mother.
"There could not be a more important film than this," wrote Peter Bradshaw in The Guardian. Yet despite overwhelmingly positive reviews, the film was shut down indefinitely following legal threats from the Trump Organization. Filmmaker Anthony Baxter was arrested and thrown in jail when he first discovered the water supply to Molly and her family had been cut off by Donald Trump's workers while constructing a luxury golf resort near Aberdeen.  The charges were thrown out and the police forced to issue an apology. However, in You've Been Trumped Too, Baxter is astounded to learn Molly and her son Michael, who Mr Trump branded 'a pig', is still without a reliable water supply half a decade on.
Called a "ticking time bomb" by IndieWire, You've Been Trumped Too is a remarkable document of the disconnect between political rhetoric and the lives of ordinary people.  And a cautionary tale for those contemplating a second Trump Presidential term. However, when the film was completed, the Trump Organization threatened any cinema that showed it. The US distributor then pulled out, denying the film a proper theatrical release or broadcast. But now Journeyman Pictures is releasing the film worldwide. 
Managing Director of Journeyman Pictures, Mark Stucke said, "Given the times we are living in, this critically acclaimed film is more powerful and relevant than ever, and Journeyman is proud to be bringing it to the world."
"You've Been Trumped Too is the film Donald Trump doesn't want you to see," said director Anthony Baxter. "I believe the film's release by Journeymen Pictures is an important landmark for freedom of speech, independent filmmaking, and, most importantly, the accountability of the rich and powerful." Mr Baxter wrote an article for The Guardian with further details on his four year battle to release the film.
Anthony Baxter is the award-winning director of You've Been Trumped, which was named best documentary by Observerfilm critic Mark Kermode and won 10 other awards around the world, including at the Hamptons International Film Festival.  His latest film is Flint narrated and executive produced by Hollywood actor Alec Baldwin. Baxter also has numerous credits as a director and producer on Channel 4 and the BBC. 
You've Been Trumped Too will be released on 18 August 2020 on iTunes, Amazon, GooglePlay, Journeyman VOD and Vimeo.
For more information visit: https://trumpedfilm.com/