Equus, the multi-Oscar nominated adaptation of Peter Shaffer's Tony Award-winning play, released by the BFI on Limited Edition Blu-ray with a raft of extras including a new interview with Peter Firth, erupts on the screen with the same power and passion as the stage original.Richard Burton gives one of his best performances in this elegant and provocative tale of myth and mental turmoil.
What would drive Alan Strang (Peter Firth), a troubled adolescent stable boy, to blind the horses in his care? Psychiatrist Martin Dysart (Richard Burton) investigates this unspeakable act and delves deep into Alan's mind, confronting the mysteries of sexual passion and psychological pain – as well as the demons buried within his own soul.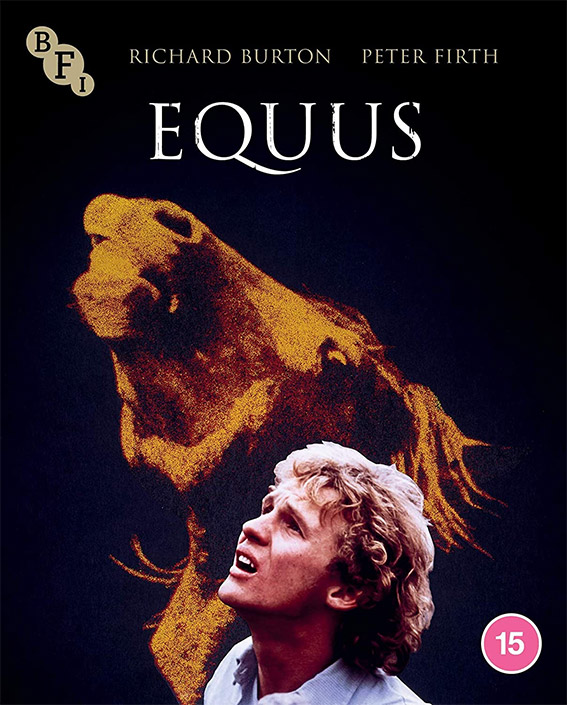 Equus will be released on Blu-ray (with a second disc of DVD extras) by the BFI on 17 August 2020 at the RRP of £22.99.
Special features (NB. Some extras are on DVD):
Feature presented in High Definition
Audio commentary by Julie Kirgo and Nick Redman (2014)
Isolated score
Sidney Lumet Guardian Lecture (1981, 89 mins, audio only): director Sidney Lumet talks to Derek Malcolm in this interview recorded at the National Film Theatre
Peter Firth in conversation with Leigh Singer (2020, 39 mins, audio over stills gallery)
The Watchers (1969, 26 mins): BFI-produced short film directed by Richard Foster
In From the Cold? A Portrait of Richard Burton (1988, 121 mins): Tony Palmer's award-winning feature-length documentary profile
Religion and the People (1940, 14 mins): documentary by Andrew Buchanan illustrating a time when faith lay at the heart of the British experience
The Farmer's Horse (1951, 18 mins): in a time of increasing mechanisation, this public information film makes the case for the sturdy farm horse
Trailer
Illustrated booklet with new writing by Sidney Lumet's biographer Maura Spiegel and arts filmmaker John Wyver; notes on the extras and full credits
Here's a clip: