The BFI have annouced the July Dual Format release of the 1954 crime thriller, The Good Die Young, directed by Lewis Gilbert (Cosh Boy, Sink the Bismarck!, You Only Live Twice, Operation: Daybreak) and starring Laurence Harvey.
Boasting a stellar cast that also includes Gloria Grahame (The Bad and the Beautiful), Joan Collins (Cosh Boy) and Robert Morley (The Battle of the Sexes), this compelling crime picture is presented in both its original theatrical version and in an extended export cut (Blu-ray only), originally intended for international audiences.
Amoral aristocrat Miles Ravenscourt (Laurence Harvey, Room at the Top) plots a daring robbery to settle his gambling debts in this taut, tough thriller played out on the shadowy streets of post-war London. Enlisting the aid of washed-up former boxer Mike (Stanley Baker, Zulu), ex-GI Joe (Richard Basehart, Moby Dick) and US airman Eddie (John Ireland, Red River), Ravenscourt sets out to plan the perfect heist. But is there any such thing as a sure thing?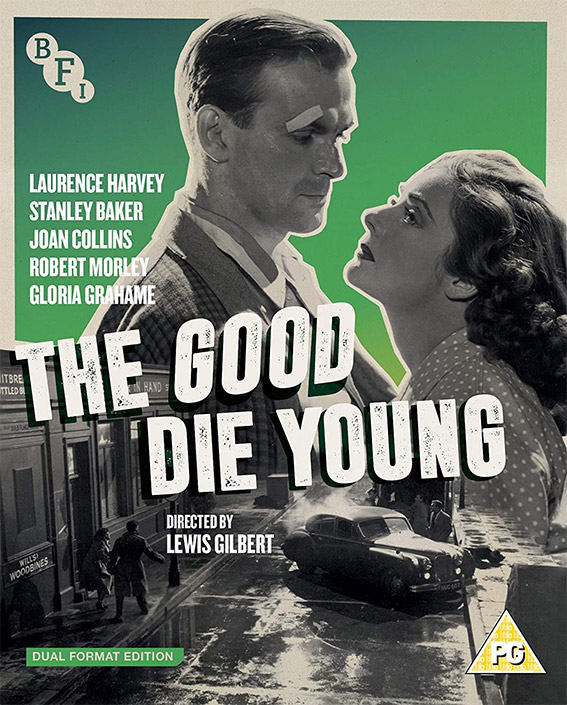 The Good Die Young will be released as a Dual Format Edition (Blu-ray & DVD) by the BFI on 20 July 2020 at the RRP of £19.99.
Dual format features:
Newly remastered by the BFI and presented in High Definition and Standard Definition
The Good Die Young (export version) (1953, 101 mins, Blu-ray only): made available here for the first time, this extended overseas-only version of the film contains anti-establishment sentiments considered too strong for British audiences of the day
When Giants Fought (1926, 31 mins): a contentious but historic boxing match of 1810 is vividly revisited in this power-packed silent drama, with a newly commissioned musical score by Mordecai Smyth
Midnight Taxi (1946, 17 mins): a London cabby uncovers the city's secret nightlife in this surprising plug for post-war National Savings
Under Night Streets (1958, 20 mins): after the last tube has gone, an army of underground workers get busy down below
 Not Like Any Other Director: Lewis Gilbert (1995, 31 mins): Michael Caine introduces the director of The Good Die Young in this excerpt from an onstage interview at London's National Film Theatre
Image gallery
FIRST PRESSING ONLY – Illustrated booklet with an essay on the film by Dr Josephine Botting, a biography of Lewis Gilbert by Peter Rankin, notes on the extras and full credits