Following its theatrical release by the BFI on 21 February, Jessica Hausner's first English language feature, Little Joe, will be released for home entertainment on 15 June 2020. Emily Beecham won Best Actress at the 2019 Cannes Film Festival for her lead performance and the film had its UK premiere at the BFI London Film Festival last year. The Blu-ray/DVD set includes filmed interviews with cast and crew.
Single mother Alice (Emily Beecham) is a dedicated plant breeder at a corporation engaged in developing new species. She has engineered a very special flower, remarkable not only for its beauty but also for its therapeutic value: if kept at the ideal temperature, fed properly and spoken to regularly, it makes its owner happy. Alice takes one home as a gift for her teenage son, Joe. They name it 'Little Joe' but as it grows, so too does Alice's suspicion that her new creations may not be as harmless as their nickname suggests. Jessica Hausner's (Lovely Rita, Lourdes) fifth feature also stars Ben Whishaw and Kerry Fox in a tense, paranoid sci-fi thriller that pinpoints the uncanny within the familiar to unnerving effect.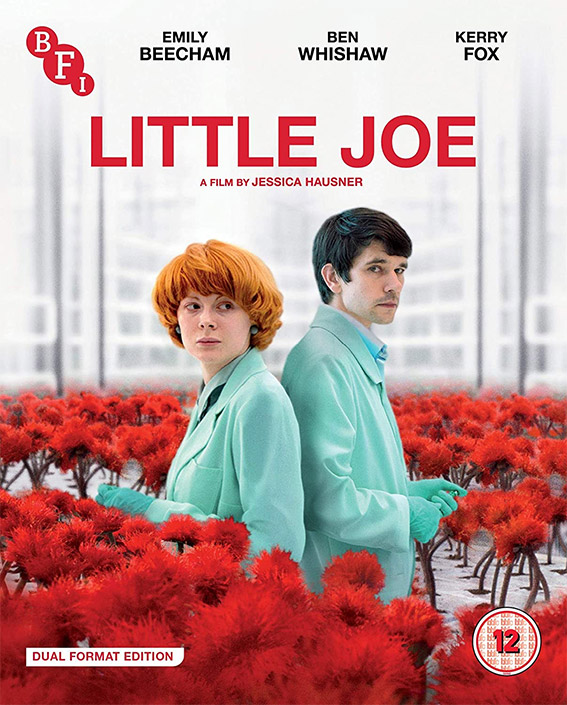 Little Joe will be released on Dual Format (Blu-ray & DVD) and on BFI Player (subscription service), iTunes, Amazon Prime and Curzon Home Cinema by the BFI on 15 June 2020 at the RRP of £19.99 for the Dual Format edition.
Dual Format features:
Presented in Standard Definition and High Definition

Jessica Hausner in Conversation 

(2020, 37 mins): the director and co-writer of 

Little Joe 

talks to Geoff Andrew about the film and her career to date, recorded at BFI Southbank

Emily Beecham on Little Joe 

(2020, 2 mins): the 

Little Joe 

star talks about her character and what influenced both the film and her own performance

Cast and crew Q&A 

(2019, 17 mins): Jessica Hausner, co-screenwriter Géraldine Bajard and costume designer Tanja Hausner are joined by actors Emily Beecham and Kerry Fox for a post-screening talk hosted by Geoff Andrew at the 2019 London Film Festival 

The Birth of a Flower 

(1910, 8 mins): Percy Smith's mesmerising early time-lapse film captures the poetry of flowers as they open their petals to the light

Trailer (2019)

First pressing only: Illustrated booklet with an extensive directors' statement; a review by Catherine Wheatley and a feature by Kate Muir that were originally published in Sight & Sound March 2020, notes on the special features and full credits