In 1988 Tehran, Shideh's attempts to rejoin medical school are thwarted as a consequence of her politically active history. Her husband is sent off to serve in the Iran-Iraq War while Iraqi air raids draw perilously close to their own apartment. As neighbours and friends flee from a city in chaos she is left alone with her daughter Dorsa who becomes increasingly ill and seemingly disturbed. Shideh initially dismisses her tantrums over a missing doll but is soon terrified they've been targeted by a djinn - a malevolent spirit that steals from those it seeks to possess.
The debut feature from Iranian director Babak Anvari prompted comparisons with the previous year's The Babadook, but by infusing the psychological horror with political commentary, Anvari gives his compelling and increasingly unnerving film its own very distinctive identity. Scoring a rare 99% approval rating on Rotten Tomatoes and received the H.R. Giger Narcisse prize for the Best Movie at the Neuchâtel International Fantastic Film Festival.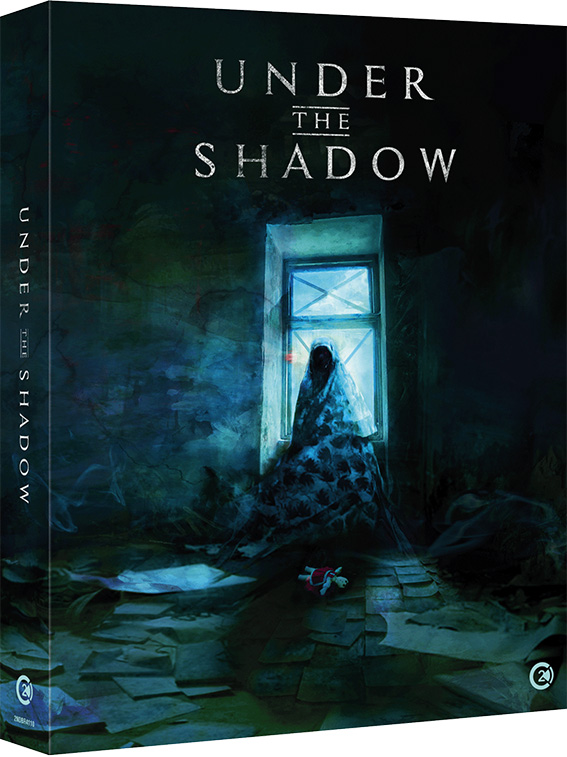 Under the Shadow will be released as a Limited Edition Blu-ray by Second Sight on 10 February 2020 at the price of £22.99 if your pre-order directly from Second Sight.
Special Features:
Two & Two – Babak Anvari's BAFTA Award nominated short film
Escaping the Shadow: a new interview with director Babak Anvari
Within the Shadow: a new interview with actor Narges Rashidi
Forming the Shadow: a new interview with producers Lucan Toh and Oliver Roskill
Shaping the Shadow : a new interview with cinematographer Kit Fraser
A new audio commentary with Babak Anvari and Jamie Graham
Limited Edition contents:
Limited Edition of 2,000
Rigid slipcase featuring new artwork by Christopher Shy
Soft cover book with new esssays by Jon Towlson and Daniel Bird plus behind-the-scenes photos and concept illustrations
Poster featuring the new artwork