An eye-opening exploration of the occult, Malcolm Leigh's X-rated quasi-documentary Legend of the Witches is an imaginative depiction of pagan rituals as they were supposedly practised at the dawn of the downer decade.
Part mondo movie, part counter-cultural artefact, Secret Rites is a side-step towards documentary territory by notorious exploitation stalwart Derek Ford that purports to lift the veil on witchcraft-as-lifestyle-choice in 1970s Notting Hill.
Sharing the secrets of initiation into a coven, divination, ritual scrying, the casting of a 'death spell' and a chilling black mass, Legend of the Witches also visits Boscastle's incredible Museum of Witchcraft, celebrates Britain's pagan heritage and pays tribute to the perennial power of the witch.
In Secret Rites, mystery band The Spindle provide psychedelic sounds while groovy hairdresser and tentative occultist Penny is initiated into the coven of Alex Sanders, who features prominently in both films.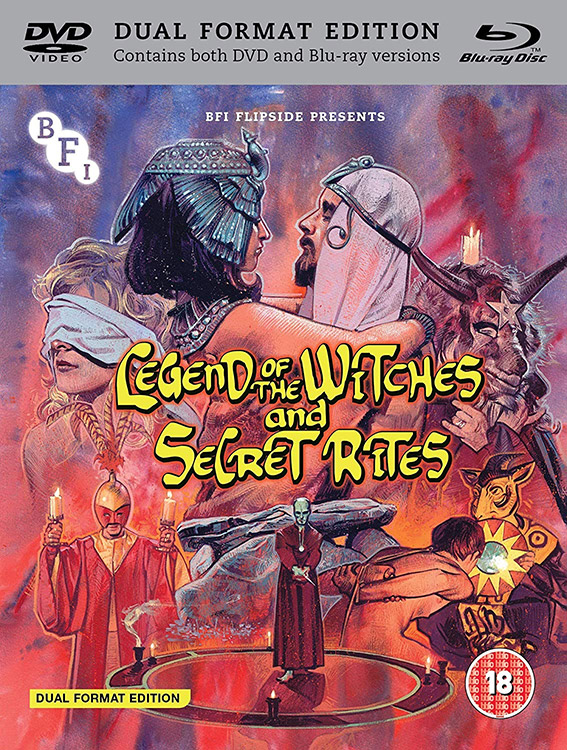 Legend of the Witches and Secret Rites will be released in a dual format edition by the BFI on 14 October 2019 at the RRP of £19.99, with a simultaneous release on Amazon and iTunes.
This release will be launched with a special event at BFI Southbank on Monday 14 October at 18:15. After a screening of Legend of the Witches, Doug Weir, BFI Technical Manager, who oversaw digital remastering, and witchcraft scholar Christina Oakley Harrington, PhD FRSA, director of Treadwells Books, will discuss the film with programmers William Fowler and Vic Pratt.
Dual Format special features:
Both films newly remastered in 2K
Presented in High Definition and Standard Definition
Newly recorded audio commentary on Secret Rites by BFI Flipside founders Vic Pratt and William Fowler
The Witch's Fiddle (1924, 7 mins): a silent film version of the eerie folk tale
Out of Step: Witchcraft (1957, 14 mins): investigative journalist Dan Farson interviews the 'father of Wicca' Gerald Gardner in this rare TV documentary
The Judgement of Albion (1968, 26 mins): bold Blakeian imagery populates this ode to resistance by the writer ofBlood on Satan's Claw
Getting It Straight in Notting Hill Gate (1970, 25 mins): spaced-out sitars, Blue Beat 45s and the prog-rock grooves of Quintessence soundtrack this up-close flashback to Notting Hill Gate in 1970
Image gallery: rare memorabilia and newspaper cuttings relating to the films, salvaged from the spooky '70s
Newly commissioned sleeve artwork by renowned illustrator Graham Humphreys
First pressing only:Illustrated booklet with new essays by Christina Oakley Harrington, William Fowler, Vic Pratt, Mark Pilkington, Adrian Smith and Rob Young, notes on the special features and full film credits