Banned, censored and reviled the world over since its release, Salò, or The 120 Days of Sodom was Pier Paolo Pasolini's final and most controversial masterpiece. The content and imagery is extreme, retaining the power to shock, repel and distress. But it remains a cinematic milestone: culturally significant, politically vital and visually stunning.
Based on a novel by the Marquis de Sade, Salò is a film about power, corruption, and the degradation of the human body; a devastating, angry cry from one of the most controversial auteurs in cinema history.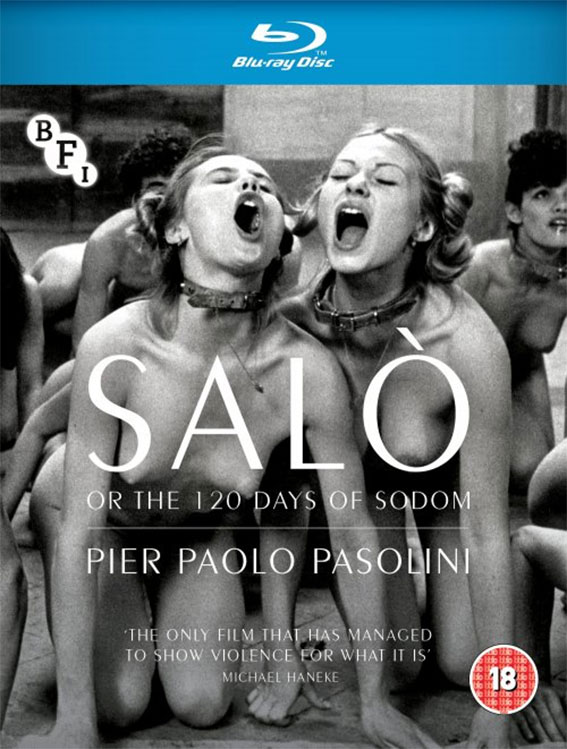 On 30 September 2019 the BFI will release Salò, or The 120 Days of Sodom on 2-disc Blu-ray utilising a High Definition master new to the UK at the RRP of £24.99.
Special features:
Original Italian language, and alternative English language versions
Newly recorded audio commentary by film critic and editor-in-chief of Diabolique magazine, Kat Ellinger
OSTIA (The Death of Pasolini) – Coil's 1986 track with video accompaniment from 2008
Open Your Eyes! (2008, 22 mins): Pasolini and his actors at work on the set of Salò
Walking with Pasolini (2008, 22 mins): documentary featuring Neil Bartlett and Noam Chomsky
Whoever Says the Truth Shall Die (1981, 101 mins): classic documentary on the life and death of Pasolini
Salò: Fade to Black (2001, 24 mins): documentary exploring Pasolini's Salò
Ostia (1987, 27 mins): features Derek Jarman, and also includes optional audio commentary
The End of Salò (2008, 40 mins): documentary looking at the film's production
Enfants de Salò (2009, 18 mins): French filmmakers including Gaspar Noé deconstruct Salò
Original Italian trailer
First pressing only: Illustrated booklet including an essay by Sam Rohdie, a 1979 review of the film by Gilbert Adair, James Ferman's (BBFC) letter of appeal to the Director of Public Prosecutions, Pasolini biography by Geoffrey Nowell-Smith, photographs of Pasolini at work on set, cast and credits