In the Donbass, a region of Eastern Ukraine, a hybrid war takes place, involving an open armed conflict alongside killings and robberies on a mass scale perpetrated by separatist gangs. A journey through the Donbass unfolds as a chain of curious adventures, where the grotesque and drama are as intertwined as life and death. This is not a tale of one region, one country or one political system. It is about a world, lost in post-truth and fake identities. It is about each and every one of us.
From acclaimed Ukrainian director Sergei Loznitsa (My Joy, A Gentle Creature), Donbass is a unique take on one of the most disturbing and threatening of contemporary conflicts, a grotesque tour de force, brilliantly, if harrowingly, imaging with stunning cinematography courtesy of Oleg Mutu (4 Months, 3 Weeks and 2 Days).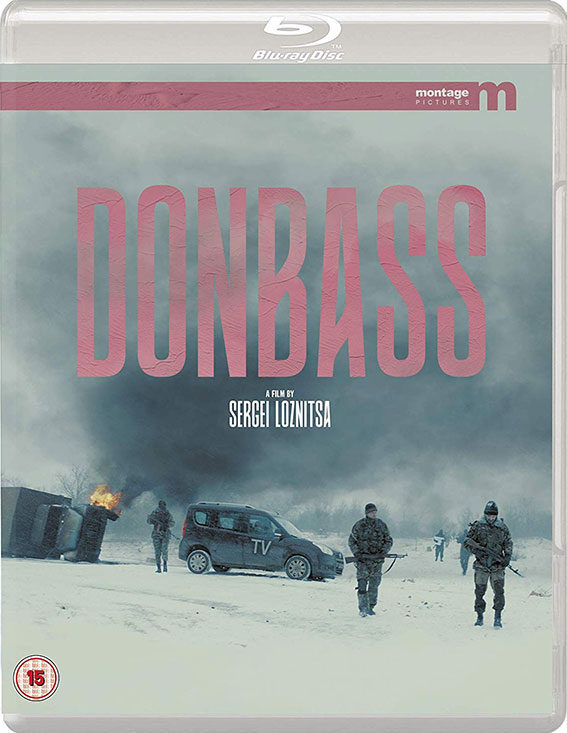 Described by Variety as "A scathing portrait of a society where human interaction has descended to a level of barbarity more in keeping with late antiquity than the so-called contemporary civilized world," Donbass will be released on UK Blu-ray on 24 June 2019 by Eureka Entertainment as part of the Montage Pictures label at a yet-to-be-confirmed RRP.
Blu-ray features:
1080p presentation on Blu-ray
5.1 DTS-HD MA and LPCM 2.0 audio options
Optional English subtitles
Trailer
PLUS: A collector s booklet featuring a new essay by film writer Jason Wood