Eureka Entertainment today announced its April Blu-ray and DVD releases, with one title each from the 1940s, 50s and 60s – intimate and spiritual biopic The Song of Bernadette (1943), beautiful & haunting folk tale the White Reindeer (1952) and Billy Wilder's witty and energetic One, Two Three (1961).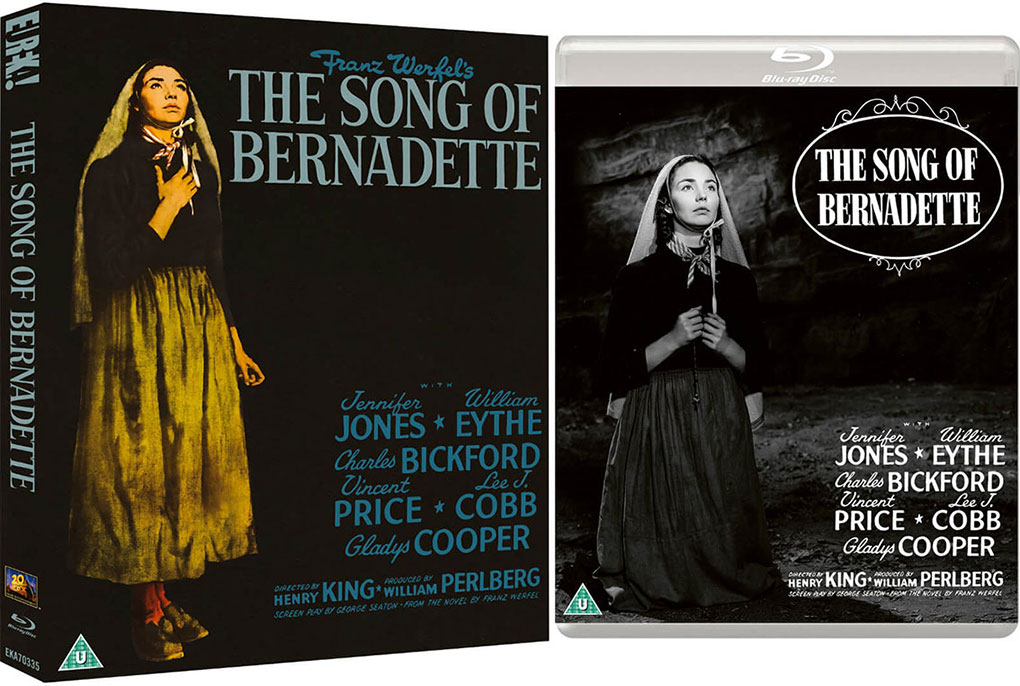 The Song of Bernadette | Blu-ray | 8 April 2019
One of the rare Hollywood studio films to address spiritual belief and religious conviction in a serious and complex fashion, the beloved classic The Song of Bernadette made a star of its leading lady Jennifer Jones, who won the Academy Award for Best Actress, in addition to taking home a Golden Globe during those awards' very first ceremony (the film also won Globes for Best Dramatic Film and Best Director). A moving portrait of faith, the film is one of the crowning achievements of director Henry King (Love Is a Many-Splendored Thing).
Based on the best-selling historical novel by Franz Werfel, the film chronicles the life of 14-year-old Bernadette Soubirous, who began seeing visions of the Blessed Virgin Mary in Lourdes, France in 1858. When news of Bernadette's vision first spreads through the town, there are those who decry her as mentally unsound, while others wholeheartedly believe – particularly when the spring that erupts near the grotto that housed the visitations contains water that seems to have miraculous healing properties.

Buoyed by outstanding supporting performances by Vincent Price, Lee J. Cobb, Charles Bickford, and Gladys Cooper, The Song of Bernadette – with sumptuous cinematography by Arthur C. Miller (How Green Was My Valley) – is a profoundly affecting drama, no matter what one's own personal beliefs.
Blu-ray features:
Limited Edition slipcase [2000 copies only]
1080p presentation on Blu-ray
LPCM audio (original mono presentation)
Watch film with Overture [6.52]
Optional English SDH subtitles
Audio Commentary by Edward Z. Epstein (author of Portrait of Jennifer: A Biography of Jennifer Jones), John Burlingame (biographer of Alfred Newman), and biographer-historian Donald Spoto
Original Theatrical Trailer
Limited Edition collector's booklet featuring new writing by film journalist and writer Amy Simmons, alongside rare archival imagery [2000 copies only]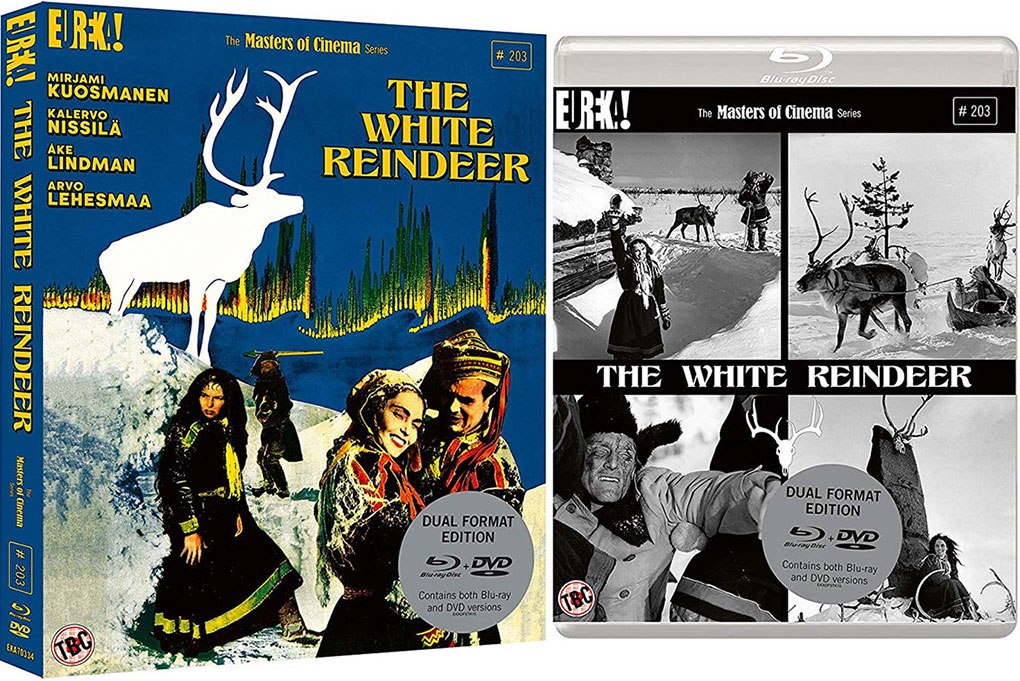 The White Reindeer [Valkoinen peura] | Dual Format (Blu-ray & DVD) | 8 April 2019
The directorial debut of Finnish cinematographer Erik Blomberg, The White Reindeer is one of world cinema s criminally under-seen masterpieces. A vampiric fairy-tale set amongst the starkly beautiful fells of Finnish Lapland, Blomberg combines an almost documentary filming style with avant-garde experimentation to produce a dreamy art-house horror film without compare. 

A newly-married young woman, Pirita (Mirjami Kuosmanen), becomes frustrated and lonely as her husband, a reindeer herder for a small Arctic village, spends much of his time away from home in devotion to his work. Desperate for affection, she visits a shaman who offers a potion that makes her an irresistible object of desire, but there is a terrible cost. Pirita becomes a bloodthirsty shapeshifter who lures men out into the barren wilderness where she consumes them. 

With its portrayals of gender inequality, societal pressures and sexual anxiety (represented through animal transformation, echoes of Jacques Tourneur's Cat People...), The White Reindeer is a timeless classic that deserves to be rediscovered and recognised as a defining film in the horror and fantasy genres. 
Dual Format features:
Limited Edition O Card Slipcase [2000 copies ONLY] 
1080p presentation on Blu-ray from a 4K restoration completed in 2017 by the National Audio-visual Institute of Finland
LPCM audio (original mono presentation) 
Optional English subtitles
Feature Length Audio Commentary by critic and film historian Kat Ellinger
Religion, Pleasure, and Punishment: The Portrayal of Witches in Nordic Cinema a new and exclusive video essay by film journalist and writer Amy Simmons
With The Reindeer Erik Blomberg s 1947 documentary short
Colour Test Footage
1952 Jussi Awards Ceremony featurette
Reversible Sleeve
PLUS: A collector s booklet featuring new writing by film critic and writer Alexandra Heller Nichols and journalist Philip Kemp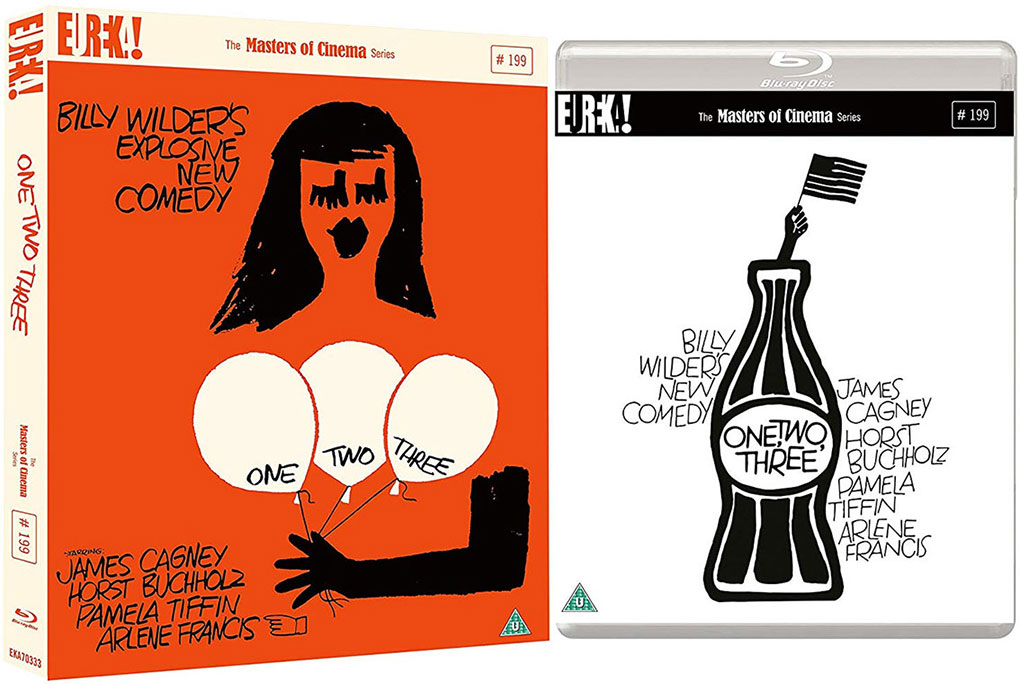 One, Two, Three | Blu-ray | 15 April 2019
One of director Billy Wilder's most frenetic comedies, the madcap Cold War and corporate politics satire One, Two, Three has to be one of the only films almost capable of making its Wilder predecessors Some Like It Hot and The Apartment seem sedately paced in comparison. Featuring a hilarious lead performance by James Cagney (apparently so exhausted by the rapid-fire pace that he then retired for twenty years!), One, Two, Three hasn't always been as famous as Wilder's other comedies, but it's among his best.

Cagney is C.R. "Mac" MacNamara, a top Coca-Cola executive shipped off to (then West) Berlin and told to keep an eye on his boss' 17-year-old Atlanta socialite daughter Scarlett (Pamela Tiffin) while she visits Germany. Scarlett's tour seems endless, and Mac discovers she's fallen for a (then East) Berlin communist agitator and the young couple are bound for Moscow! Mac has to bust up the burgeoning romance before his boss learns the truth, all the while dealing with his wife Phyllis (Arlene Francis) and her own impatience with German living. 

With One, Two, Three, Wilder set out to make "the fastest picture in the world." Mission accomplished, so hang on and try not to miss too many gags if this is your first viewing of this knockabout comedy penned by Wilder's long-time screenwriter I.A.L. Diamond.
Blu-ray features:
Limited Edition O Card slipcase [2000 copies ONLY] 
1080p presentation on Blu-ray
LPCM audio (original mono presentation) 
Optional English SDH subtitles
Brand New and Exclusive Interview with film scholar Neil Sinyard
Feature Length Audio Commentary by Film Historian Michael Schlesinger
PLUS: A Collector s booklet featuring new essays by film scholar Henry K. Miller, critic Adam Batty, and archival material