With a 98% score on Rotten Tomatoes, Sam Raimi's cult classic Evil Dead 2 has been newly restored and will be released for the first on 4K Ultra HD. This thrill-packed, gore-led rollercoaster ride is a horror devotee favourite and this release comes packed with over four hours of special features – including the new one-hour bonus feature Bloody and Groovy, Baby!.
After the shocking and notorious cult classic The Evil Dead impaled its way into the minds of a whole generation, visionary maverick director Sam Raimi decided to elaborate on its twisted scenario. Featuring B-movie legend Bruce Campbell in his most iconic role, Evil Dead is a gore-fueled, splatstick masterpiece that gleefully stomps on the entrails of good taste whilst puking in the face of Hollywood with no apologies.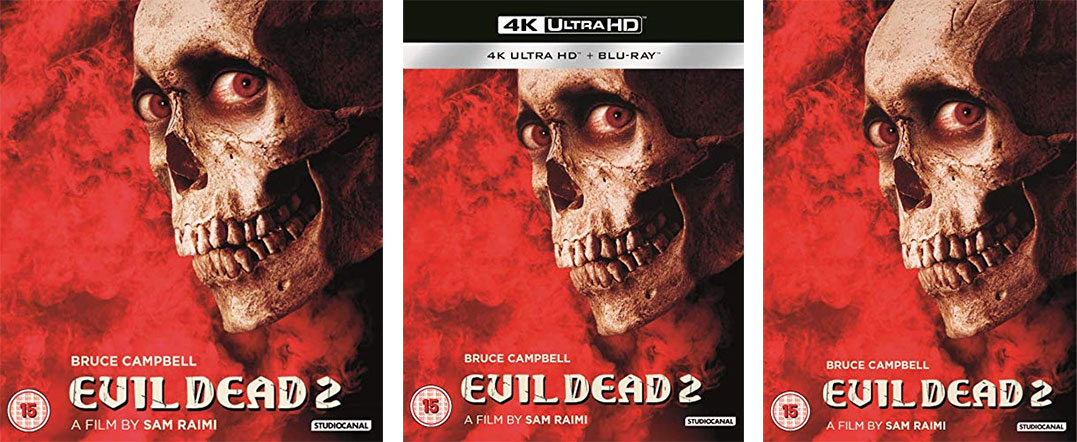 Evil Dead 2 will be released on 4K Ultra HD, Blu-ray, DVD and Digital Download on 4th March 2019 by Studiocanal and is available to pre-order now at https://scnl.co/EvilDeadII.
DVD special features:
Audio Commentary with Sam Raimi, Scott Spiegel, Bruce Campbell and Greg Nicotero
Blu-ray / 4K Ultra-HD special features:
Audio Commentary with Sam Raimi, Scott Spiegel, Bruce Campbell and Greg Nicotero
Bloody and Groovy, Baby! – Tribute To Sam Raimi's Evil Dead 2
Shallowed Souls: Making of Evil Dead 2
Cabin Fever: A "Fly On The Wall"
Road To Wadesboro – Revisiting the Shooting Location with Filmmaker Tony Elwood
The Gore the Merrier: Making of Evil Dead 2
Interview with Bruce Campbell
Trailer