Lionsgate and Elevation Sales havbe announced that modern gangster thriller King of Crime will be released in the UK on DVD and Digital VOD in January.
When Marcus King (Mark Wingett), Britain's most notorious cybercriminal, finds himself at the mercy of some extremists, he knows it's time to settle some old scores, play one of the biggest scams of his life, and defeat the terrorists. It's just a question of whether he can maneuver his footsoldiers, protect his wife (Claire King), and decipher some double-crossing before he's safe in the land of milk and honey.
Director Matt Gambell praised Linda Dunscombe's script as "modern crime-thriller, with a love and awareness of the genre" and both helped bring the contemporary story to life with an exceptional cast that included Mark Wingett (Quadrophenia, The Bill), Claire King (Emmerdale, Bad Girls), Vas Blackwood (Lock, Stock and Two Smoking Barrels, Mean Machine), Jonno Davies (Park Theatre's A Clockwork Orange, Kingsman: The Secret Service), Rachel Bright (Eastenders), Christopher Ellison (The Sweeney, The Bill), Hainsley Lloyd Bennett (Pennyworth, Eastenders) and Nicholas Brendon (Buffy The Vampire Slayer, Coherence).
Cybercrime and terrorism are some of the most prevalent issues of today, and King Of Crime spotlights the topics at hand, and draws its audience into a world of deception and violence – a fresh voice within a recognisable genre. It does this, in part, with the familiar English aesthetic and that of a sleek style, for a cross-country affair of dangerous, dramatic thrills.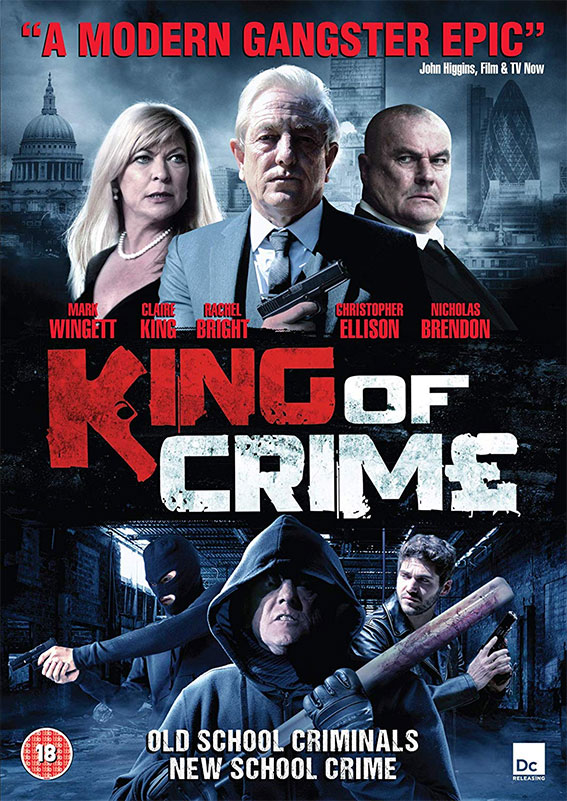 King of Crime will be released on UK DVD and Digital VoD on 14 January 2019 by Lionsgate and Elevation Sales at a yet-to-be-confirmed RRP.
Special features will include:
Bloopers
Deleted scenes
Trailer
Making-of featurette