It's 1847 and Ireland is in the grip of the Great Famine that has ravaged the country for two long years. Feeney, a hardened Irish Ranger who has been fighting for the British Army abroad, abandons his post to return home and reunite with his family. He's seen more than his share of horrors, but nothing prepares him for the famine's hopeless destruction of his homeland that has brutalised his people and where there seems to be no law and order. He discovers his mother starved to death and his brother hanged by the brutal hand of the English. With little else to live for, he sets a destructive path to avenge his family.
Hugo Weaving (Hacksaw Ridge, The Lord of the Rings, The Matrix) heads an all star cast in thriller Black '47, the box office hit and must-see Irish film of 2018. Now available for pre-order, the film also stars Jim Broadbent (Oscar-winner for Iris), Freddie Fox (King Arthur: Legend of the Sword), Stephen Rea (The Crying Game, Michael Collins), Barry Keoghan (American Animals, Dunkirk) and James Frecheville (Animal Kingdom, The Drop).
The screenplay was written by PJ Dillon (Rewind), Pierce Ryan (Standby), Eugene O'Brien (Eden) and Lance Daly (Life's a Breeze, Kisses) and was produced by Macdara Kelleher for Fastnet Films with Tim O'Hair, Arcadiy Golubovich and Jonathan Loughran.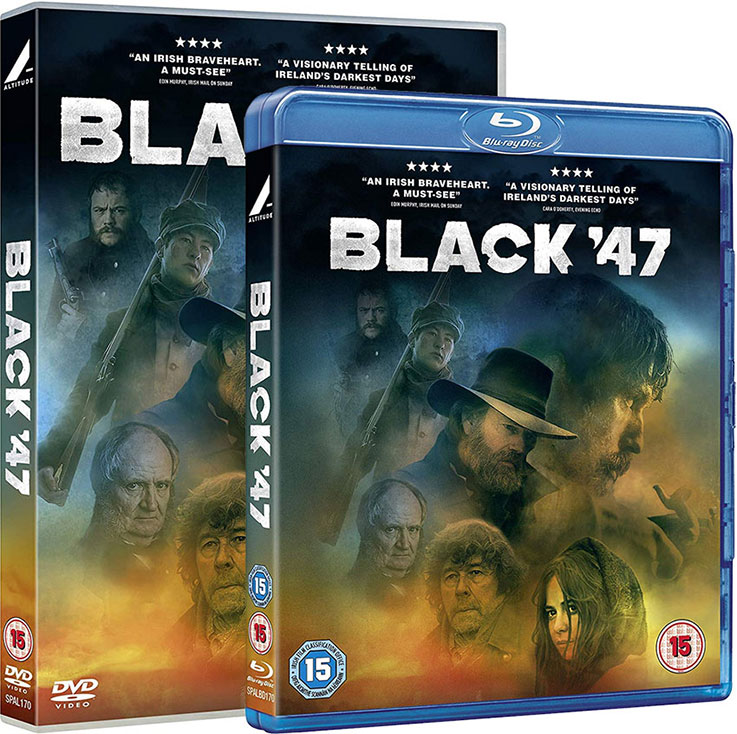 Black '47 will be released in the UK by Altitude Films on Digital Download on 14 December 2018 and on Blu-ray and DVD on 26 December 2018.
No special features have been listed, so here's a trailer: