Arrow Academy's February releases are a brace of rarities from seminal Hollywood filmmaker Joseph H Lewis, director of noir classics Gun Crazy and The Big Combo, who Time magazine described as a 'cult phenomenon' responsible for 'unforgettably twisted thrillers'. His extraordinary films have been an influence on such heavyweight talents as Quentin Tarantino, Paul Schrader and Brian De Palma. These films are making their UK Blu-ray debuts, and feature brand new writing, artwork and commentaries.
First up is My Name Is Julia Ross from 1945, Lewis's breakout hit and his first film at Columbia, a Gothic-tinged Hitchcockian mystery thriller starring the marvellous Nina Foch, that immediately cemented Lewis' place in the noir pantheon. A tantalising cross between Rebecca and The Spiral Staircase, this overlooked gem is beautifully presented on high definition Blu-ray.
Then there is So Dark the Night, a stunning thriller made by the versatile and prolific Lewis in 1946, starring genre stalwart Steven Geray as a detective whose first holiday in eleven years is rudely interrupted when his lover disappears. A must for noir fans, the Blu-ray comes with the original theatrical trailer, extensive analysis of the film, and a newly commissioned sleeve.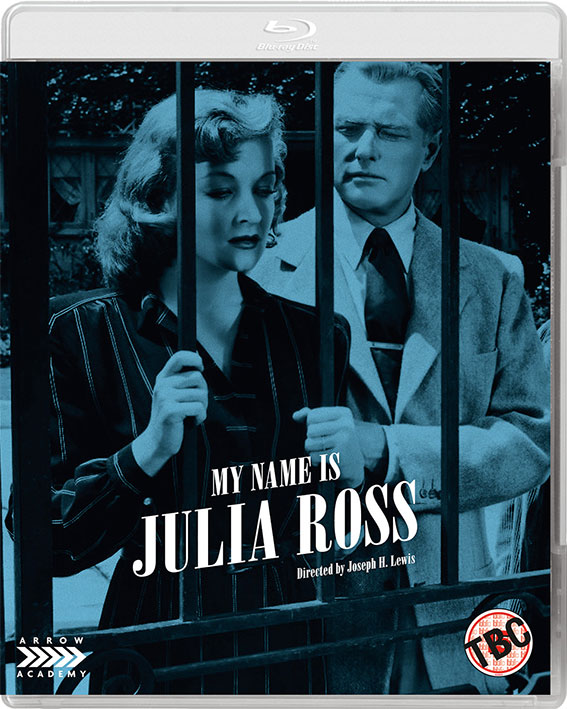 My Name Is Julia Ross | Blu-ray | 18 February 2019 | £24.99
After a promising start on Poverty Row quickies, Joseph H. Lewis (The Big Combo) made his first film at Columbia and established himself as a director to watch with this Gothic-tinged Hitchcockian breakout hit, which later proved so popular that Columbia promoted it to A-feature status.

The morning after Julia Ross (Nina Foch – Executive Suite) takes a job in London as secretary to wealthy widow Mrs Williamson Hughes (Dame May Whitty – The Lady Vanishes), she wakes up in a windswept Cornish mansion, having been drugged. Mrs Hughes and her volatile son, Ralph (George Macready – Gilda), attempt to gaslight Julia into believing she is Ralph's wife, Marion. Her belongings have been destroyed, the windows barred and the locals believe that she is mad. Will Julia be able to escape before she falls prey to the Hughes' sinister charade? And what happened to the real Marion Hughes?

A briskly paced and brilliantly stylised mystery that grabs its audience from the start, My Name Is Julia Ross immediately cemented Lewis' place in the noir pantheon and anticipated the elaborate identity-based deceptions found in future classic thrillers like Alfred Hitchcock's Vertigo and Brian De Palma's Obsession.
Special Edition Blu-ray contents:
High Definition Blu-ray (1080p) presentation
Original uncompressed mono PCM audio
Optional English subtitles for the deaf and hard-of-hearing
Commentary by noir expert Alan K. Rode
Identity Crisis: Joseph H. Lewis at Columbia – The Nitrate Diva (Nora Fiore) provides the background and an analysis of the film
Theatrical trailer
Reversible sleeve featuring original and newly commissioned artwork by Scott Saslow
FIRST PRESSING ONLY: Illustrated collector's booklet featuring new writing on the film by author and critic Adrian Martin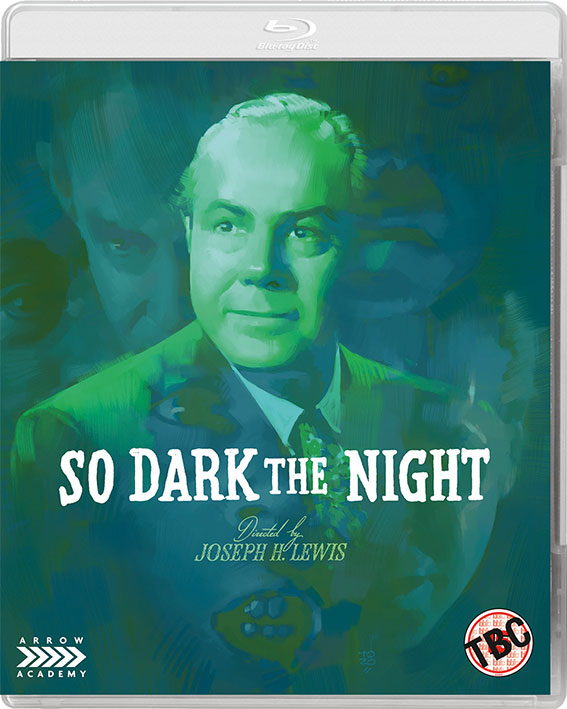 So Dark the Night | Blu-ray | 18 February 2019 | £24.99
Like his contemporaries Howard Hawks and Billy Wilder, Joseph H. Lewis (Gun Crazy) dabbled in many genres but excelled in the film noir tradition. A Hitchcockian tale of mystery and intrigue, So Dark the Night was one of his finest pictures.

Inspector Cassin, a renowned Paris detective, departs to the country for a much-needed break. There he falls in love with the innkeeper's daughter, Nanette, who is already betrothed to a local farmer. On the evening of their engagement party, Nanette and the farmer both disappear. Cassin takes up the case immediately to discover what happened to them and who is responsible.

As with his celebrated noir masterpieces My Name Is Julia Ross and The Big Combo, Lewis elevates the twisty, pulpy material with some of the finest noir touches the genre has to offer, beautifully shot by Oscar-winning cinematographer Burnett Guffey (Bonnie and Clyde).
Special Edition Blu-ray contents:
High Definition Blu-ray (1080p) presentation
Original uncompressed mono PCM audio
Optional English subtitles for the deaf and hard-of-hearing
Audio Commentary by critics Glenn Kenny and Farran Smith Nehme
So Dark... Joseph H. Lewis at Columbia - Critic Imogen Sara Smith provides the background and an analysis of the film
Theatrical trailer
Reversible sleeve featuring original and newly commissioned artwork by Tonci Zonjic
FIRST PRESSING ONLY: Illustrated collector's booklet featuring new writing on the film by critic David Cairns