The December release of two new Blu-ray titles – Ingmar Bergman's The Serpent's Egg and Paul Mazursky's Bob & Carol & Ted & Alice – on the Arrow Academy label were announced on Friday on Twitter. Unusually for us, we picked this up a little late, in part because the expected press release that tends to follow did not appear this time around. So for anyone else who missed the Twitter posts, here are the details of what was confirmed.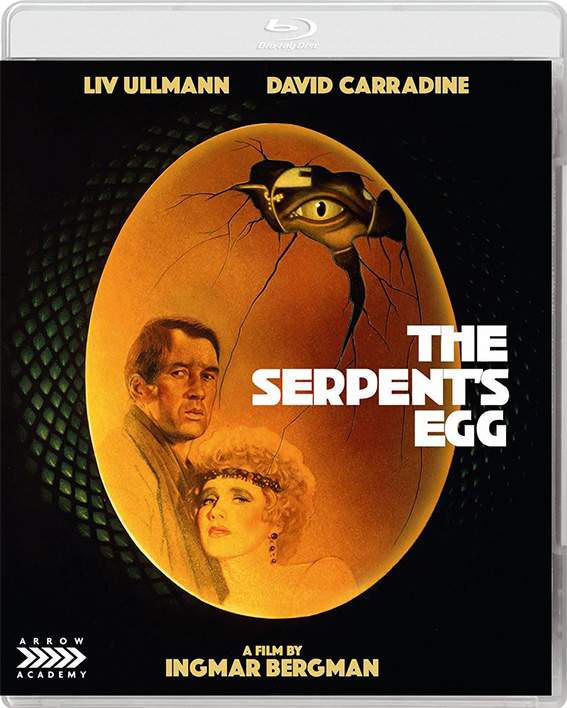 The Serpent's Egg (1977) | Blu-ray | 3 December 2018 | £24.99
How do you measure your own sanity in a world gone mad?
In 1977, legendary Swedish filmmaker Ingmar Bergman (The Seventh Seal, Persona) teamed up with the equally legendary Italian producer Dino De Laurentiis (La strada, Danger: Diabolik) for what would be the director's one and only Hollywood feature.
Berlin, 1923. Out-of-work circus performer Abel Rosenberg (David Carradine – Bound in Glory, Kill Bill) is living in poverty. When his brother commits suicide, he moves into the apartment of his cabaret singer sister-in-law (Liv Ullmann – The Emigrants, Scenes from a Marriage), but the pair soon attract the attentions of both the police and a professor with a terrifying area of research when they start to make enquiries about his mysterious death.
One of Bergman's darkest – and most unlikely – films, The Serpent's Egg is a hypnotic, Kafkaesque tale of paranoia in a poisoned city.
Blu-raySpecial Edition contents:
High Definition Blu-ray (1080p) presentation
Original English mono audio (uncompressed LPCM)
Optional English subtitles for the deaf and hard-of-hearing
Audio Commentary by actor David Carradine
Bergman's Egg – a newly filmed appreciation by critic and author Barry Forshaw
Away From Home – archival featurette including interviews with David Carradine and Liv Ullman
German Expressionism – archival interview with Author Marc Gervais
Stills gallery
Theatrical trailer
Reversible sleeve featuring two artwork choices
FIRST PRESSING ONLY: Illustrated collector's booklet featuring new writing on the film by author Geoffrey Macnab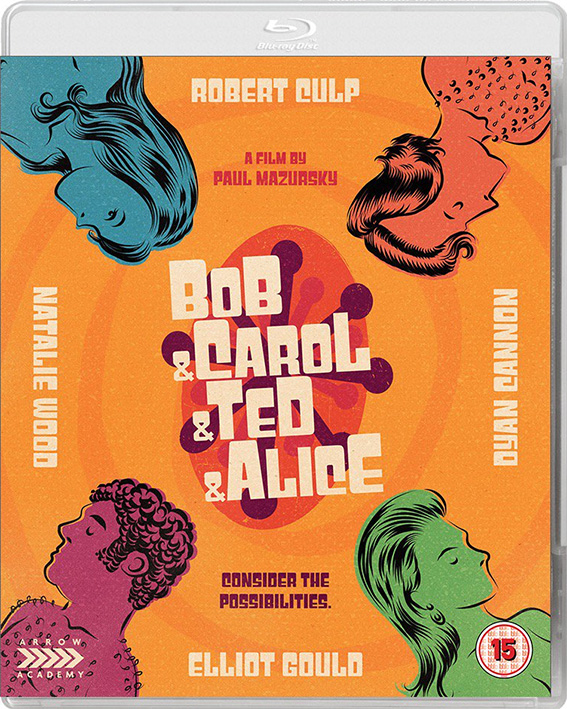 Bob & Carol & Ted & Alice (1969) | Blu-ray | 10 December 2018 | £24.99
From the hugely talented actor, writer and director Paul Mazursky (The Tempest, Harry and Tonto) comes Bob & Carol & Ted & Alice, a classic comedy that hilariously probes the complicated relationship dynamics of the sexually liberated 1960s.
Mazursky's sharp satire tells of Bob (Columbo regular Robert Culp) and Carol (Natalie Wood – West Side Story, Brainstorm), an affluent and hip Californian couple who return from a free-thinking, free-love retreat, intent on having an open relationship. The more conservative Ted (Elliot Gould – M*A*S*H, The Long Goodbye) and Alice (Dyan Cannon – Heaven Can Wait), enjoy hearing about their friends' amorous adventures, but the cat is set amongst the pigeons when they are invited to join-in... in bed!
A film that truly evokes the spirit of its age, Bob & Carol & Ted & Alice was a huge hit with audiences and critics alike upon its original theatrical release. Benefitting from superb ensemble acting from its main players and a sublime score courtesy of Quincy Jones, it is no wonder that Mazursky's film was nominated for four Academy Awards.
Blu-raySpecial Edition contents:
New restoration from original film elements by Sony Pictures
High Definition Blu-ray (1080p) presentation
Uncompressed Mono 1.0 PCM audio soundtrack
Optional English subtitles for the deaf and hard of hearing
Audio commentary by director/co-writer Paul Mazursky, actors Robert Culp, Elliott Gould, and Dyan Cannon
New Audio commentary by the film scholar Adrian Martin
Bob & Natalie & Elliot & Dyan... & Paul – a new video essay exploring the film's themes by filmmaker and critic David Cairns
Tales of Bob & Carol & Ted & Alice – an archival interview with Paul Mazursky revisiting the film's production and release
Reversible sleeve featuring original and newly commissioned artwork by Matthew Griffin
FIRST PRESSING ONLY: Illustrated collector's booklet featuring new writing on the film by author Michael Atkinson and original reviews