Arrow are delighted to announce the home entertainment release of Edie, available on Digital Download from 17th September, followed by DVD and Blu-Ray from 29th October. The film received its World Premiere at the 2017 Edinburgh International Film Festival, where it was also nominated for the prestigious Michael Powell Award. Director Simon Hunter's Edie features a moving performance from Sheila Hancock (Cabaret, The Entertaining Mr Sloane) in an inspiring tale.
Meet Edith Moore (Sheila Hancock), an elderly woman who in the aftermath of her controlling husband's death decides to fulfil a life-long dream, and in doing so overcome a lifetime of bitterness and regret. At the tender age of eighty-three, Edie sets out to try and capture a little of the magic she had as a young girl by climbing a Scottish mountain. Against her daughter's wishes, she heads to Scotland and employs Jonny (Kevin Guthrie – Dunkirk, Whisky Galore!) to help her prepare for the gruelling climb ahead – which sparks an unusual friendship.
The story is a tale of triumph over adversity as Edie embarks on the adventure of a lifetime, set against the stunning backdrop of the Scottish Highlands.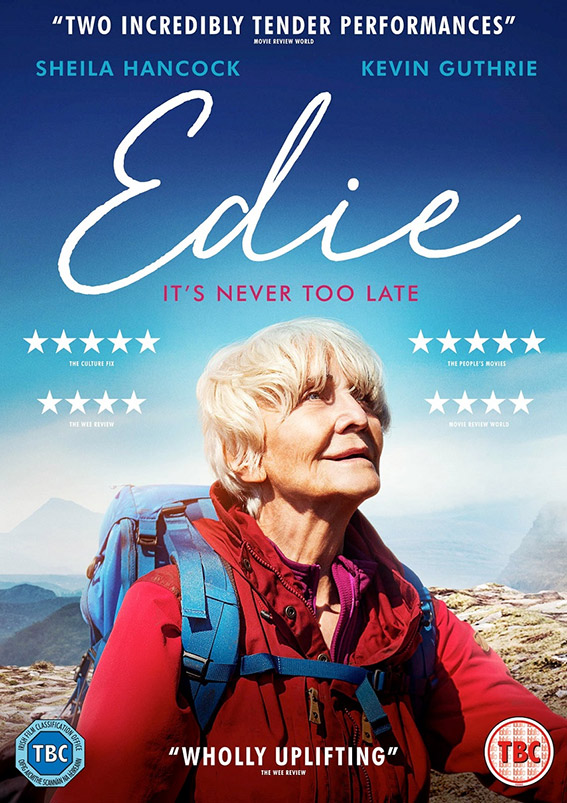 Edie will be available on Digital Download from 17th September, and on DVD & Blu-ray from 29th October from Arrow Films at the RRP of £19.99 for the Blu-ray and £15.99 for the DVD.
Blu-ray & DVD special features:
Behind The Scenes of Edie
To Climb a Mountain
Recording the Music Score