November's line-up from Arrow Video includes the early films from two of Hollywood's most enduring talents, a superior spaghetti western, a shocking slice of ero-guro, and a gothic horror classic from an Oscar-winning auteur.
First off is a box set that should excite fans of Robert De Niro and Brian De Palma. De Palma & De Niro: The Early Films showcases the auspicious early pairings of two Hollywood heavyweights that would go on to stun audiences with the box office sensation The Untouchables. Greetings, The Wedding Party and Hi, Mom! are a triptych of wildly funny experimental comedies showing two titans bursting with talent.
Then there's Franco Nero in Texas Adios, a splendid spaghetti western from Fernando Baldi, the director of Django, which sees Franco as a sheriff on a revenge mission down Mexico way. There's sweat, blood and bullets in this beautifully restored edition of an underappreciated Euro-oater.
Also in November, Arrow releases Orgies of Edo, Teruo Ishii's bold, brutal and sexually charged shocker, still stunningly discomforting nearly half a century after it was released, showing Ishii experimenting with elements that would later show up in his masterpieces Horrors of Malformed Men and Blind Woman's Curse.
Lastly, a lavish edition of the superb gothic horror Crimson Peak, with a cast to die for in the form of Mia Wasikowska, Jessica Chastain and Tom Hiddleston, from legendary Oscar-winner Guillermo del Toro (The Shape of Water, Pan's Labyrinth).

De Palma & De Niro: The Early Films | Blu-ray | 12 November 2018 | £49.99
In 1963, Robert De Niro stepped in front of a movie camera for the first time. The resulting film, a low-budget black and white comedy called The Wedding Party, would take three years to complete, and another three years to be released, but it would also establish a hugely important working relationship for the aspiring actor. One of the filmmakers, long before he became synonymous with suspense thanks to Carrie, Dressed to Kill and other classics, was Brian De Palma. He and De Niro would team up again in the next few years for two more comedies, both with a countercultural bent. 
Greetings, the first film to receive an X certificate in the United States, is a freewheeling satire focusing on a trio of twentysomething friends – a conspiracy theorist, a filmmaker, and a voyeur played by De Niro – as they try to avoid the Vietnam War draft. Hi, Mom!, originally named Son of Greetings, returns to De Niro's voyeur, now an aspiring maker of adult films, for another humorous glimpse at late-sixties society, this time turning its attentions to experimental theatre, cinéma vérité, the African American experience, and the white middle classes. 
Brought together for the first time – and each newly restored by Arrow Films especially for this release – these three films offer a fascinating insight into the early careers of two American cinema's major talents.
Limited Edition contents:
Brand new 2K restoration of The Wedding Party from the original film negative, carried out exclusively for this release by Arrow Films 
Brand new 2K restorations of Greetings and Hi, Mom! from original film materials, carried out exclusively for this release by Arrow Films 
Original uncompressed mono soundtracks 
Optional English subtitles for the deaf and hard of hearing on all three films
Brand new commentary on Greetings by Glenn Kenny, author of Robert De Niro:  
Anatomy of an Actor 
Brand new appreciation of Brian De Palma and Robert De Niro's collaborations by critic and filmmaker Howard S. Berger 
Brand new interviews with Charles Hirsch, writer-producer of Greetings and Hi, Mom!
Brand new interview with actor Gerrit Graham on Greetings, Hi, Mom! and his other collaborations with Brian De Palma 
Brand new interview with actor Peter Maloney on Hi, Mom!
Hi, Mom! theatrical trailer
Newly commissioned artwork by Matthew Griffin
Limited collector's edition booklet featuring new writing on the films by Brad Stevens, Chris Dumas and Christina Newland, plus an archive interview with Brian De Palma and Charles Hirsch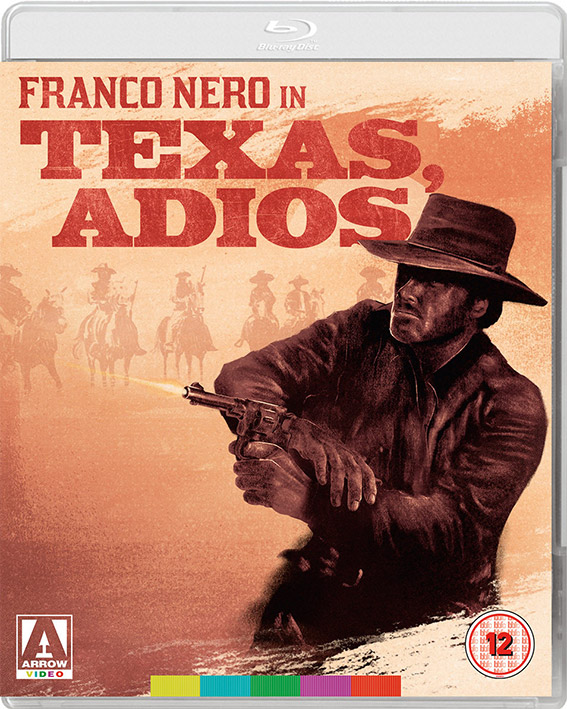 Texas Adios | Blu-ray | 19 November 2018 | £24.99
Following on from the enormous success of his breakthrough film Django, Franco Nero returned to the Wild West (Almería, Spain) to star in the same year's Texas Adios, which was released as Django 2 in some countries. 
Here he plays tough gunslinger Burt Sullivan, a sheriff who, along with his younger brother (Alberto Dell'Acqua – Endgame), journeys to Mexico to hunt down the sadistic bandit Cisco Delgado and avenge his father's murder. When Burt and his brother fall in with a group of Mexican revolutionaries, the stage is set for a violent climactic confrontation... 
Directed by veteran helmsman Ferdinado Baldi, best known for the cult Western Blindman (starring Beatles tub-thumper Ringo Starr) and the 3D extravaganza Comin' at Ya!, Texas Adios is a lesser-known Spaghetti Western gem, which boasts rapid-fire action scenes, stunning locations and stylish cinematography courtesy of Enzo Barboni (Django, Nightmare Castle). The film is presented here in an exclusive new restoration, with a wealth of extras which allow this film to be enjoyed as never before.
Special Edition contents:
New restoration from a 2K scan from the original camera negative by Arrow Films
High Definition Blu-ray (1080p) presentation
Uncompressed Mono 1.0 PCM audio
Newly translated English subtitles for the Italian soundtrack
Optional English subtitles for the deaf and hard of hearing for the English soundtrack 
Audio commentary for by spaghetti western experts C. Courtney Joyner and Henry C. Parke 
Newly filmed interview with star Franco Nero
Newly filmed interview with co-star Alberto Dell'Acqua 
Newly filmed interview with co-writer Franco Rossetti 
Hello Texas!, newly filmed appreciation by Spaghetti Westerns scholar Austin Fisher 
Gallery of original promotional images from the Mike Siegel Archive
Original trailer 
Reversible sleeve featuring original and newly commissioned artwork by Matt Griffin
FIRST PRESSING ONLY: Fully illustrated collector's booklet featuring new writing by Howard Hughes, and original reviews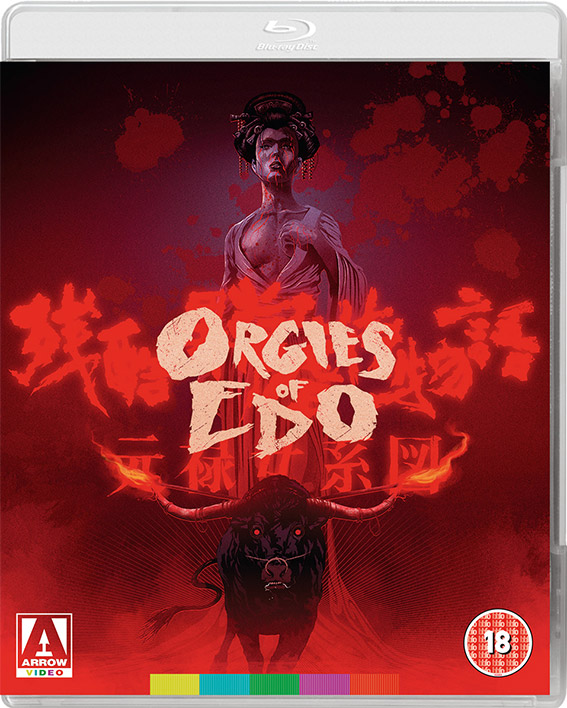 Orgies of Edo | Blu-ray | 19 November 2018 | £24.99
Legendary Toei director Teruo Ishii tells three stories of moral sickness set during Japan's prosperous Genroku era in this bloody follow-up to his sexploitation classic Shogun's Joy of Torture, and the fourth entry in Toei's 'abnormal love' film series. Ishii's politically incorrect moral lessons paint a trio of tales of tragic heroines caught up in violence, sadomasochism, incest and torture. 
Told in anthology style by an impassive physician (Teruo Yoshida), the first story follows Oito (Masumi Tachibana), an innocent young girl deceived by a handsome yakuza and sold into prostitution who finds herself in a doomed love affair with the man who brought her to ruin. The tale of Ochise (Mitsuko Aoi) is about the daughter of a rich merchant whose insatiable appetite for filth and perversion draws her deeper into violence, darkness and betrayal. Finally, the story of Omitsu (Miki Obana) follows a sadistic lord (Asao Koike) whose eye is caught one day by a beautiful member of his harem who shares his strange taste for pain and blood, but who holds a secret of her own that will destroy his entire household. 
A stylistic about-face from the director's prior work for Toei on the successful Abashiri Prison action series starring Ken Takakura, Ishii's erotic films grew increasingly shocking, violent and strange, and Orgies of Edo finds him combining period film detail with carnivalesque grotesquerie to create his own particular vision of love and sex. This landmark 'ero-guro' film allowed Ishii to experiment with elements that would later show up in his masterpieces Horrors of Malformed Men and Blind Woman's Curse, including the participation of sideshow performers and butoh dancer Tatsumi Hijikata.
Special Edition contents:
High Definition (1080p) Blu-ray presentation 
Original uncompressed mono PCM audio
Optional English subtitles for the deaf and hard of hearing
The Orgies of Ishii – an exclusive, newly filmed interview with author Patrick Maccias
Theatrical trailer
Reversible sleeve featuring original and newly commissioned artwork by Matt Griffin
FIRST PRESSING ONLY: Illustrated collector's booklet featuring new writing on the film by author Tom Mes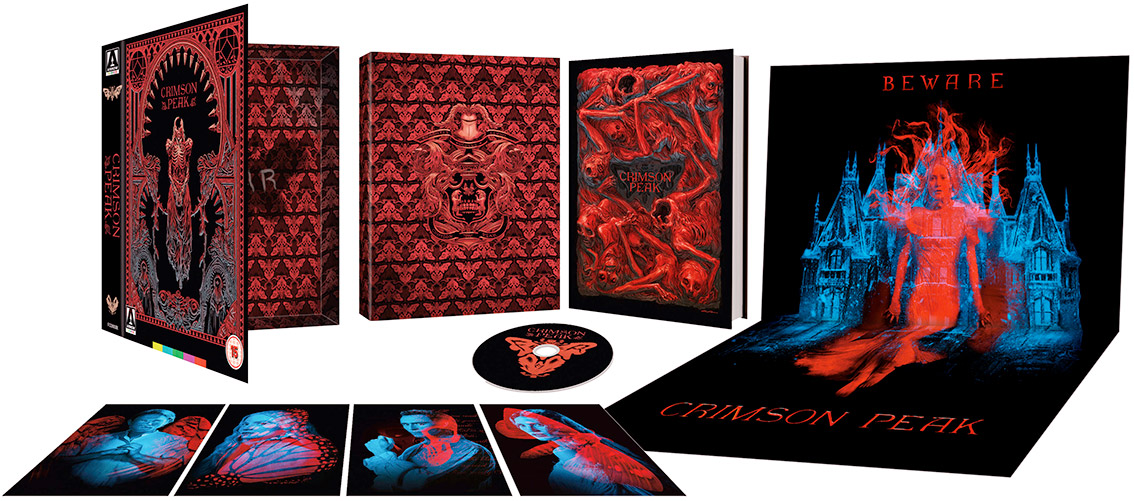 Crimson Peak | Blu-ray | 26 November 2018 | £29.99
From the imagination of Oscar-winning director Guillermo del Toro comes Crimson Peak, a lavish, stunningly realised journey into the dark heart of Gothic romance... 
Beginning in Buffalo, New York, during the 1880s, Crimson Peak stars Mia Wasikowska (Alice in Wonderland, Stoker) as Edith Cushing, an aspiring writer who is haunted by the death of her mother. Edith's falls in love with seductive stranger Thomas Sharpe (Tom Hiddleston – Avengers Assemble), who whisks her off to Allerdale Hall, his baronial, yet dilapidated English mansion built upon a mountain of blood-red clay. Here Edith meets Lucille (Jessica Chastain – Zero Dark Thirty), Thomas's sister who at times seems hostile and jealous. As Edith struggles to feel at home in the imposing residence, she gradually uncovers a horrendous family secret and encounters supernatural forces that will help her discover the terrible truth behind Crimson Peak. 
Boasting incredibly intricate and ornate production design and a rich visual style, del Toro's film is a grandiose, boldly baroque triumph of Gothic decadence, which expertly combines and contrasts the sublimely beautiful with the shockingly grotesque. Crimson Peak is presented here in sumptuous special packaging, with a wealth of extra features, affording unprecedented insight in to the making of this modern Gothic classic.
Limited Edition contents:
High Definition Blu-ray (1080p) presentation
Original 5.1 and 7.1 DTS-HD Master Audio and optional English 2.0 DTS Headphone:X Audio
Optional English subtitles for the deaf and hard of hearing 
Optional Descriptive Video Service (DVS) for the visually impaired
Audio commentary by co-writer and director Guillermo Del Toro 
The House is Alive: Constructing Crimson Peak, a newly edited, feature-length documentary with cast and crew interviews and extensive behind the scenes footage
Previously unseen Spanish language interview with Guillermo Del Toro 
The Gothic Corridor, The Scullery, The Red Clay Mines, The Limbo Fog Set; four featurettes exploring different aspects of Allerdale Hall
A Primer on Gothic Romance, the director and stars talk about the key traits of Gothic romance
The Light and Dark of Crimson Peak, the cast and crew talk about the film's use of colour
Hand Tailored Gothic, a featurette on the film's striking costumes
A Living Thing, a look at the design, modelling and construction of the Allerdale Hall sets 
Beware of Crimson Peak, a walking tour around Allerdale Hall with Tom Hiddleston 
Crimson Phantoms, a featurette on the film's amazing ghosts 
Kim Newman on Crimson Peak and the Tradition of Gothic Romance, a newly filmed interview with author and critic 
Violence and Beauty in Guillermo Del Toro's Gothic Fairy Tale Films, a new video essay by the writer Kat Ellinger
Deleted scenes
Original trailers and TV spots
Double-sided, fold-out poster 
Six double-sided, postcard-sized lobby card reproductions
Limited edition packaging newly designed by Crimson Peak concept artist Guy Davis 
Limited edition 80-page, hard-bound book featuring new writing by David Jenkins and Simon Abrams, an archival interview with Guillermo del Toro, and original conceptual design illustrations by artists Guy Davis and Oscar Chichoni