November will be a treat for fans of contemporary cinema as Arrow Academy brings not one, not two, but three modern classics to Blu-ray with the full Academy treatment.

Alfonso Cuarón's three-time Oscar nominated Children of Men stars Clive Owen, Michael Caine, Chiwetel Ejiofor and Julianne Moore, all delivering career-defining performances under Cuarón's exquisite direction. The film sees inhabitants of a dystopian London coming to terms with their inevitable extinction after the world's youngest citizen dies aged 18. In the midst of the ensuing violence, a lone pregnant woman is discovered and Owen's Theo is tasked with delivering her to safety.
Next up on Arrow Academy's November slate is Allison Anders' acclaimed Gas, Food Lodging, a classic indie starring Brooke Adams as Nora, a single mother bringing up her two teenage daughters Trudi (Ione Skye) and Shade (Fairuza Balk) in the New Mexico desert. The film follows their turbulent lives and loves as well as the deep bond between the three women.

Lastly in November, we have Gosford Park, a murder mystery set in a stately home during a party which saw Julian Fellowes win an Oscar for Best Original Screenplay. The film deftly explores the lives of those upstairs and down, while Maggie Smith, Michael Gambon, Kristin Scott Thomas and Charles Dance - to name but a few - deliver memorably brilliant performances.

As ever, these Arrow Academy releases are stunningly presented and feature an array of insightful features.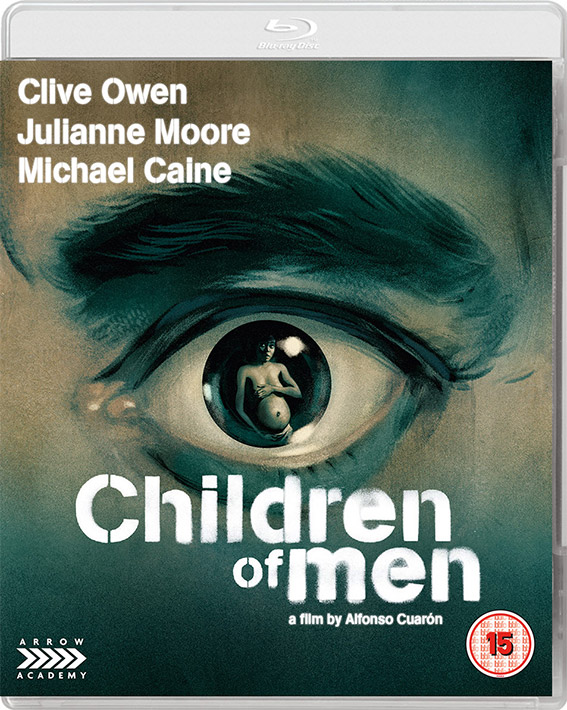 Children of Men | Blu-ray | 5 November 2018 | £24.99
Academy Award-winner Alfonso Cuarón (Gravity, Y Tu Mamá También) is renowned for his bold and ambitious camerawork, pushing technology to its limits in his pursuit of cinematic truth. With 2006's Children of Men, he delivers one of the most chilling and visceral works of cinematic speculative fiction in recent memory.
In 2027, following eighteen years of global human infertility, the world is a bleak and hostile place. Former activist Theo (Clive Owen – Gosford Park, Shadow Dancer) drifts through the violence-riven streets of London without hope or purpose. However, when he reluctantly agrees to help former lover Julian (Julianne Moore – The Fugitive) smuggle a miraculously pregnant woman out of the country, he is unwittingly thrust into the role of all that stands between the human race and its extinction. As the country descends into anarchy and the authorities close in, Theo must race against time to secure safe passage for the humanity's only hope of salvation.
Based on the dystopian novel by P.D. James and co-starring Michael Caine (Pulp) and Clare-Hope Ashitey (Seven Seconds), Children of Men offers a powerful and frightening glimpse at a future that, more than a decade later, feels even more chillingly prescient than at the time of its original release.
Special Edition contents:
High Definition Blu-ray (1080p) presentation
Original 5.1 DTS-HD master audio
Optional English subtitles for the deaf and hard of hearing
New audio commentary by author and critic Bryan Reesman
There is No Future – a new video appreciation by film historian Philip Kemp
Fertility & Progeny – a new video essay by author and critic Kat Ellinger
The Possibility of Hope – an archival documentary featuring interviews with activist Naomi Klein, philosopher Slavoj Žižek and others, exploring the film's resonance with contemporary current affairs
Comments by Slavoj Žižek – an archival featurette on the film's themes
Creating the Baby – an archival featurette on the film's visual effects
Futuristic Design – an archival featurette on the film's sets
Theo & Julian – an archival featurette on Clive Owen, Julianne Moore and their characters
Under Attack – an archival featurette on the film's ground-breaking camerawork
Deleted scenes
Image gallery
Reversible sleeve featuring original and newly commissioned artwork by Corey Brickley
FIRST PRESSING ONLY: Illustrated collector's booklet featuring new writing on the film by Mark Cunliffe and Amy Simmons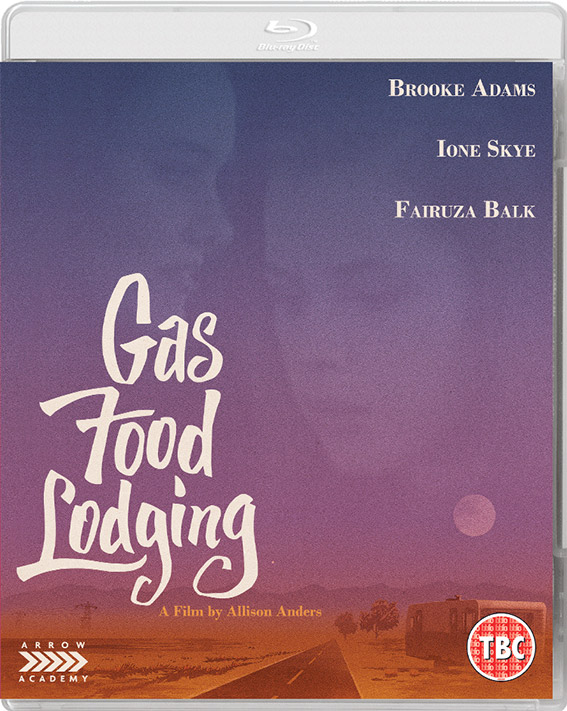 Gas, Food Lodging | Blu-ray | 12 November 2018 | £24.99
Adapted from the novel Don't Look and It Won't Hurt by Richard Peck, Allison Anders (Grace of My Heart) whipped up a storm at the 42nd Berlin International Film Festival with her masterfully crafted tale of a young woman trying to find love while struggling to bring up her two daughters.
Abandoned by her husband, Nora (Brooke Adams – Invasion of the Body Snatchers, The Stuff) waitresses to keep her head above water while raising two teenagers in a small New Mexico town trailer park. Beautiful and rebellious, Trudi (Ione Skye – Wayne's World, Zodiac) quits school to work alongside her mother, while her sister Shade (Fairuza Balk – The Craft, American History X) whittles away her time watching old movie matinees. Their life is turned on its head when Trudi finds that she has fallen pregnant after a string of promiscuous relationships and the girls' absent father returns with hopes of mending the relationships he broke when he left.
A wonderfully engaging story of the woes of teenagers reaching adulthood, Gas Food Lodging is a distinctly American portrayal of a mother trying to raise two wayward teens with growing pains, who are learning about love, life and each other. This director-approved restoration finally affords this 90s modern classic the home video treatment it rightly deserves.
Director-approved Special Edition contents:
High Definition Blu-ray (1080p) presentation, approved by director Allison Anders
Original uncompressed 2.0 audio
Optional English subtitles for the deaf and hard of hearing
The Road to Laramie: A Look Back at Gas Food Lodging – a brand new interview with Allison Anders and Josh Olson
Cinefile: Reel Women (Chris Rodley, 1995) – a documentary looking at the challenges women face in the film industry from independent to studio filmmaking, featuring interviews with Allison Anders, Kathryn Bigelow, Jane Campion, Penny Marshall, Gale Anne Hurd and others
Reversible sleeve featuring original and newly commissioned artwork by Matthew Griffin
FIRST PRESSING ONLY: Illustrated collector's booklet featuring new writing on the film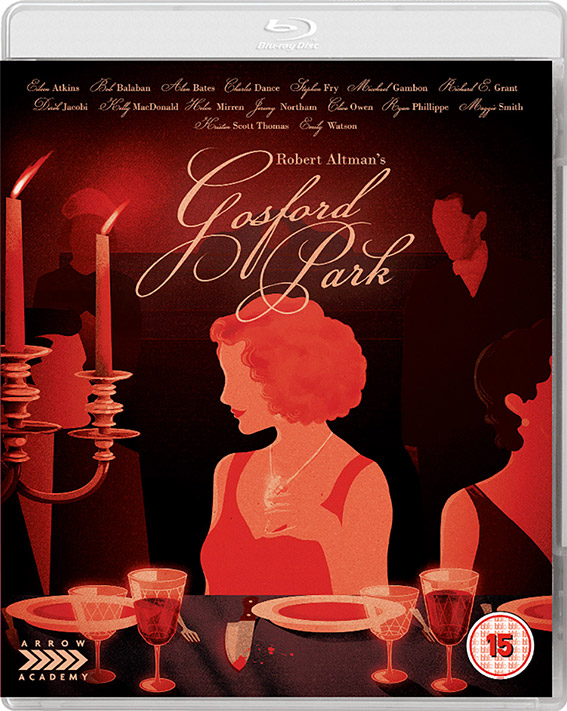 Gosford Park | Blu-ray | 26 Novembere 2018 | £24.99
In 2001, Robert Altman (M*A*S*H, The Long Goodbye) took the unexpected step into Agatha Christie territory with Gosford Park, a murder-mystery whodunit set in an English country house starring a host of British acting greats and with an Oscar-winning screenplay by Downton Abbey creator Julian Fellowes. It would become a huge success with audiences and critics alike.
Set in 1932, the action unfolds during a weekend shooting party hosted by Sir William McArdle (Alan Bates), and his wife Lady Sylvia (Kristin Scott Thomas) at his estate, Gosford Park. Among the guests are friends, relatives, the actor and composer Ivor Novello (Jeremy Northam), and an American film producer (Bob Balaban). When Sir William is found murdered in the library, everyone – and their servants – becomes a suspect.
Also starring Charles Dance, Michael Gambon, Richard E. Grant, Helen Mirren, Clive Owen, Maggie Smith, Emily Watson and many more, Altman produced another masterpiece deserving to be ranked alongside Nashville and Short Cuts as one his finest forays into ensemble drama.
Special Edition contents:
Brand new 2K restoration from a 4K scan, carried out by Arrow films exclusively for this release, supervised and approved by director of photography Andrew Dunn
High Definition Blu-ray (1080p) presentation
DTS-HD MA 5.1 audio
Optional English subtitles for the deaf and hard of hearing
Audio commentary by director Robert Altman, production designer Stephen Altman and producer David Levy
Audio commentary by writer-producer Julian Fellowes
Brand-new audio commentary by critics Geoff Andrew and David Thompson (author of Altman on Altman)
Introduction by critic Geoff Andrew
Brand new cast and crew interviews recorded exclusively for this release
The Making of Gosford Park archive featurette
Keeping Gosford Park Authentic archive featurette
Q&A Session with Altman and the cast
Fifteen deleted scenes with optional Altman commentary
Trailer
Reversible sleeves featuring original and newly commissioned artwork by Matthew Griffin
FIRST PRESSING ONLY: Illustrated collector's booklet featuring new writing on the film by critic Sheila O'Malley and an archive interview with Robert Altman