Marc Meyers' My Friend Dahmer is the haunting, sad, funny, true story of Jeffrey Dahmer in high school, based on Derf Backderf's critically acclaimed 2012 graphic novel of the same name and Meyers's own 2014 Black List script.
Jeffrey Dahmer murdered seventeen men and boys in the Midwest United States between 1978 and 1991 before being captured and incarcerated. This is the story before that story.
Jeff Dahmer (Ross Lynch form Disney Channel's Austin & Ally) is an awkward teenager who collects roadkill. It's the end of his junior year and he's practically invisible. His family life (Anne Heche as Joyce Dahmer) is coming undone. He fixates on a neighborhood jogger (Vincent Kartheiser – Mad Men) who routinely passes by his house. By the start of senior year, he acts out, throwing epileptic-like fits in the halls. His goofball antics win over a group of band-nerds who form The Dahmer Fan Club headed by Backderf (Alex Wolff from Nickelodeon's The Naked Brothers Band). This camaraderie can't mask his growing depravity as approaching graduation Jeff spirals further out of control.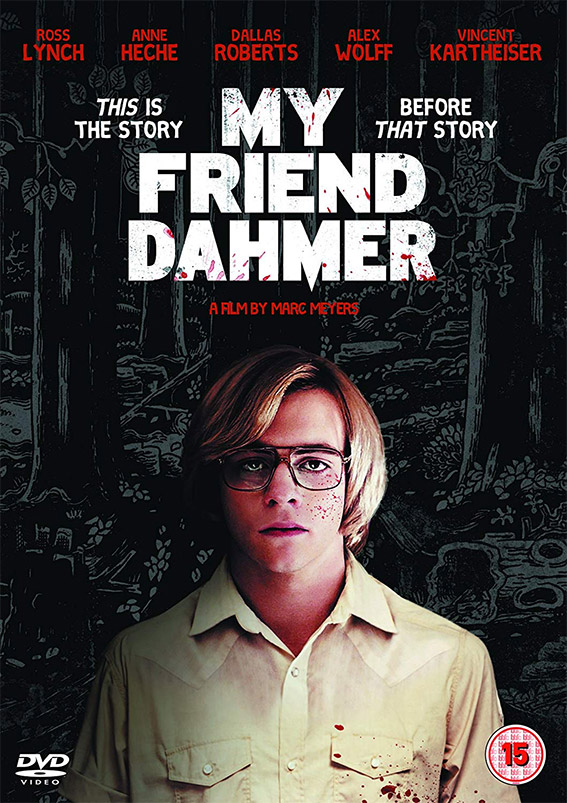 Described by Time Out as "An absorbing, dramatised portrait of casual cruelty and teenage desperation, equal parts The Virgin Suicides and "The Texas Chain Saw Massacre," and by The Guardian as "a chilling insight into the making of a serial killer, " My Friend Dahmer is available now on Digital Download and will be released on UK DVD on 30 July by Altitude Film Distribution at the RRP of £15.99. If you want HD then it's Digital Download only, at least in the UK.
No special features have been listed, which ius also a bit of a bummer.