Hollywood favourites Michael Shannon and Jessica Chastain star in the highly acclaimed, mesmerising psychological thriller Take Shelter which is set for a deluxe UK Limited Edition Blu-ray release from Second Sight.
Directed by Jeff Nichols (Midnight Special) this gripping, edge of seat drama earned plaudits galore on its cinema release and now arrives in stunning high definition, with new and archive special features, including cast interviews and a brand new director interview. Take Shelter will be presented in limited edition packaging and includes a collector's 40-page perfect bound book.
Curtis LaForche (Shannon – The Shape of Water) lives a contented family life in a small Ohio town with his wife Samantha (Chastain – Zero Dark Thirty) and their six-year-old daughter Hannah (Tova Stewart). When he begins to have recurring nightmares of an impending apocalyptic storm he questions his sanity but prepares for the worst by building a storm shelter. As he becomes increasingly plagued by visions his behaviour grows ever more erratic, alienating friends and putting his livelihood and marriage in jeopardy. Are his visions premonitions or is Curtis losing his mind?
With its oppressive atmosphere of impending doom and powerhouse performances Take Shelter is one of the most compelling thrillers of recent times and for the writers at this site was one of the films of the year on its initial release. You can read Timothy E. RAW's revidew of if the film here, which includes an interview with lead actor Michael Shannon.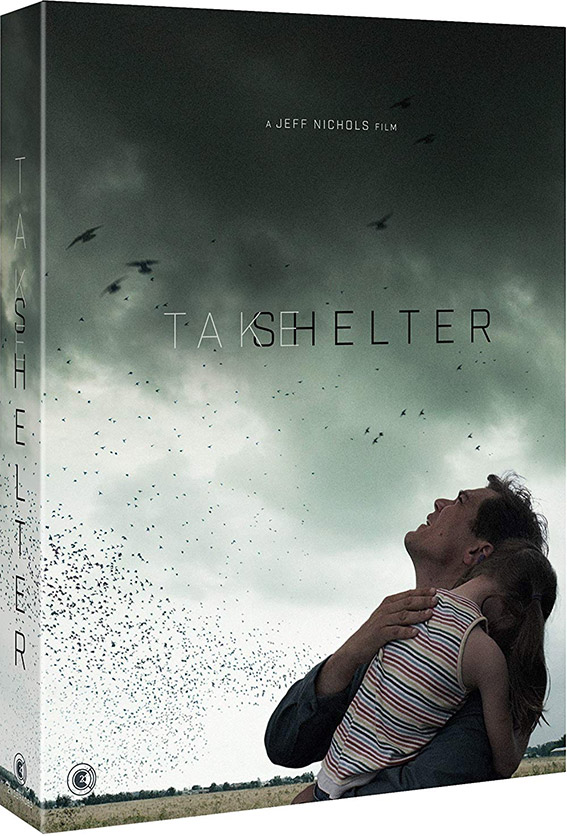 Take Shelter will be released on UK Blu-ray as a Limited Edition (2,000 units only) on 3 September 2018 at the RRP of £24.99.
Limited Edition Blu-ray contents:
Limited Edition packaging
Building The Shelter – A new interview with director Jeff Nichols
2011 Ebertfest Q&A with Jeff Nichols and Michael Shannon
DP30 interview with Jeff Nichols, Michael Shannon and Jessica Chastain
Interview with Jeff Nichols at Cannes Film Festival
2011 Toronto Film Festival interviews with Jeff Nichols, Michael Shannon and Jessica Chastain
Behind-the-scenes footage
Deleted scenes
Limited 40 page perfect bound booklet with new writing by Michael Brooke and Film School Rejects interview with Jeff Nichols by Jack Giroux
English subtitles for the hearing impaired