Daniel O'Reilly, best known for his Dapper Laughs persona, fights for his life in a thrilling yet fun horror comedy bursting with British blood and banter alike.
When self-styled absolute lad Jimmy Ragsdale (Daniel O'Reilly) makes a pass at his boss' wife, the ensuing brawl seals the deal on a night he'll never forget - locked in the halls of a hellish prison! Jimmy will have more on his plate than just tough Russian cellmate Victor (Stu Bennett), however. When the wardens unleash their true vampyric colours, the inmates find themselves caught in a bloody battle that is sure to prove just how "har"" Jimmy really is.
Daniel O'Reilly has come a long way since his humble beginnings on Vine, drawing audiences' attention in his feature film debut as a wise-cracking lad, whose lack of self-awareness creates a likeable lead echoing a modern, more endearing Ali G. O'Reilly finds on-screen support with similarly strong character acting from co-stars Stu Bennett and Vas Blackwood in particular.
The cast's eccentric flavours become succulent ingredients in the horror film stew, providing relatable hooks for us to anchor on, before tearing us apart when the bloody madness kicks in. With the horror and comedy elements in perfect harmony, the creative team have mastered the delicate balance of knowing when to pull a joke, our heartstrings, or just delight us in the blood-splattered spectacle.
I'll just add that gthe above is all from the press release. We've not see n it yet so couldn't possibly comment.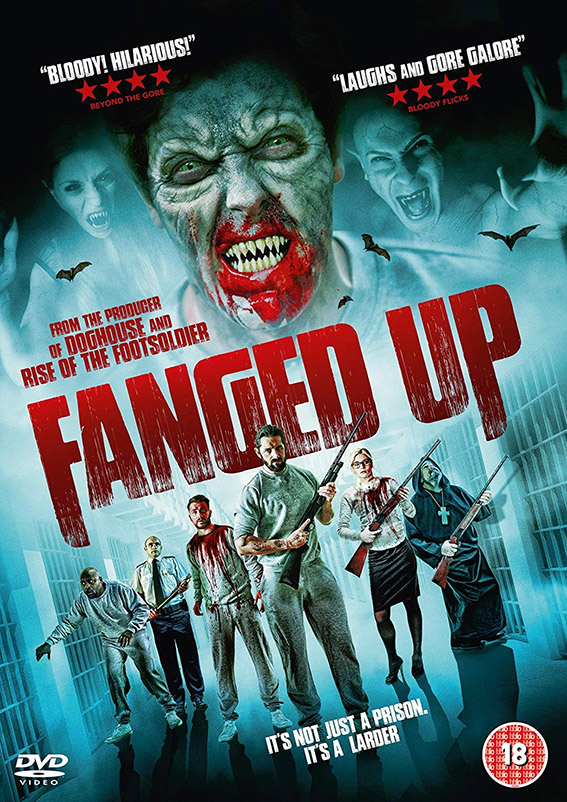 Fanged Up will be released on UK DVD and Digital Download on 30 July 2018 by Altitude Film Distribution at a yet to be confirmed RRP.
No special features have been listed. We don't even have a trailer to share with you.