The last, great unreleased box set is about to see the light of day. Longer in the making than a Led Zeppelin retrospective, a Beatles collection or a moon landing, The Goodies: The Complete BBC Collection is being readied for release for the first time ever anywhere in the world.
In 1970, The Goodies unleashed their legendary blend of surreal storylines, topical satire, slapstick and general lunacy on an unsuspecting viewing public. Capturing the irreverent and rebellious flavour of the decade, this phenomenally popular, award-winning series spread its mischief over twelve years – making household names of creators, writers and performers Bill Oddie, Graeme Garden and Tim Brooke-Taylor.
From a giant white fluffy kitten called Twinkle to a slippery climb up a giant beanstalk, from the ancient Lancastrian art of 'Ecky Thump to fighting a ban on fun instigated by an all-too-real puppet government, this is television comedy at its undeniable best!
Now, for the first time ever, Network Distributing are bundling all 69 episodes and specials the trio made during their ten year run at the BBC into one gargantuan box set – for many episodes this will be their DVD debut.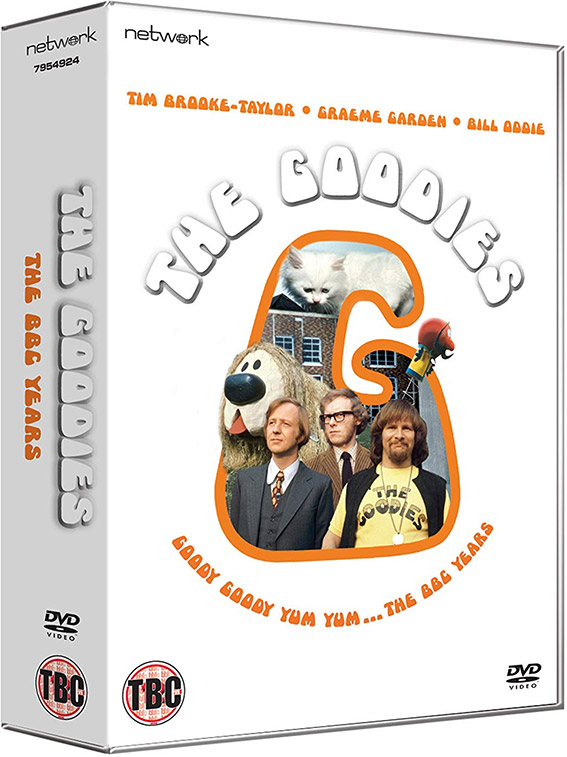 The Goodies: The Complete BBC Collection will be released UK DVD by Network Distributing on 24th September 2018 as a 12-disc set at the RRP of £79.99.
Box set features:
All eight BBC series of the classic show
Six BBC specials - Kitten Kong – Montreux '72, A Collection of Goodies, Goodies Travelling Instant Five Minute Christmas, Superstar, The Goodies and the Beanstalk, The Goodies Rule – O.K.?
An Audience with The Goodies - recorded in June 2018 at the Leicester Square Theatre, this very special one-night-only event saw Tim, Bill and Graeme reunite on stage to talk about their career and the enduring popularity of the series.