September's line-up from Arrow Video was announced today and includes a nightmarish new horror, a genuine US cult classic, a giallo with a twist, a macabre chiller from Japan, and a Seventies oddity that has to be seen to be believed.
First off is the brand new release of Incident in a Ghostland, the latest film from master of horror Pascal Laugier, responsible for the truly disturbing French horror classic Martyrs, here returning to shred more nerves with a genuinely unsettling take on the home invasion thriller.
As jet-black high school comedy Heathers celebrates its 30th anniversary, Arrow Video marks the occasion with this exclusive restoration of the influential and still timely satire starring Christian Slater (True Romance) and Winona Ryder (Stranger Things). As fresh as the day it was released, this release is a must have for Heathers fans and newbies alike.
Mid-September sees the UK Blu-ray debut of a giallo set down under, The Pyjama Girl Case, a stylish and puzzling murder mystery inspired by a real-life case which sees Ray Milland as a retired cop trying to solve the case of a disfigured corpse found on the beach.
Another UK Blu-ray first from Arrow Video in September, with the deliciously dark and demented Horrors of Malformed Men from director Teruo Ishii. This shocking take on The Island of Doctor Moreau sees a medical student lured to a remote island and falling under the spell of a mad scientist.
Lastly in September, The Baby, an absolutely bizarre treat from the 1970s, receiving its long-overdue UK Blu-ray release. This indescribable excursion into lurid insanity was directed by Ted Post, who would make the Dirty Harry sequel Magnum Force the same year.
As always, all titles come with an array of extras to give in-depth insight into the films, pleasing even the most ardent cult fan.
If September seems too far away for you to get your hands on this superb selection, then don't throw your toys out of the pram just yet, as Arrow books has a suitably diverting stop-gap for you in July, with Philip K. Dick on Film, a definitive delve into the films and TV series by the legendary genius, by expert Gregg Rickman.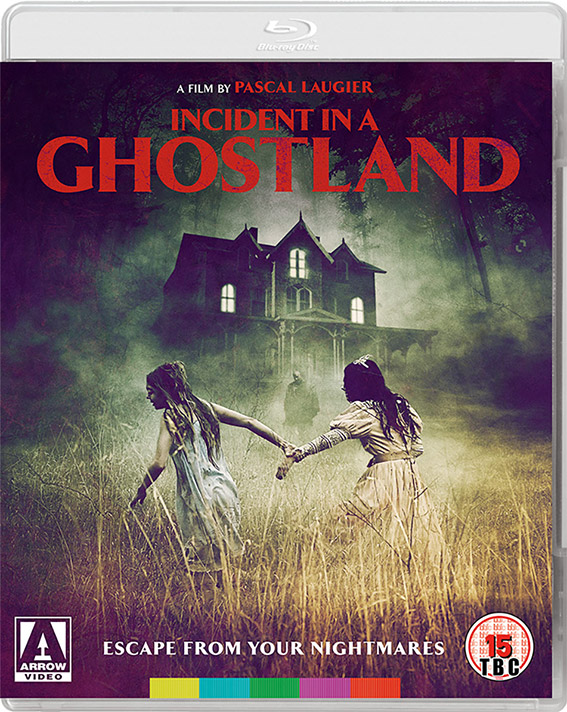 Incident in a Ghostland | DVD & Blu-ray | 3 September 2018 | £15.99 (DVD), £19.99 (Blu-ray)
From director Pascal Laugier, who in 2008 shocked audiences around the world with his gruelling genre game-changer Martyrs, comes Incident in a Ghostland – a terrifying excursion into abject horror filled with creepy antique dolls, murderous maniacs and thrilling jump scares.
The subject of a brutal home invasion along with her mother and sister several years ago, horror novelist Beth has found solace in her writing – detailing the harrowing ordeal in her latest book, "Incident in a Ghostland". But when she receives a call from her sister Vera, apparently in a state of extreme distress, Beth is prompted to return to the isolated family home where the terrifying truth of that awful night soon begins to unravel… 
Combining the intensity of Martyrs with the spine-tingling chills of his later The Tall Man, Incident in a Ghostland confirms director Pascal Laugier's status as a fully-fledged master of horror, having scooped up numerous awards on the film festival circuit and now finding its rightful home on DVD with Arrow Video.
Blu-ray & DVD Specialk Edition contents:
High Definition Blu-ray (1080p) presentation / Standard Definition DVD presentation
Uncompressed 5.1 and Stereo audio options (Blu-ray) / 5.1 and Stereo audio options  (DVD)
Optional English subtitles for the deaf and hard of hearing 
Exclusive, newly-produced interview with writer-director Pascal Laugier
The Phantom Image – feature-length documentary taking a look behind-the-scenes of Incident in a Ghostland
Interviews with actors Crystal Reed, Emilia Jones and director Pascal Laugier 
Trailer
Reversible sleeve featuring two artwork options
First Blu-ray pressing only: Collector's booklet featuring new writing by Alan Jones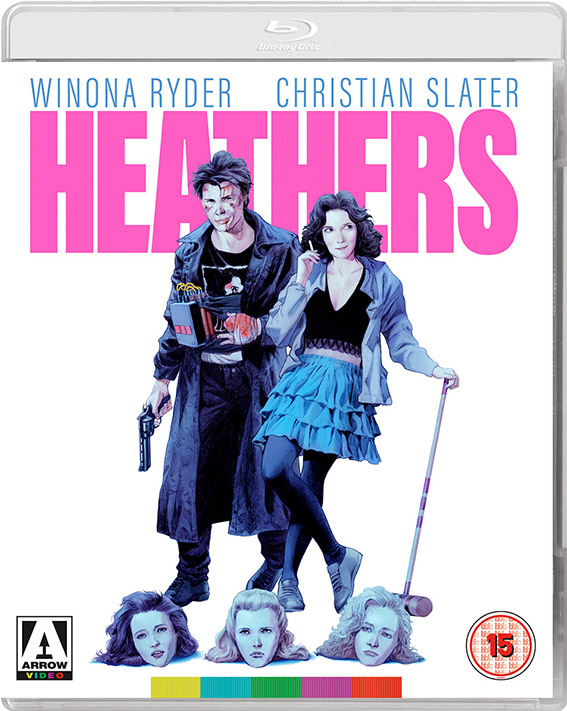 Heathers | DVD & Blu-ray | 10 September 2018 | £15.99 (DVD), £19.99 (Blu-ray)
Widely acknowledged as a true cult classic of modern American cinema, Heathers has captured the imaginations of troubled teenagers the world over with its acerbic satire of the sugar-coated high school movies of the 1980s...
At Westerburg High School, an elite clique of snobby girls known as "Heathers" reign supreme. Smart and popular, Veronica (Winona Ryder) is a reluctant member of the gang and disapproves of the other girls' cruel behaviour. When Veronica and her mysterious new boyfriend, J.D. (Christian Slater), play a trick on the clique leader, Heather Chandler (Kim Walker), and accidentally poison her, they make it appear a suicide. But it soon becomes clear to Veronica that J.D. is sociopath intent on vengefully killing the school's popular students. She races to stop J.D., clashing with the clique's new leader, Heather Duke (Shannen Doherty), and leading to an explosive final confrontation with her troubled former lover. 
Directed by Michael Lehmann, Heathers pushed the teen comedy into dark and nightmarish territory and is distinguished by the career defining central performances of its stars Winona Ryder and Christian Slater. The film is presented here in an exclusive 30th Anniversary 4K restoration with a wealth of extra material, providing unprecedented insight into the making of this hilarious and shocking film.
Heathers 30th Anniversary will be re-released back in cinemas from 8th August and comes to Digital & On Demand 20th August.
Blu-ray and DVD Special Edition contents:
New restoration from a 4K scan of the original camera negative by Arrow Films
High Definition Blu-ray (1080p) presentation / Standard Definition DVD presentation
Original 1.0 mono audio and optional 5.1 DTS-HD Master Audio (Blu-ray) / Original 1.0 mono and optional 5.1 Surround Sound audio (DVD)
Optional English subtitles for the deaf and hard of hearing
Audio commentary by director Michael Lehmann, producer Denise Di Novi and writer Daniel Waters
Newly filmed interview with director Michael Lehmann 
A newly filmed appreciation by the writer, actor and comedian John Ross Bowie (The Big Bang Theory)
Pizzicato Croquet, composer David Newman and director Michael Lehmann discuss the music of Heathers
How Very: The Art and Design of Heathers, production designer Jon Hutman, art director Kara Lindstrom and director Michael Lehmann discuss the look of Heathers
Casting Westerberg High, casting director Julie Selzer discusses the casting process for Heathers
Poor Little Heather, a new interview with actress Lisanne Falk 
Swatch Dogs and Diet Coke Heads, an archival featurette with extensive cast and crew interviews providing an in-depth look at the making of Heathers
Return to Westerberg High, an archival featurette providing further insight into the film's production  
Original trailers 
Reversible sleeve featuring original and newly commissioned artwork by Robert Sammelin
Blu-ray first pressing only: Collector's booklet featuring new writing by Bidisha, Anna Bogutskaya and an archival interview with cinematographer Francis Kenny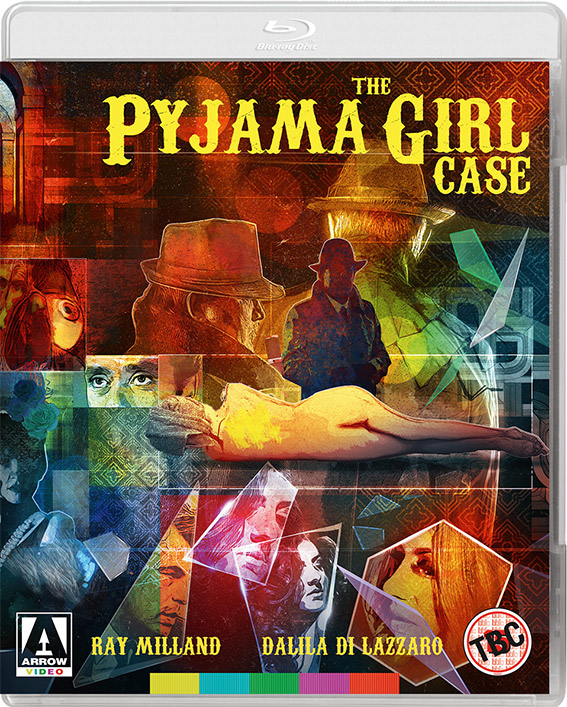 The Pyjama Girl Case | Blu-ray | 17 September 2018 | £24.99
Throughout the late 1960s and into the 70s, the Italian giallo movement transported viewers to the far corners of the globe, from swinging San Francisco to the Soviet-occupied Prague. Only one, however, brought the genre's unique brand of bloody mayhem as far as Australia: director Flavio Mogherini (Delitto passionale)'s tragic and poetic The Pyjama Girl Case.
The body of a young woman is found on the beach, shot in the head, burned to hide her identity and dressed in distinctive yellow pyjamas. With the Sydney police stumped, former Inspector Timpson (Ray Milland, Dial M for Murder) comes out of retirement to crack the case. Treading where the "real" detectives can't, Timpson doggedly pieces together the sad story of Dutch immigrant Glenda Blythe (Dalila Di Lazzaro, Phenomena) and the unhappy chain of events which led to her grisly demise.
Inspired by the real-life case which baffled the Australian police and continues to spark controversy and unanswered questions to this day, The Pyjama Girl Case is a uniquely haunting latter-day giallo from the tail end of the genre's boom period, co-starring Michele Placido (director of Romanzo Criminale) and Howard Ross (The New York Ripper), and featuring a memorably melancholic score by veteran composer Riz Ortolani (Don't Torture a Duckling).
Special Edition Contents:
Brand new 2K restoration of the film from the original camera negative
High Definition Blu-ray (1080p) presentation
Original lossless mono Italian and English soundtracks
Newly translated English subtitles for the Italian soundtrack
Optional English subtitles for the deaf and hard of hearing for the English soundtrack
New audio commentary by Troy Howarth, author of So Deadly, So Perverse: 50 Years of Italian Giallo Films
New video interview with author and critic Michael Mackenzie on the internationalism of the giallo
New video interview with actor Howard Ross
New video interview with editor Alberto Tagliavia
Archival interview with composer Riz Ortolani
Image gallery
Italian theatrical trailer
Reversible sleeve featuring original and newly commissioned artwork by Chris Malbon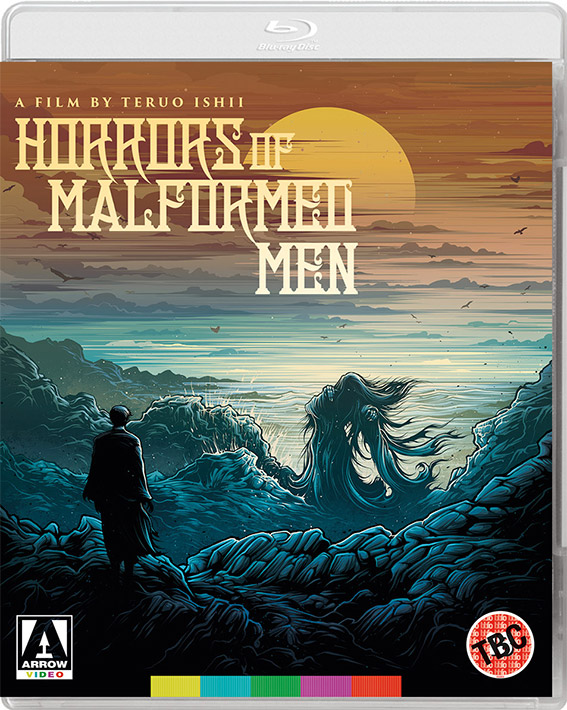 Horrors of Malformed Men | Blu-ray | 17 September 2018 | £24.99
Cult director Teruo Ishii (Shogun's Joy of Torture, Blind Woman's Curse) presents a nightmarish, hallucinogenic tale drawn from the fevered imagination of Japan's celebrated pioneer ofero-guro ("erotic grotesque") literature, Edogawa Rampo.

Medical student Hirosuke Hitomi slips out of the asylum in which he has been wrongfully confined and stealthily assumes the identity of a recently deceased nobleman with whom he bears an uncanny resemblance. Hirosuke eases his way into the nobleman's household and his dead double's marital bed. But as long-repressed memories begin to bubble to the surface, he soon finds himself drawn to a remote isle where he is confronted by a mad scientist and his malformed men, and discovers the key that will unlock some long-suppressed mysteries of his own.

A dark labyrinth of the monstrous and perverse that fuses mystery and horror while incorporating motifs from a myriad of Rampo's tales, Horrors of Malformed Men boasts astonishing carnivalesque art design and haunting performances. Withdrawn from cinemas by its own studio after its original scandalous release nearly fifty years ago, the film is among the very best screen interpretations of the author's macabre brand of horror-fantasy fiction, and a unique oddity of Japanese cult cinema.
Special Edition contents:
Brand new 2K restoration of the film presented on High Definition (1080p) Blu-ray
Uncompressed mono 1.0 PCM audio
Newly translated optional English subtitles
Two audio commentaries by Japanese cinema experts Tom Mes and Mark Schilling
Malformed Movies: a new video interview with Toei exploitation movie screenwriter Masahiro Kakefuda
Malformed Memories: Filmmakers Shinya Tsukamoto (Tetsuo the Iron Man) and Minoru Kawasaki (The Calamari Wrestler) on the career of director Teruo Ishii
Ishii in Italia: Ishii and Mark Schilling visit the Far East Film Festival
Poster Gallery
Theatrical trailer
Reversible sleeve featuring original and newly commissioned artwork by Dan Mumford
First pressing only: Collector's booklet featuring new writing by Jasper Sharp, Tom Mes and Grady Hendrix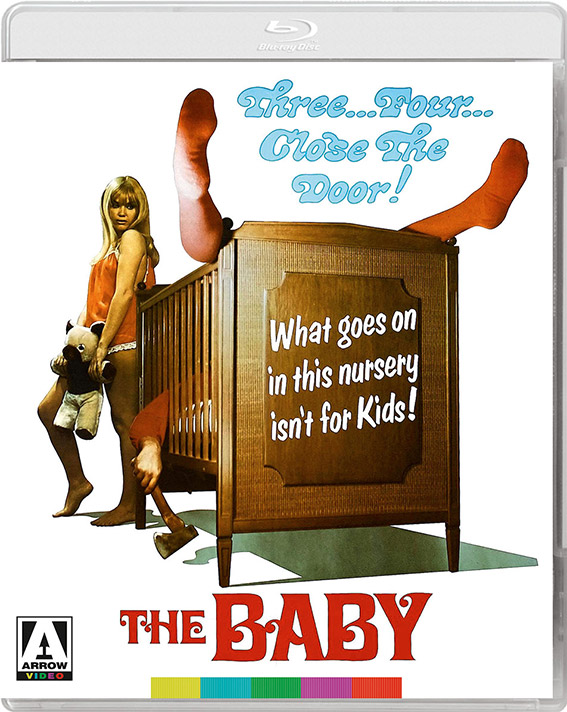 The Baby | Blu-ray | 24 September 2018 | £24.99
Still traumatised by the loss of her husband, well-meaning social worker Ann Gentry (Anjanette Comer, The Loved One) throws herself into her latest assignment: the case of "Baby", a 21-year-old man with the mind of an infant – who crawls, cries and has yet to make it out of nappies. But Baby's family – the tyrannical "Mama" Wadsworth (Ruth Roman, Strangers on a Train) and her two demented daughters – aren't the only ones with a warped conception of familial relations, and the full horror only begins when Ann sets her sights on liberating the drooling man-child… and in so doing unleashes the wrath of the Wadsworth women.
45 years after its original release, this film remains one of the most bizarre horror movies ever committed to celluloid. Directed by Ted Post (Beneath the Planet of the Apes, Magnum Force) and co-starring Marianna Hill (Blood Beach, Messiah of Evil), The Baby is a twisted, psychedelic nightmare of suburban depravity.
Special Edition contents:
1.85:1 and 1.33:1 versions of the feature 
High Definition Blu-ray (1080p) presentation
Original uncompressed PCM mono audio 
Optional English subtitles for the deaf and hard of hearing
Brand new audio commentary by Travis Crawford
Down Will Come Baby – a new retrospective with film professor Rebekah McKendry
Tales from the Crib – archival audio Interview with director Ted Post 
Baby Talk – archival audio Interview with Star David Mooney
Theatrical Trailer 
Reversible sleeve featuring newly commissioned artwork by The Twins of Evil
First pressing only: Collector's booklet featuring new writing by Kat Ellinger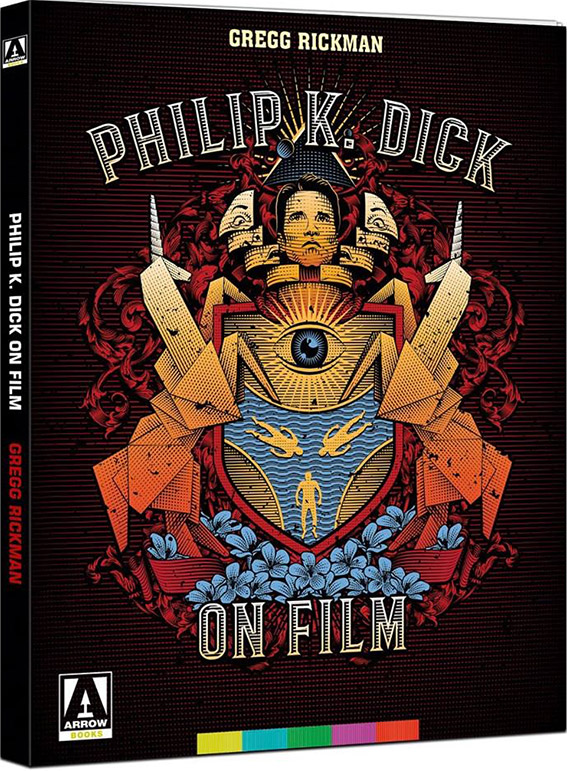 Arrow Books July 2018 new release: Philip K. Dick on Film by Gregg Rickman | 27 July 2018 | £19.99
The now legendary writings of Philip K. Dick (1928-1982) have inspired fourteen feature films and four television series, none of which he ever saw. Many of them have been widely seen and highly influential; they include Blade Runner, Total Recall, Minority Report, The Man in the High Castle and most recently Blade Runner 2049 and Philip K. Dick's Electric Dreams. Borrowing his inspired ideas, few of them really utilise the author's unique imagination and the thought behind them. 
This book reviews all of the above films and television shows from, as much as possible, the perspective of Philip Dick himself. For most of his life a housebound scrivener of pulp science fiction, Dick nonetheless had distinct ideas about movies, and how his work should be filmed. This book incorporates his thought about visual media into a study of how a commercial system of film production grinds an insomniac's electric sheep into sausages for the masses—some of them, it must be granted, rather tasty. 
Like Philip K. Dick, Gregg Rickman likes cats, has spent most of his life in California, and will stay up all night writing. Unlike Philip Dick, he doesn't take snuff and is not a visionary genius. His books include the biography To the High Castle: Philip K. Dick A Life, 1928-1962 and the anthology The Science Fiction Film Reader, which he edited. He has recently completed a new book on Philip Dick and another on Buster Keaton's Sherlock Jr.