Studiocanal has announced that Journeyman, Paddy Considine's highly acclaimed second feature as writer-director, will be released on Blu-Ray, DVD, Digital download and VOD in July.
Following on from his 2011 directorial debut, Tyrannosaur, Considine not only wrote and directed Journeyman, but this time assumes the lead role alongside Jodie Whittaker (Broadchurch, Attack the Block, Doctor Who), Anthony Welsh (My Brother the Devil), Tony Pitts (War Horse) and Paul Popplewell ('71). Drawing wide praise from audiences and critics alike on its theatrical release earlier this year, Journeyman is the powerful, emotional and, at times, heart-wrenching story of a middleweight boxing champion's road to recovery after an injury in the ring.
After winning a punishing title defence on points, Matty Burton (Paddy Considine) collapses at home. The journey towards regaining his speech, movement and memory will be the toughest fight he'll ever face; and the prize could not be greater, for his relationship with his wife Emma (Jodie Whittaker) and baby daughter Mia are on the line… Journeyman is a compelling story about loss and, ultimately, triumph. It's about our identity, and how in life we sometimes have to dig deep into our soul to discover who we really are.
Many of the supporting cast make their acting debuts and take on roles that closely mirror their actual professions with appearances from boxers, boxing commentators, nurses and occupational therapists. Journeyman was developed and shot in close collaboration with the boxing community and medical profession. The film is produced by Diarmid Scrimshaw (who also worked with Considine on Dog Altogether and Tyrannosaur) and is financed by Film4, the BFI, Screen Yorkshire, and The Wellcome Trust.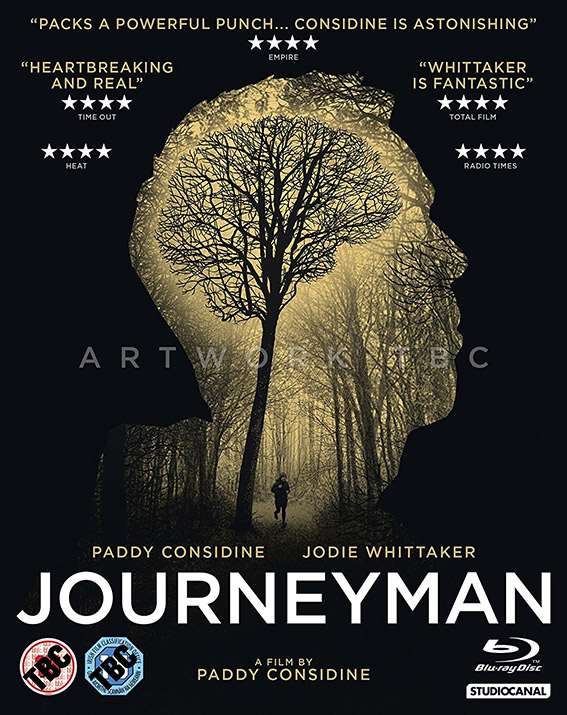 Journeyman will be released on UK Blu-Ray, DVD, Digital download and VOD by Studiocanal on 30 July 2018 at a yet to be confirmed RRP.
Special features:
Commentary with writer, director & lead actor Paddy Considine
Interview with Paddy Considine and Boxing Coach Dom Ingle
Extended scenes: Post-Fight Interview & Head-to-Head