From the director of the Beatles' films A Hard Day's Night (1964) and Help! (1965) comes THE KNACK…and how to get it, an inventive and hilarious romp through love and sex in 1960s London, made by Woodfall Films. Featuring a wildly frenetic filmmaking style that careers from slapstick to serious avant-garde, this genuinely dazzling film is a mod masterpiece.
On 18 June 2018 it will be released by the BFI on Blu-ray/DVD in a Dual Format Edition – the first time it has been released on Blu-ray in the UK. Numerous extras include a new interview with Rita Tushingham and Richard Lester discussing his career in film.
This stand-alone release follows the film's inclusion in the BFI Blu-ray and DVD box sets, Woodfall: A Revolution in British Cinema, released on 11 June 2018.
Cool and sophisticated Tolen (Ray Brooks) has a monopoly on womanising – with a long line of conquests to prove it – while the naïve and awkward Colin (Michael Crawford) desperately wants a piece of it. But when Colin falls for an innocent country girl (Rita Tushingham), it's not long before the self-assured Tolen moves in for the kill. Is all fair in love and war, or can Colin get the knack and beat Tolen at his own game?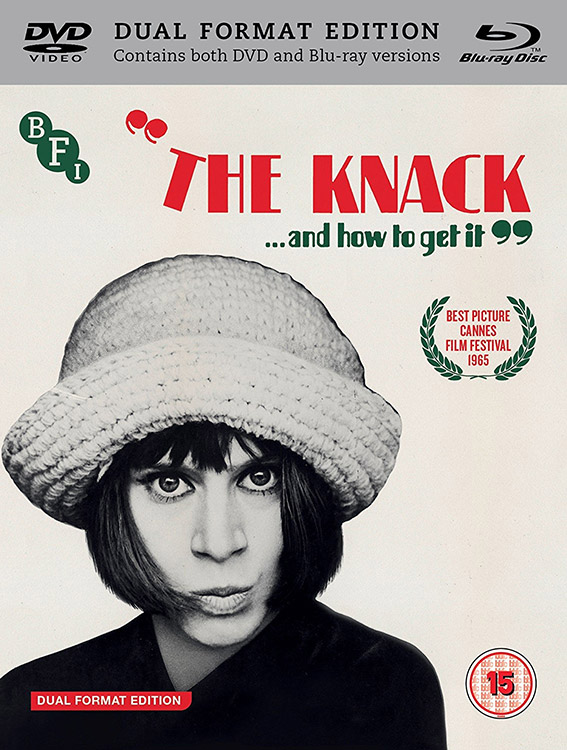 THE KNACK…and how to get it will be released as a Dual Format (Blu-ray & DVD) edition on 18 June 2018 by the BFI at the RRP of £19.99.
Dual Format feature:
Presented in High Definition and Standard Definition
Captain Busby the Even Tenour of Her Ways (1967, 16 mins): Ann Wolff's surreal riff on Philip O'Connor's poem, featuring Quentin Crisp
Now and Then: Dick Lester (1967, 17 mins): Bernard Braden's wide-ranging interview with the director
Rita Tushingham Remembers THE KNACK...and how to get it (2018, 11 mins): newly shot interview with the actress
Staging THE KNACK…and how to get it (2018, 2 mins): interview with the director of the first stage version of The Knack
British Cinema in the 1960s: Richard Lester in Conversation (2018, 59 mins): the director discusses his career in film with Neil Sinyard
Illustrated booklet with writing by Neil Sinyard and Melanie Williams, plus full film credits