This year the ground-breaking British film company Woodfall Films celebrates its 60th anniversary. After a popular season at BFI Southbank throughout April, on 11 June 2018 the BFI will release 9-disc Blu-ray and DVD box sets containing some of Woodfall's most revered films, many newly restored.
A huge array of special features includes interviews with Rita Tushingham and Murray Melvin, archive material, shorts from the BFI National Archive and an 80-page book.
One film, THE KNACK… and how to get it, will also be released in a Dual Format Edition on 18 June. Details to follow in due course.
Woodfall revolutionised British cinema during the 1960s with a slate of iconic films. Founded in 1958 by director Tony Richardson, writer John Osborne and producer Harry Saltzman (James Bond), the company pioneered the British New Wave, defining an incendiary brand of social realism. Look Back in Anger (Tony Richardson, 1959), and Saturday Night and Sunday Morning (Karel Reisz, 1960) spot-lit working-class life with unheard-of honesty. The same risk-taking spirit led the company to find a new generation of brilliant young actors to star in their films, such as Albert Finney, Tom Courtenay and Rita Tushingham. The global blockbuster Tom Jones (1963) expanded the Woodfall slate in an irreverent, colourful direction that helped define swinging London – further securing its extraordinary chapter in the history of British film.
These box sets bring together eight of Woodfall's early ground-breaking films, many now newly restored and on Blu-ray for the first time in the UK. Each set contains:
Look Back in Anger (Tony Richardson, 1959), starring Richard Burton as a jazz trumpeter
The Entertainer (Tony Richardson, 1960), which stars Laurence Olivier as ageing music-hall veteran Archie Rice
Saturday Night and Sunday Morning (Karel Reisz, 1960) (as previously released by the BFI), starring Albert Finney as factory worker Arthur Seaton
A Taste of Honey (Tony Richardson, 1961), legendary kitchen sink drama focusing on working-class women, with a script by Shelagh Delaney and Tony Richardson
The Loneliness of the Long Distance Runner (Tony Richardson, 1962)  (as previously released by the BFI) starring Tom Courtenay at Colin Smith
Tom Jones (Tony Richardson, 1963), (both the original theatrical release and the 1989 Director's Cut), a raucous and innovative multi-Oscar-winning adaptation of the classic novel by Henry Fielding
Girl with Green Eyes (Desmond Davis, 1964) with Rita Tushingham, Lynn Redgrave and Peter Finch in a lively adaptation by Edna O'Brien of her own novel
THE KNACK…and how to get it (Richard Lester, 1965) which won the Palme d'Or at Cannes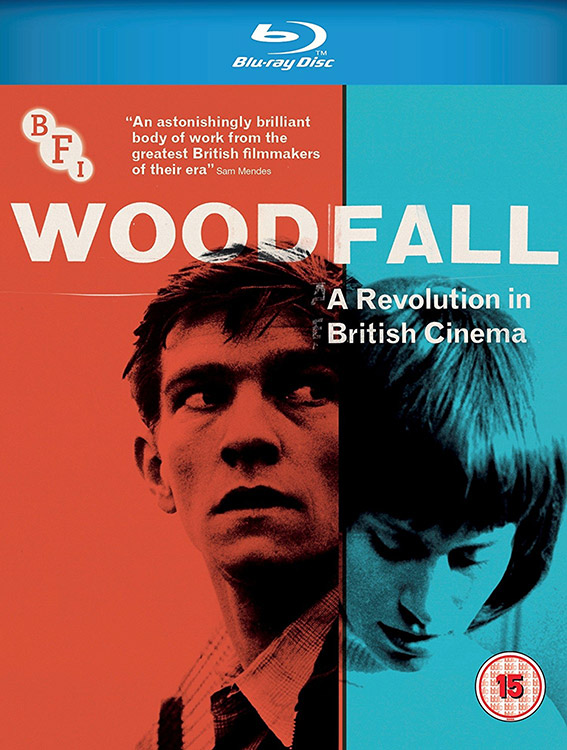 Both the Blu-ray and DVD editions of Woodfall: A Revolution in British Cinema will be released on 11 June 2018 by the BFI at the RRP of £79.99 for the Blu-ray set and £69.99 for the DVD.
Special features:
The Stories that Changed British Cinema (2018, 47 mins): panel discussion held at BFI Southbank during April, featuring actors Tom Courtenay, Rita Tushingham and Joely Richardson, writer Jez Butterworth, journalist Paris Lees; chaired by the BFI's Danny Leigh
Five audio commentaries featuring Alan Sillitoe, Freddie Francis, Dora Bryan, Rita Tushingham, Murray Melvin, Tom Courtenay, Adrian Martin and Neil Sinyard 
George Devine Memorial Play: Look Back in Anger, The Entertainer, Luther, and Exit The King (Peter Whitehead, 1966, 39 mins): extracts from four plays written by John Osborne starring Kenneth Haigh, Gary Raymond, Laurence Olivier, Albert Finney and Alec Guinness
Oswald Morris Remembers Woodfall (Alan Van Wijgerden, 1993, 24 mins): the cinematographer reminisces about his time with Woodfall
Ten Bob in Winter (Lloyd Reckord, 1963, 12 mins) 
O Dreamland (Lindsay Anderson, 1953, 13 mins)
Seven short films by Mitchell & Kenyon (13 mins)
Morecambe Carnival (1 min): Topical Budget newsreel
Lancashire Coast (John Taylor, 1957, 15 mins)
The Guardian Interview: Albert Finney (1982, 35 mins, audio only)
Interview with Shirley Anne Field (2009, 10 mins)
We Are the Lambeth Boys (Karel Reisz, 1959, 51 mins)
Two video essays by Walter Lassally (2002, 21 & 19 mins)
A Taste of Honey 50th Anniversary Q&A with Rita Tushingham, Murray Melvin and Walter Lassally (2002, 15 mins)
Interview with Murray Melvin (2018, 25 mins)
Interviews with Rita Tushingham as she looks back on her work with Woodfall (2018, 34 mins)
Holiday (John Taylor, 1957, 18 mins)
Momma Don't Allow (Karel Reisz and Tony Richardson, 1956, 22 mins)
Interview with Vanessa Redgrave (2017, 10 mins)
The USSR Today: Meeting to Mark the 200th Anniversary of Henry Fielding's Death (2 mins)
Walter Lassally in conversation with Peter Cowie (2018, 25 mins)
Film Poetry: Desmond Davis (2018, 24 mins): a new interview with the director of Girl with Green Eyes
Food for a Blluuusssshhhhh! (Elizabeth Russell, 1959, 31 mins)
The Peaches (Michael Gill, 1964, 16 mins)
Captain Busby The Even Tenour of Her Ways (Ann Wolff, 1967, 16 mins)
Now and Then: Dick Lester (1967, 17 mins): Richard Lester interviewed by Bernard Braden
British Cinema in the 1960s: Richard Lester in Conversation (2017, 59 mins): Richard Lester discusses his career in film with Neil Sinyard. Recorded at BFI Southbank in 2017
Staging THE KNACK…and how to get it (2017, 2 mins): short piece with Keith Johnston, director of the original stage production
Trailers
Seven stills galleries
80-page illustrated book with essays on all eight films, further writing exploring the dynamic, look, and music of Woodfall, plus notes on all the special features