Eureka Entertainment are to release No Way Out, Joseph L. Mankiewicz's intense drama about racial tensions starring Richard Widmark and Sidney Poitier, for the first time ever on Blu-ray (and in its debut on UK home video) as part of The Masters of Cinema Series in a definitive Dual Format (Blu-ray & DVD) edition on 11 June 2018 at the RRP of £17.99.
A pivotal early film in the wave of racially progressive dramas of the 1950s and 60s, Joseph L. Mankiewicz's No Way Out is an electrifying film-noir about a doctor whose ethics are put to the test when he comes into conflict with a racist criminal.
Dr. Luther Brooks (Sidney Poitier – The Defiant Ones, Guess Who's Coming to Dinner) is assigned to treat two prisoners, the Biddle brothers, who were shot during an attempted robbery. Ray Biddle (Richard Widmark – Kiss of Death, Twilight's Last Gleaming) refuses to be treated by the black doctor, and when his brother John dies under Luther's care, Ray becomes consumed with vengeance. His anger and hatred ignites racial tensions within the community, and events quickly spiral out of control.
Released during the early days of the civil rights movement, No Way Out received critical acclaim but faced censorship for many years due to its incendiary nature. It has since been recognised as one of Joseph L. Mankiewicz's greatest filmmaking achievements.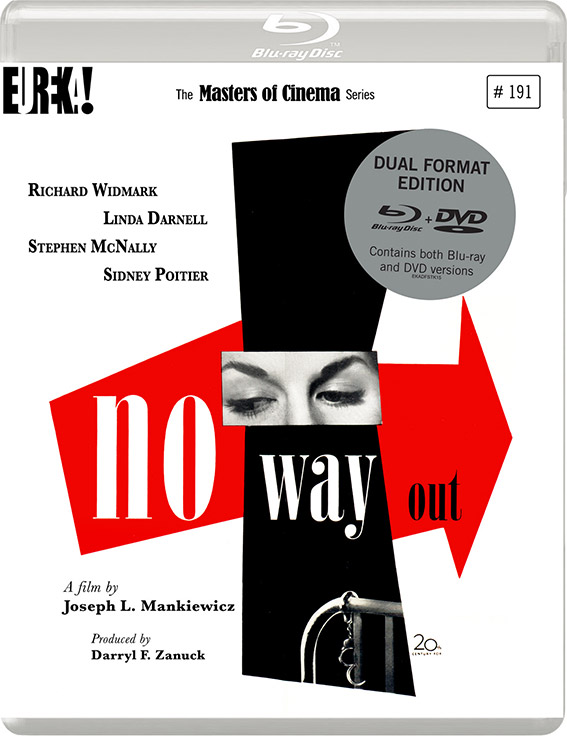 No Way Out Dual Format features:
1080p presentation of the film on Blu-ray, with a progressive encode on the DVD
LPCM mono soundtrack (Uncompressed on the Blu-ray)
Optional English subtitles
Audio Commentary by film noir historian Eddie Muller
All About Mankiewicz (103 mins) – a two part documentary on the legendary director, originally broadcast on French television in 1983
Archival Fox Movietone Newsreels
Original theatrical trailer
A collector's booklet featuring a new essay by Glenn Kenny
Reversible Sleeve