Eureka Entertainment are to release The Defiant Ones, Stanley Kramer's socially-aware crime drama, starring Tony Curtis and Sidney Poitier, in a Dual Format Edition in June.
Nominated for nine Academy Awards including Best Picture, Stanley Kramer's The Defiant Ones broke new ground by delivering its message of racial tolerance through a fast-moving blend of action and suspense. It remains a raw, powerful film that is as exciting as it is moving, real and literate.
John "Joker" Jackson (Tony Curtis – The Vikings, Some Like It Hot) and Noah Cullen (Sidney Poitier – Guess Who's Coming to Dinner, In the Heat of the Night) are two convicts on the run. Escaping from a Southern work gang, the two men are bound together by an unbreakable iron chain and separated by an unbridled hatred towards each other. Relentlessly pursued by a bloodthirsty posse, they must put aside their differences if they are going to survive.
Highly acclaimed upon release for its directing, writing, cinematography and acting (Sidney Poitier won numerous awards for his role, including the coveted Silver Bear for Best Actor), The Defiant Ones remains one of the most influential films of its era.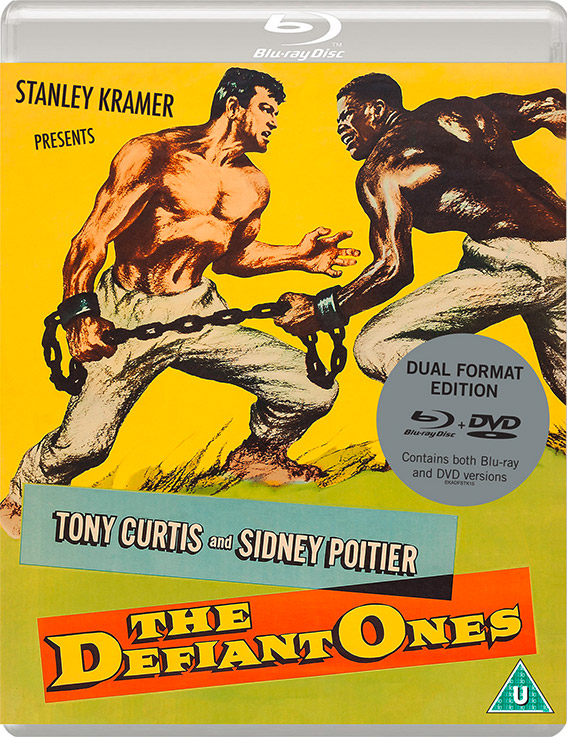 The Defiant Ones will be released on UK Dual Format (Blu-ray & DVD) on 11 June 2018 by Eureka Entertainment at the RRP of £17.99.
Dual Format features:
1080p presentation of the film on Blu-ray, with a progressive encode on the DVD
Uncompressed LPCM audio (on the Blu-ray)
Optional English subtitles for the deaf and hard-of-hearing
A new video interview with critic & author Kim Newman
Original theatrical trailer 
Reversible Sleeve