A rarely seen classic of British cinema, Ealing Studios' They Came to a City was directed by Basil Dearden (The Captive Heart, Victim) and stars John Clements, Googie Withers and Raymond Huntley.
On 23 April it will be made available for home viewing for the first time, released by the BFI on Blu-ray/DVD in a Dual Format Edition, in a new 2K transfer from the best surviving 35mm element. Special features include complementary films preserved in the BFI National Archive and an audio NFT Lecture by producer Michael Balcon from 1969.
Nine disparate Britons are transported to a mysterious city where, according to their class and disposition, they find themselves either in an earthly paradise of peace and equality or a hell starved of ambition and riches. From the pen of JB Priestley, this fantastical allegory is a striking expression of post-war utopian impulses and among Ealing Studios' most unusual features.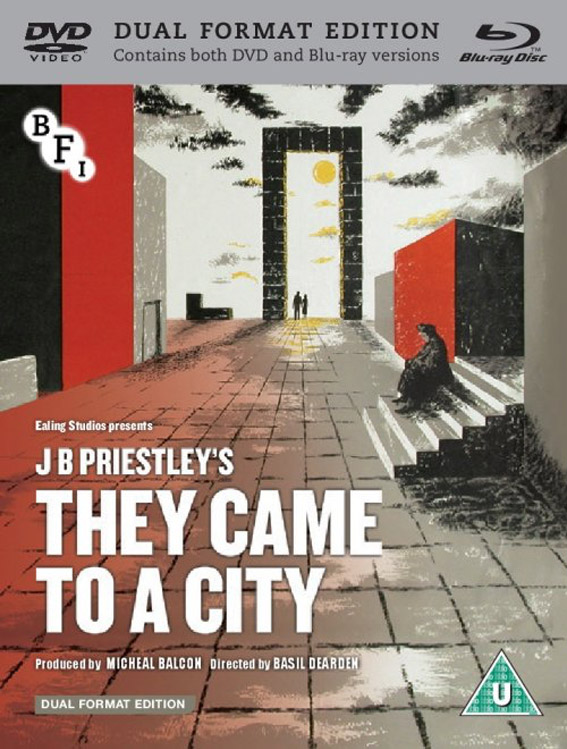 They Came to a City will be released on UK dual format (Blu-ray & DVD) on 23 April 2018 by the BFI at the RRP of £19.99.
Special features:
Presented in High Definition and Standard Definition
Michael Balcon NFT Lecture (audio only, 1969, 59 mins): the producer discusses his career
We Live in Two Worlds (Alberto Cavalcanti, 1937,  14 mins): a GPO film about communications technology, narrated by JB Priestley
Britain at Bay (Harry Watt, 1940, 7 mins): a wartime morale-booster narrated by JB Priestley
A City Reborn (John Eldridge, 1945, 22 mins): a propaganda film written by Dylan Thomas, highlighting plans for post-war reconstruction 
Charley in New Town (Joy Batchelor and John Halas, 1948, 9 mins): an animated short on post-war new towns
Your Very Good Health (Joy Batchelor and John Halas, 1948, 9 mins): an animated short on the new National Health Service
Illustrated booklet with essays by Dr Josephine Botting, Alan Burton, Tim O'Sullivan, Katy McGahan and Jenny Stewart, and full film credits